Obaseki flags off EU/FG water reticulation project in Uromi – Vanguard
…to serve over 500,000 people in Edo Central
Edo State Governor, Mr Godwin Obaseki, has flagged off the Uromi-Ugboha Water Reticulation project in Uromi, Esan North East Local Government Area of the state that will provide potable water to over 500,000 people in Edo Central Senatorial District of the state.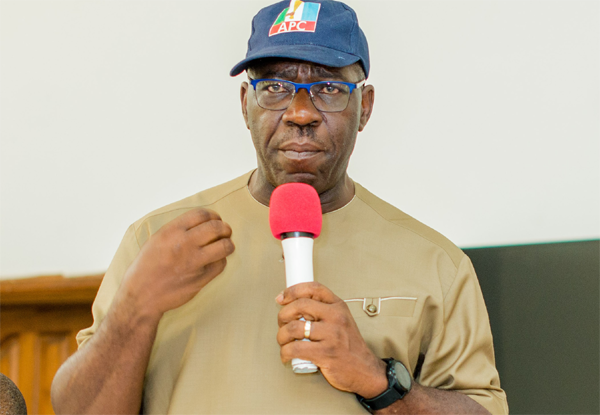 The nine million litres per day capacity water plant was completed by the Federal Government in 2018 and handed over to the Edo State government.
Speaking on the efficient management of the facility, Obaseki said that water from the plant would be metered to regulate usage and check leakages.
"The scheme was designed to bring water to the homes of everybody in Esan land. To ensure sustainability of the water project, it will be paid for; we will give you meters and you will pay a token to ensure you continue to have water in your houses," the governor told beneficiaries of the project.
He urged the contractors handling the project to ensure that greater percentage of the workforce was drawn from the host community.
Technical Assistant Team Lead, Niger Delta Support Programme 3, Albert Achten, said the project, which is an extension of the European Union/Niger Delta Support Programme, is a win-win for all stakeholders.
"This is a remarkable triple win project; a win for the federal government of Nigeria, a win for the EU which seeks improved water service delivery and a win for Edo State, as it will serve a significant number of people," Achten said.
Minister of Budget and National Planning, Sen. Udoma Udo Udoma, commended Governor Obaseki for embarking on the reform of the state water and sanitation sectors.
https://www.vanguardngr.com/2019/03/obaseki-inspects-road-projects-in-amagba-community-assures-of-more-devt/
"The newly adopted Water Supply and Sanitation Policy and the state's new water law are highly commendable," Udo Udoma said.
The minister, represented by a Director in the ministry, Mrs Elizabeth Egharevba, said the Uromi reticulation project would be completed in six months' time.
The Odionwere of Idumu-Eganlan Quarters in Uromi, Pa Michael Igbirenmonlen, expressed his gratitude to the governor for the project and appealed to him to assist them with a perimeter fence around the school close to the water project as well as link roads for the community.
https://www.vanguardngr.com/2019/03/edo-optimistic-about-peaceful-poll-as-obaseki-warns-against-violence/