Santos goes on bonkers rant after damning ethics report finds spending on OnlyFans, Botox and more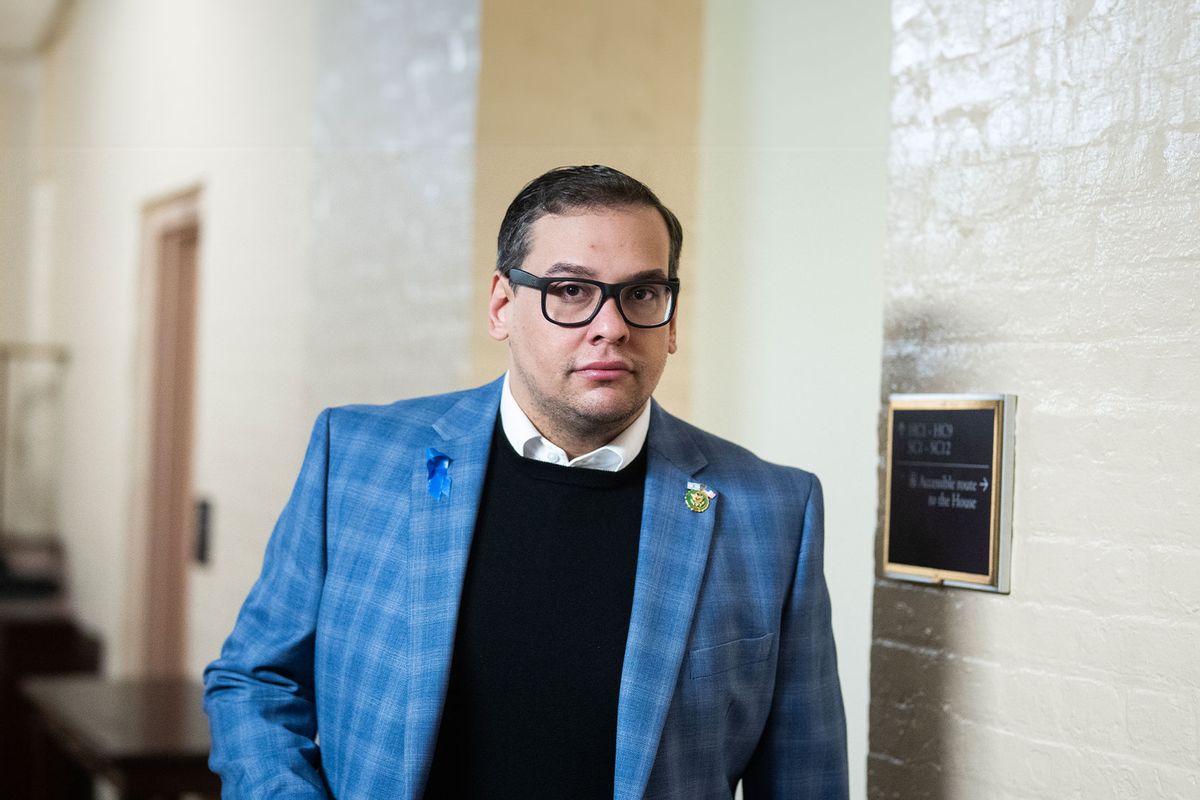 House investigators found "substantial evidence" that Rep. George Santos, R-N.Y., knowingly violated a number of ethics and criminal laws, a House Ethics Committee report released Thursday said, according to The Washington Post.
"Representative Santos' conduct warrants public condemnation, is beneath the dignity of the office, and has brought severe discredit upon the House," Reps. Michael Guest, R-Miss., and Susan Wild, D-Pa., the committee's chairman and senior Democrat, said in a joint statement.
The report recommended that the allegations against Santos be referred to the Department of Justice but did not call for his expulsion from the House or another form of discipline. Guest told reporters Wednesday that it would have taken the panel several more months to recommend punishment for the New York congressman. Instead, he said, the report would be released publicly to allow legislators to read it and "take whatever action that they felt necessary."
In order to reach its conclusion, investigators compiled more than 170,000 pages of documents and testimony from dozens of witnesses, including financial statements, the committee said in the report. After a month-long investigation into the Republican representative, the report concluded that Santos "knowingly caused his campaign committee to file false or incomplete reports with the Federal Election Commission; used campaign funds for personal purposes; engaged in fraudulent conduct in connection with RedStone Strategies LLC; and engaged in knowing and willful violations of the Ethics in Government Act as it relates to his Financial Disclosure (FD) Statements filed with the House," Guest and Wild said.
Santos released a lengthy statement in response to the report on X/Twitter Thursday.
"If there was a single ounce of ETHICS in the 'Ethics committee', they would have not released this biased report," he began. "The Committee went to extraordinary lengths to smear myself and my legal team about me not being forthcoming (My legal bills suggest otherwise)."
He went on to dub the report a "disgusting politicized smear" and declared that all the participating investigators should be "ashamed" of themselves. Santos also called for an Article V Constitutional Convention, which would convene legislators to propose amendments to the Constitution, pointing to a slew of hot-ticket Republican topics, including the nation's debt, the government's potential to shut down, the southern border and the unsubstantiated claims of the Biden family's improper business dealings.
"I will remain steadfast in fighting for my rights and for defending my name in the face of adversity," Santos continued. "I am humbled yet again and reminded that I am human and I have flaws, but I will not stand by as I am stoned by those who have flaws themselves."
While stating that he'd continue to serve his constituents for as long as he allowed, he announced that his time in Congress would end with this term.
"I will however NOT be seeking re-election for a second term in 2024 as my family deserves better than to be under the gun from the press all the time," he said, concluding his statement by reiterating his commitment to his conservative values during his remaining time in office.
Among the findings alleging Santos' misuse of campaign contributions and fraudulent conduct outlined in the attached 55-page report was that the representative used $50,000 donated from two contributors to make payments toward personal credit card bills and other debt, make a $4,127.80 purchase at Hermes and pay for smaller purchases at Only Fans and Sephora, meals and parking.
The report said that Santos also put campaign funds toward personal travel expenses — including $2,281.52 spent at resorts in Atlantic City in July 2022 — spa services and cosmetic procedures, highlighting $1,400 spent on the campaign debit card at Virtual Skin Spa in Jericho, New York in July 2022 and a $1,500 purchase on the card at Mirza Aesthetics during his 2020 campaign. The latter expense, according to the committee, was not reported to the Federal Election Committee and was noted as "Botox" in expense spreadsheets turned over to the Investigative Subcommittee by Santos' ex-campaign treasurer Nancy Marks, who pleaded guilty to filing false reports with the FEC.
The ethics panel's report also described Santos' lack of cooperation with its investigation and how he "evaded" straightforward requests for information, The Associated Press reports. What information he did provide, the committee wrote, "included material misstatements that further advanced falsehoods he made during his 2022 campaign."
Federal prosecutors charged Santos in May with 13 counts, including defrauding his donors, using their money for his personal benefit and wrongfully claiming unemployment. A superseding indictment made public in October revealed Santos faced 10 additional charges, including stealing his family members' identities and using donors' credit cards to spend thousands of dollars. He has pleaded not guilty to all charges.
Santos relieved himself of his committee assignments in January and had previously announced in April that he would run for reelection.
---
Want a daily wrap-up of all the news and commentary Salon has to offer? Subscribe to our morning newsletter, Crash Course.
---
The initial indictment and Santos' proclivity for telling untruths — including claims that he's the grandson of Holocaust survivors and that he worked at companies that never employed him — prompted Democrats to pursue his expulsion from the House. The issue was referred to the House Ethics Committee, where a panel with an equal split of Republicans and Democrats had already launched an investigation into the New York conservative.
The committee expanded its probe in June to include allegations that he fraudulently obtained unemployment insurance benefits, and at the end of October, it said in a statement that the investigation's jurisdiction included the "23 counts charged over two indictments, as well as multiple allegations of criminal and ethical violations that are beyond the scope of the indictments."
The federal charges — the second round of which came as House Republicans sparred over electing a speaker to replace Kevin McCarthy, R-Calif., after his ouster — also pushed five Republican freshmen from New York to introduce what became a failed expulsion resolution to be considered by relevant committees.
"The House's 55-page report WILL trigger another effort to expel Santos. This one could… actually succeed," Politico's Sarah Ferris reported on X. "House Ethics Chair Michael Guest will file privileged motion tomorrow — guaranteeing a vote after Thanksgiving break."
During his time as House speaker, McCarthy repeatedly said that Santos deserved due process. Newly elected House Speaker Mike Johnson, R-La., has echoed that sentiment while acknowledging the difficult position House Republicans are in because of their "razor-thin majority" in the chamber.
"Here's the reality … we have a four-seat majority in the House," Johnson told Fox News' Sean Hannity the day after his election to the speakership. "It is possible that number may be reduced even more in the coming weeks and months and so we'll have what may be the most razor-thin majority in the history of the Congress. We have no margin for error and so George Santos is due due process, right?"
"We have to allow due process to play itself out," he continued, referring to Santos's case. "That's what our system of justice is for … if we're going to expel people from Congress just because they're charged with a crime, or accused, that's a problem."
In addition to Santos' former treasurer, another individual in the New York congressman's circle pleaded guilty to campaign-related charges. One of his aides took a plea deal earlier this week to a federal fraud charge related to a scheme that included impersonating the then-chief of staff for McCarthy to attract donors to Santos' campaign.
Read more
about George Santos and the GOP