Experts: DA put Trump on notice by cracking down on co-defendant whose conduct "pales in comparison"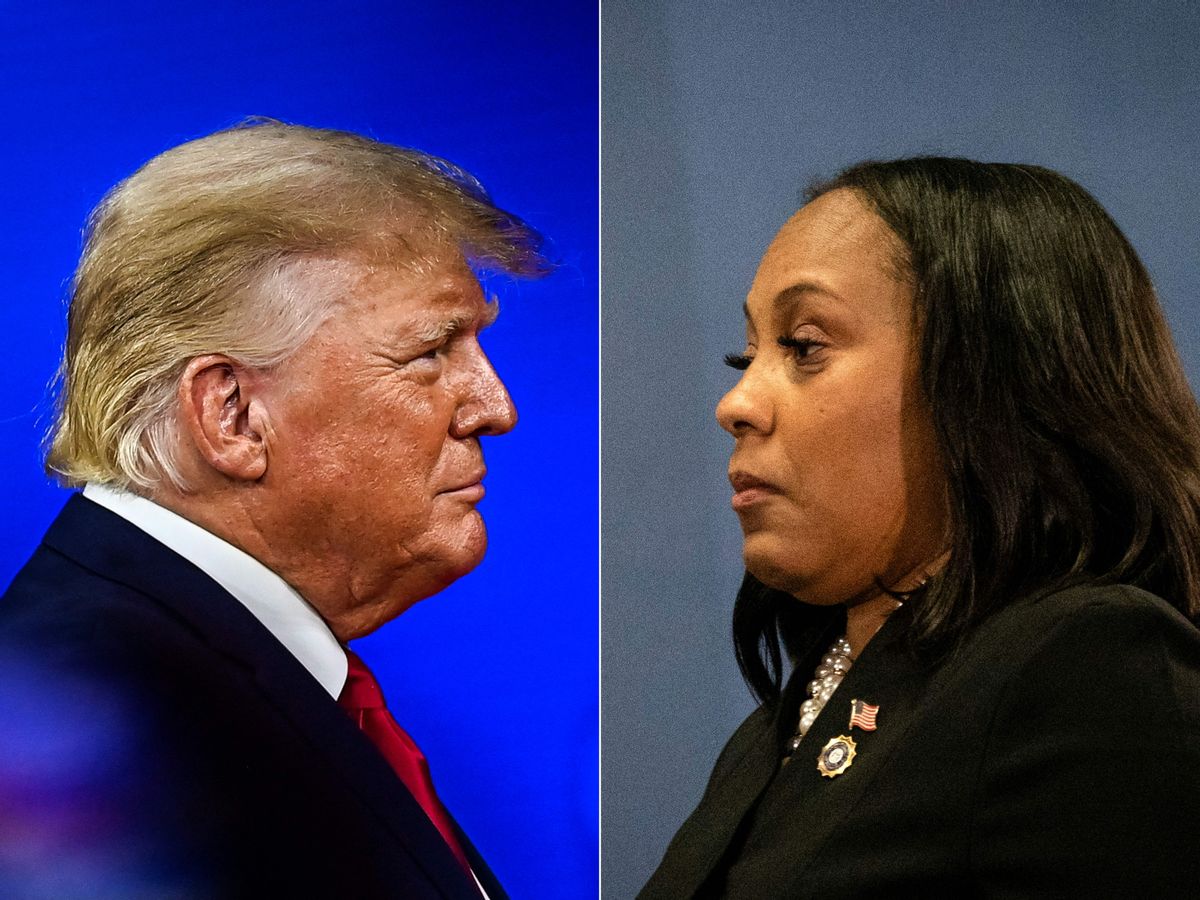 Fulton County District Attorney Fani Willis on Wednesday asked a judge to revoke the bond of one of former President Donald Trump's co-defendants in the sprawling election interference case after accusing him of intimidating witnesses.
Willis asked Judge Scott McAfee to revoke the bond of Harrison Floyd, who previously led a group called Black Voices for Trump, according to The New York Times. Floyd was charged in the RICO indictment along with Trump and 17 others after he pressured election worker Ruby Freeman to falsely say she played a role in the debunked election fraud claimed by TrumpWorld.
Willis' team in a motion citing Floyd's hostile social media posts attacking Freeman, former Trump lawyer Jenna Ellis, Georgia Secretary of State Brad Raffensperger and others "in an effort to intimidate co-defendants and witnesses."
In one Nov. 8 tweet, Floyd warned that Raffensperger "needs to call his lawyer" because "he's about to go through some things!"
"Does this sound like Ruby Freeman is being PRESSURED?" he wrote six days later, posting a video of Freeman on a police body camera.
Prosecutors asked the judge to revoke Floyd's bond, which could potentially send him back to jail, calling the posts "intentional and flagrant violations of the conditions of release."
"Witness Ruby Freeman has been a frequent target of the Defendant's intimidating communications," the DA's motion reads. "Because of and in response to the Defendant's intimidating communications, witness Ruby Freeman has been the subject of renewed threats of violence from third parties."
Floyd's attorney disputed that the posts violated his client's bond conditions.
"There's no violation of any bond," attorney Christopher Kachouroff told WXIA-TV. "Are some of the things borderline untasteful? Sure. But nothing that would overtly violate the order."
Legal experts questioned why Willis went after Floyd but not Trump, who has repeatedly lashed out at witnesses and co-defendants on Truth Social.
"Equal treatment?" asked former federal prosecutor Andrew Weissmann, who served on special counsel Bob Mueller's team. "Let's say you agree with the below motion to revoke Floyd's bail, how is it that the same motion has not been made as to defendant Donald J. Trump, who has engaged in at least as threatening conduct and indirect communications as that alleged against Floyd?"
Weissmann later told MSNBC that Floyd's conduct "largely pales in comparison" to what Trump has done.
"It's hard to see how you bring it against Mr. Floyd and not against Donald Trump, with the threat and a risk of violence is far greater based upon the words that he has used," he said.
Some experts believe that Willis may have been sending Trump a message with the motion.
"Perhaps DA Willis is angling to set a precedent for … someone else?" tweeted conservative attorney George Conway.
---
Want a daily wrap-up of all the news and commentary Salon has to offer? Subscribe to our morning newsletter, Crash Course.
---
"There's a secondary audience for this motion, and he's running to be President of the United States," agreed former U.S. Attorney Harry Litman.
Former U.S. Attorney Barb McQuade told MSNBC that Willis and judges are giving Trump a "slightly longer leash" because he is running for president and "so that he can respond in the public arena to these charges against him."
But Trump also "says all kinds of things about people, including about people who might be witnesses or might be co-defendants," she said. "I think Fani Willis has to be careful not to be seen as holding herself to double standards," she added.
Read more
about the Fulton County case