"Utter embarrassment": "Pathetic" GOPer runs to Fox News to brag about challenging witness to fight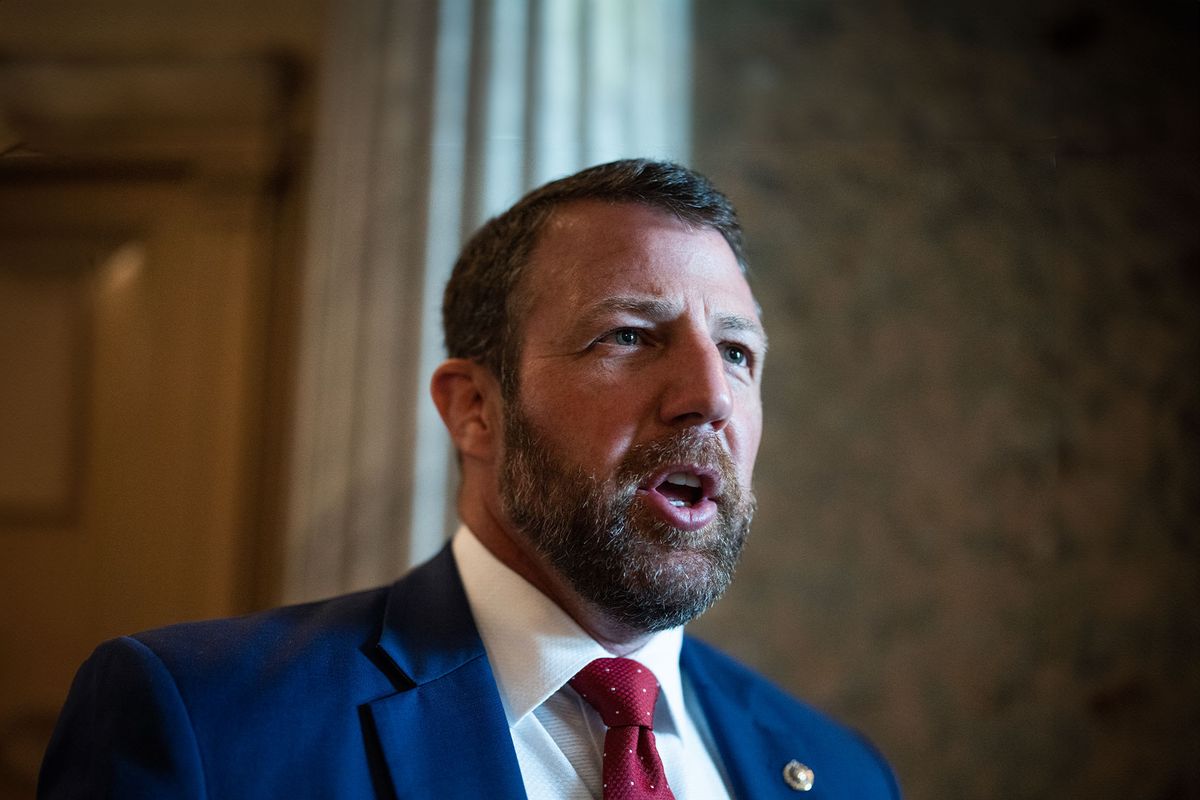 Sen. Markwayne Mullin, R-Okla., claimed he was acting in honor of his home state's "values" when he challenged a union leader to a brawl on Tuesday during a contentious Senate Health, Education, Labor and Pensions Committee hearing.
Mullin at the hearing read a tweet composed by Teamsters President Sean O'Brien, in which the union boss called the lawmaker a "Greedy CEO who pretends like he's self made. In reality, just a clown & fraud. Always has been, always will be. Quit the tough guy act in these senate hearings. You know where to find me. Anyplace, Anytime cowboy."
"This is a time, this is a place to run your mouth," the Oklahoma Republican then said to O'Brien. "We can be two consenting adults, we can finish it here." Committee Chairman Bernie Sanders, I-Vt., halted the heated banter after Mullin stood up and reached for his wedding band, telling the Republican, "You're a United States senator. This is a hearing, and God knows the American people have enough contempt for Congress. Let's not make it worse."
During a Tuesday night sit-down on Fox News, Mullin elaborated on his response to O'Brien's attack, which host Sean Hannity lauded, claiming that anything else would have been "gutless."
"What did people want me to do?" Mullin asked. "If I didn't do that, people in Oklahoma would be pretty upset at me. I'm supposed to represent Oklahoma values."
During another interview with far-right outlet Newsmax after the near-brawl, the former mixed-martial arts fighter seemed to yearn for the days when physical force was used to resolve disputes in Congress.
"Sir, you know what? I'll be honest… Mike Tyson said it best: social media has given us this anonymity and people forgot what it's like to get punched in the face," said anchor Carl Higbie.
"That's right. You know, some people are real strong behind a keypad, but when they get called out, it's completely different," Mullin replied. "People's asked me, too, 'Is this becoming of a U.S. senator.' And, I'm like, man, I'm a guy from Oklahoma first. In Oklahoma, you don't run your mouth like that, and if you do run your mouth like that, you're expected to be called out on it. And, what would happen if I didn't call him out on it? I'm not looking for a street fight; the last time I got in a fight, I got paid for it."
"Every once in a while, you need to get punched in the face," Mullin added.
Higbie then asked if there were any Senate rules permitting "two consenting adults" to physically fight.
"Well, we looked into the rules, and you know, you used to be able to cane," Mullin said, referring to the infamous 1856 caning of Republican senator Charles Sumner, Mass., over Sumner's anti-slavery views. "You gotta remember, President Andrew Jackson challenged nine guys to a duel and won nine times. And, so, at the end of the day, there is precedence for it if that's what someone wants to do. And in this case, I challenged him once — you and I talked about it — he didn't answer, he continued to run his mouth after that, continued to send out tweets. And so, this was the first opportunity we've seen."
"At the end of it, he's like, he tried to say, 'Hey, I didn't mean it like that. You know, I'd rather just go have a cup of coffee,'" Mullin continued. "And I was like, 'Fine, let's go have a cup of coffee if that's what you want.' But, I don't think that's what he means, I think he got called on the carpet and I think he got really nervous. Because when he stood up, the look on his face was a little bit different."
---
Want a daily wrap-up of all the news and commentary Salon has to offer? Subscribe to our morning newsletter, Crash Course.
---
Sanders blasted Mullin's conduct after Tuesday's kerfuffle.
"It's pretty pathetic," Sanders told CNN. "We have a United States senator challenging a member of the panel; who is head of one of the larger unions in America, which had just negotiated a very good contract of their workers: The Teamsters."
"This country faces so many crises," he added. "We have massive income and wealth inequality. We have a housing crisis. Our health care system is collapsing, it's broken, it's dysfunctional — we pay the highest prices in the world for prescription drugs. Climate change is threatening the entire existence of the planet. And this is what goes on in a senate hearing."
"Is the media more interested in a confrontation than why we have massive levels of incumbent wealth and inequality," Sanders asked. "We have to ask ourselves after 50 years the average worker today is earning less in real dollars than 50 years ago while the people on top are doing phenomenally well."
"That to me is kind of an important issue that Congress should be discussing and media should be covering."
Even Fox News host Laura Ingraham trashed Mullin's behavior and gave rare praise to the committee chairman.
"I never thought I'd say this, but Bernie Sanders seems to be the voice of reason here," she said. "Everything you just saw was a complete and utter embarrassment. It shouldn't be what is projected to our kids from our nation's Capitol. Reminder to all of you, yeah, the children are watching. You're supposed to be the adults in the room."
Read more
about GOP meltdowns