"Seems like a bad strategy": Legal experts warn Trump's bid for NY mistrial could badly backfire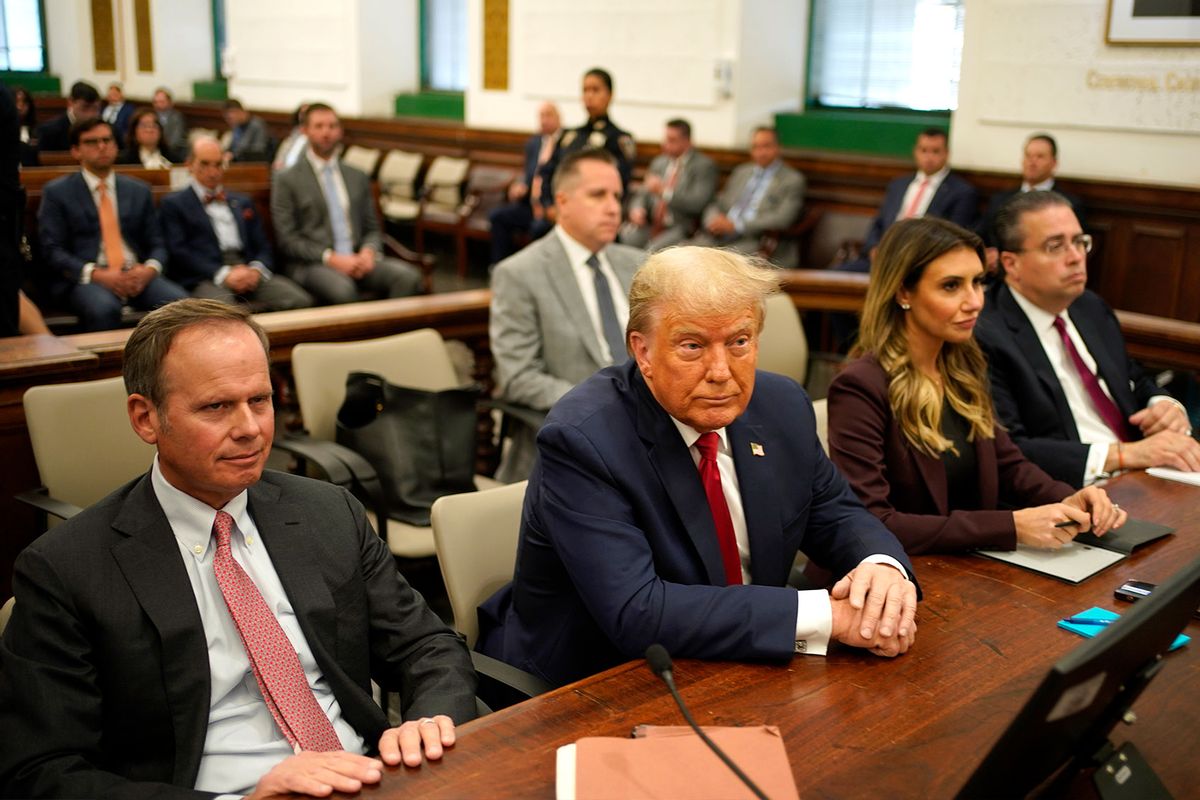 Former President Donald Trump's lawyers on Wednesday filed for a mistrial in his civil bank fraud case, a far-fetched effort to remove the lawsuit that's threatening to dismantle his real estate empire from his slate of legal battles, The Daily Beast reports.
His defense has been foreshadowing the move in the weeks since the trial began after complaining about the way presiding Judge Arthur Engoron has consistently rejected their legal arguments and rebuked their courtroom theatrics. But Wednesday morning's request, made in a 30-page court filing, rings ironic when accounting for the former president's years of threatening to use his political power against his opponents and weeks of directing the ire of his fanbase against the judge and his principal law clerk.
The motion for the mistrial focuses on Trump's increasing irritation with Allison Greenfield, the attorney and law clerk who serves as Engoron's right-hand legal advisor and has repeatedly blocked the former president's attempts to stymie the New York Attorney General's investigation and delay the court proceedings. Since Engoron issued gag orders preventing Trump — and later his legal team — from directly attacking Greenfield and other court staff, defense lawyers are now filing their complaint.
"This appearance of bias threatens both Defendants' rights and the integrity of the judiciary as an institution," they wrote in the filing, claiming that "Greenfield's unprecedented role in the trial and extensive, public partisan activities, would cause even a casual observer to question the court's partiality. Thus, only the grant of a mistrial can salvage what is left of the rule of law."
Whether the request is granted is up to Engoron, who isn't likely to side with the attorneys who have spent weeks trying to stir up drama in the courtroom in an effort to appeal the case in higher New York state courts.
In the filing, Trump's lawyers also gripe that Engoron has contributed to a newsletter tied to the Long Island public high school he graduated from, The Wheatley School, where he is accused of sharing links to newspaper stories about the case. They also bemoaned how Engoron has uplifted Greenfield — a lawyer who is seeking a future position on the New York judiciary — and given her a prominent role in his decision-making process.
"The Principal Law Clerk is given unprecedented and inappropriate latitude," they wrote. "Indeed, before the Court rules on most issues, the Court either pauses to consult with her on the bench or receives from her contemporaneous written notes. While a Justice of the Court no doubt has ample discretion to consult with his or her Law Secretaries, this unprecedented arrangement exceeds the outer limits of such discretion."
As MSNBC legal analyst Lisa Rubin notes online, the filing also focuses on Greenfield's campaign contribution history, lists her name and includes her picture. The significance of those details, Rubin said, lies in Engoron's response to Trump's defense telling him about their planned mistrial motion earlier this month.
"[H]e told them he didn't 'want to hear it in front of hundreds of people' and instructed them instead to submit it as a proposed order to show cause, a specific procedural mechanism for triggering a hearing," Rubin wrote on X, formerly Twitter.
Pointing out that Trump lawyer Alina Habba pledged to file that motion "in a delicate manner," Rubin explained that she also understood Engoron to be instructing the defense to submit their proposed order and motion directly to his chambers in order for him to determine whether to hear the motion publicly and whether Trump's supporting papers, which Rubin notes seem to violate the gag orders under protest as filed, should be redacted or sealed.
"That Engoron met with each side privately yesterday cannot be ignored; it's possible, for example, that Team Trump previewed the contents of its motion for him and filed today with his knowledge and permission," she tweeted.
"But right now, without further clarification, it appears they publicly filed their mistrial motion, brief, and supporting affidavits without such permission—and in a way that likely triggers another violation of the same gag order they claim exemplifies Engoron's bias," Rubin added.
---
Want a daily wrap-up of all the news and commentary Salon has to offer? Subscribe to our morning newsletter, Crash Course.
---
The former litigator also highlighted the "supplemental limited gag order" Engoron imposed on Nov. 3 prohibiting "all counsel … from making any public statements, in or out of court, that refer to *any* confidential communications, in any form, between my staff and me."
"The brief, however, notes that 'before the Court rules on most issues, the Court either pauses to consult with her on the bench or receives from her contemporaneous written notes,' Rubin pointed out. "That seems like a reference to confidential communications to me, folks."
Other legal experts also took note of the irony in the Trump team's mistrial motion online.
"Attacking a judge's law clerk seems like a bad strategy for winning a case—or here, having a mistrial declared," former U.S. Attorney Joyce Vance tweeted.
"I find this to be little more than a political screed egregiously deficient in proving the facts alleged are commensurate with past cases in which bias has been found," Bradley Moss, a national security lawyer, posted on X.
"I find it particularly ironic that Team Trump, which routinely excuses their client's comments as rhetorical hyperbole and innocent exaggeration, attacks the law clerk for engaging in lesser behavior," he added.
Though judges rarely work alongside clerks in the manner that Engoron does, according to The Daily Beast, clerks often complete the bulk of the legal research and draft court orders that are eventually edited and signed by their judges, a practice that extends up to the Supreme Court.
Read more
about the Trump fraud trial