12 Products That Will Shield Your Hair from Harmful UV Rays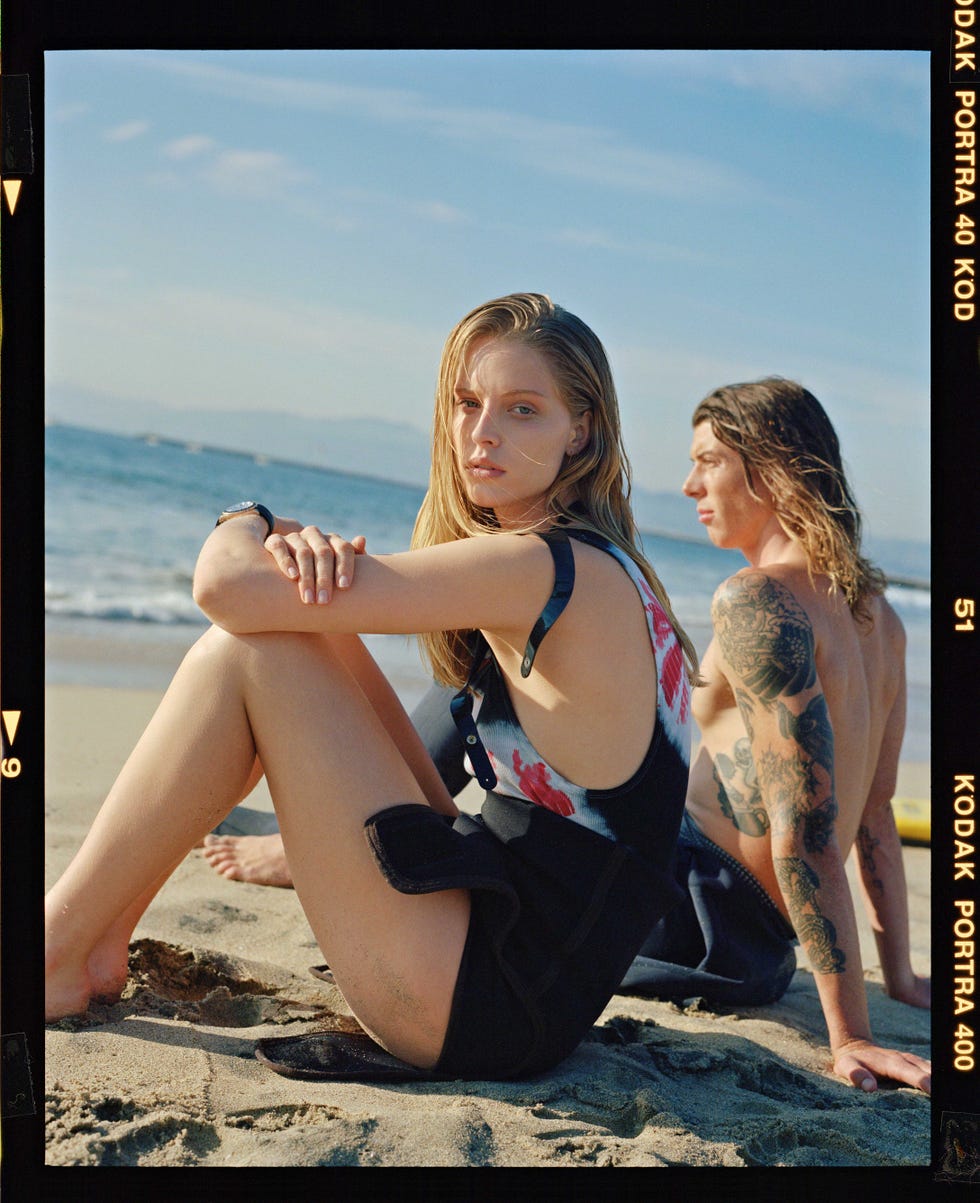 TERENCE CONNORS
Sun protection is a must for your skin and your hair. "People use hair sunscreen to protect their hair from harmful UV rays, which can burn the hair much as they do with the skin. With hair, UV light causes hair to dry out," celebrity hairstylist and Imbue ambassador Michelle Sultan says. The sun can dry out your hair, make it weak, and can lighten the hair.
"Hair could be compared to a beautiful piece of fruit, having an outside 'skin' like the hair's cuticle to protect it. Once the outside of either gets damaged, the inside loses its excellence," says Kate Reid, editorial colorist and Design Director of COLOR.ME by Kevin Murphy. "Color, strength, and moisture all [get] lost much faster as it has no protection."
Those without color-treated hair aren't off the hook, either. As Reid explains, "uncolored hair still breaks down from sun and chlorine, salt and the cuticle becomes damaged creating a rough, dull outside on your hair which then doesn't reflect light and shine in the same manner."
Convinced yet? If you're in the market for the perfect sunscreen for your hair (that will protect your sheen and color) here is a list of 12 great options. Now go out and enjoy the sun, responsibly.
Advertisement – Continue Reading Below
Best for Curly Hair
Curl Defending Heat Protection Mist
Imbue created a moisturizing cocktail of oils that nourishes your curls, builds a barrier against heat, and protects your hair from UV rays. "The Imbue Curl Defending Heat Protection Mist not only protects your tresses from harmful UV rays, but it also protects from electrical heat appliances of up to 428 degrees Fahrenheit and also environmental aggressors."
Sun Care Protective Hair Veil
Like applying sunscreen on your face, this spray forms a protective veil to allow you long hours in the sun without drying out your hair.
Best for Dry Hair
Protective Oil with Ylang-Ylang Wax
Dry ends? Ylang-Ylang wax and castor oils provide intense moisture and prevent chlorine and salt buildup.
Best for Hair Lightening
Bright Blonde Sun Lightening Mist
Protects and lightens hair
We love a multi-use product. Protect hair from harmful UV rays and brighten highlights thanks to a natural blend of lemon and chamomile.
Best for Blonde Hair
Poof 100% Mineral Part Powder SPF 35
Leaves behind white cast on darker hair
Sun protection with no grease required. This mineral powder works like a dry shampoo and provides SPF 30 to protect the scalp.
Best for Frizz
Sun Catcher Power C Boosting Leave-In Conditioner
All hail Vitamin C! Rich in antioxidants, this key ingredient helps protect hair from environmental aggressors and UV damage.
Best for Water Sports
Hair In The Sun
Your beach bag's newest essential is a lightweight serum that nourishes, softens, and protects hair from UV rays, even after you take a dip in the water.
Best Affordable Option
Scalp & Hair Mist SPF 30
Lightweight and non-greasy, this affordable pick will shield your scalp using powerful SPF 30.
Best for Color-Treated Hair
Color Care Color Protect Locking Spray
Keep your dyed hair in check with this spray that's specifically engineered to lock in color and combat fading.
Best for Thick Hair
Hairdresser's Invisible Oil Heat & UV Protective Primer
Created to work with all hair types, this do-it-all UV protection primer doubles as a leave-in conditioner. No more crunchy post-beach hair.
Best for Subtle Shine
Phytoplage Protective Sun Veil
The perfect spray to create the ultimate beach waves. The water-resistant oil protects hair from sun, chlorine, and saltwater.
Best for Movement
Hot Toddy Heat Protectant Mist
Protect your hair from heat and the elements. Drybar's Hot Toddy also controls frizz and adds a bit of shine to your locks.
Can your scalp really get sunburned?
"Your scalp can absolutely get burnt. The skin on your scalp is the same as skin anywhere on your body. Hair actually protects your scalp from burning too easily in direct sunlight," Sultan says. People with fine, lighter hair are more susceptible to burning. "That's why wearing a sun hat is commonly recommended and while this is not always practical, the other option is to use a form of hair sunscreen that has UV protection in it," she adds.
How can you protect your hair from UV rays without making it feel greasy or weighed down?
"Hair sunscreen comes in many different forms now but if you're looking for a non-greasy one that doesn't weigh the hair down then try one in a powder form or a spray," Sultan says.
What should you look for in a hair sunscreen?
Sultan advises shopping for hair sunscreen the same way you shop for sunscreen for your face. "You should be looking for a sunscreen that has a high level of UV protection of at least SPF 30, one that doesn't change the style of your hair, is lightweight and doesn't leave a white cast," she says.
This content is created and maintained by a third party, and imported onto this page to help users provide their email addresses. You may be able to find more information about this and similar content at piano.io
Advertisement – Continue Reading Below