Dua Lipa Shares Her 'New Rules' for Beauty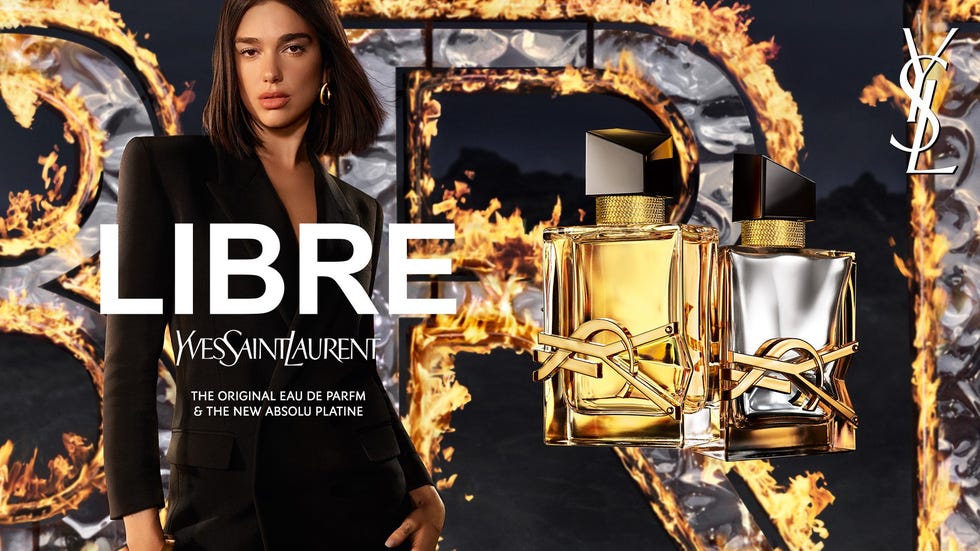 After wrapping up a world tour and the Barbie movie, believe it or not, Dua Lipa currently has some downtime. But instead of vegging out on the couch or even just taking a vacation, the singer is still working—mainly on her passion projects. Her podcast, At Your Service, is currently in its third season, and her website, service95.com, feels more like an intimate exchange between the superstar and her fans in editorial form. Her October book club read is One Hundred Years of Solitude by Gabriel García Márquez ("irresistible," she raves in her review). Lipa is undoubtedly a multifaceted multi-hyphenate, exploring all the bullet points on her stacked resume, including model and brand ambassador.
For the past four years, she has been a global ambassador for YSL Beauty and the face of Libre, which is entering its fifth generation. Being the face of Libre since its initial launch in 2019, Lipa enjoys the "collaborative" and "supportive" nature of the partnership. The travel isn't a bad perk, either. "With each new campaign comes new shoots which have taken us to some extraordinary places, and we've had the most incredible time on these sets," she tells ELLE.com.
Known for being at the forefront of starting trends (hello, blueberry nails!), travel remains the ultimate source of her inspiration. "Nothing beats people-watching in a big city like London, Paris, or New York. I love the energy of cities like these—they are an endless source of style inspiration," she says. "I love taking in everything from the people to new restaurants, and museums, and truly immersing myself in a different culture."
More From ELLE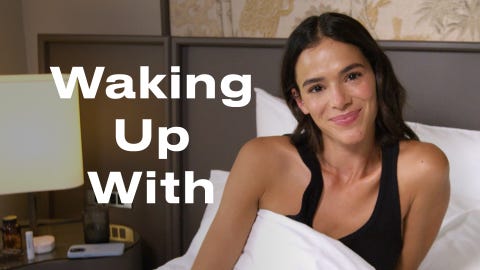 Her love of travel aligns with Libre Abslou Platine, the newest iteration of Libre. Defining freedom in scent form, the notes include the alluring sensuality of orange blossom from Morocco, the freshness of lavender from France, and the elusiveness of white lavender from Provence, all combining to create a warm floral fragrance. The most nuanced out of the five offerings, as each note within the formula was deconstructed and then reconstructed to bring out the full ethos of the aroma, the trail of Libre Abslou Platine follows you like a spotlight on a stage. The fragrance pulls inspiration from two countries, which served as personal inspiration for Yves Saint Laurent himself.
Below, Lipa shares her travel skin care regimen, the inspiration behind her hairstyle for the campaign, and, in the essence of Libre, what freedom means to her.
---
Who would you say Platine is for? Who in your life have you gifted this fragrance to?
Platine is for anyone looking for a bold, crisp scent. I think the better question is who haven't I gifted it too!
What's one of your "new rules" for beauty?
I finished up my world tour at the end of last year, so during this quieter time I've been going with a fresh face whenever possible. It's always good to give your skin a break.
You grew up in Kosovo—is there a beauty trend specific to the area that you've carried with you to this day?
I wouldn't necessarily say there is one beauty trend, but the thing I find most empowering about Kosovar women is their confidence.
You travel a ton. Can you share the beauty essentials you need to have with you at all times?
SPF is a no-brainer whether you're going to somewhere sunny or not. I always find my skin needing some extra love when traveling, so I keep a lot of deeply moisturizing products on hand. I love a super hydrating lip mask during and after a long flight, a facial mist is great for the same reason, and I always throw a sheet mask or two in my carry-on. And lastly, a great waterproof mascara is a must-have for vacation.
In the Platine campaign, you have a lob; what inspired this hair choice?
I love playing with new hair and beauty looks, and thankfully my YSL team is always down to do the same!
It really warmed my heart when I saw you launched a book club. How was your love for reading fostered?
I've always looked to reading as way to further understand human connection and relationships, and the escapism that reading provides really serves as its own form of wellness. When my schedule gets hectic, I know that if I'm able to pick up a book, I can find a sense of calm for a while.
Libre means free—what does freedom mean to you?
Freedom to me is the strength to take on new challenges, and being open to new experiences all while staying true to who you are at your core.
---
---
This interview has been edited and condensed for clarity.

Digital Beauty Director
Danielle James is the Digital Beauty Director of ELLE.com. Previously, she was the Fashion and Beauty Director of HelloBeautiful.com and MadameNoire.com. She's written for The Cut, InStyle, Allure, The Business of Fashion, Nylon, Essence, Good Housekeeping, and more. She enjoys sailing, thrifting, Japanese whiskey, Naomi Campbell's runway walk, and Rihanna in the comment section.