Sandy Liang Creates a New Version of Mermaid Pretty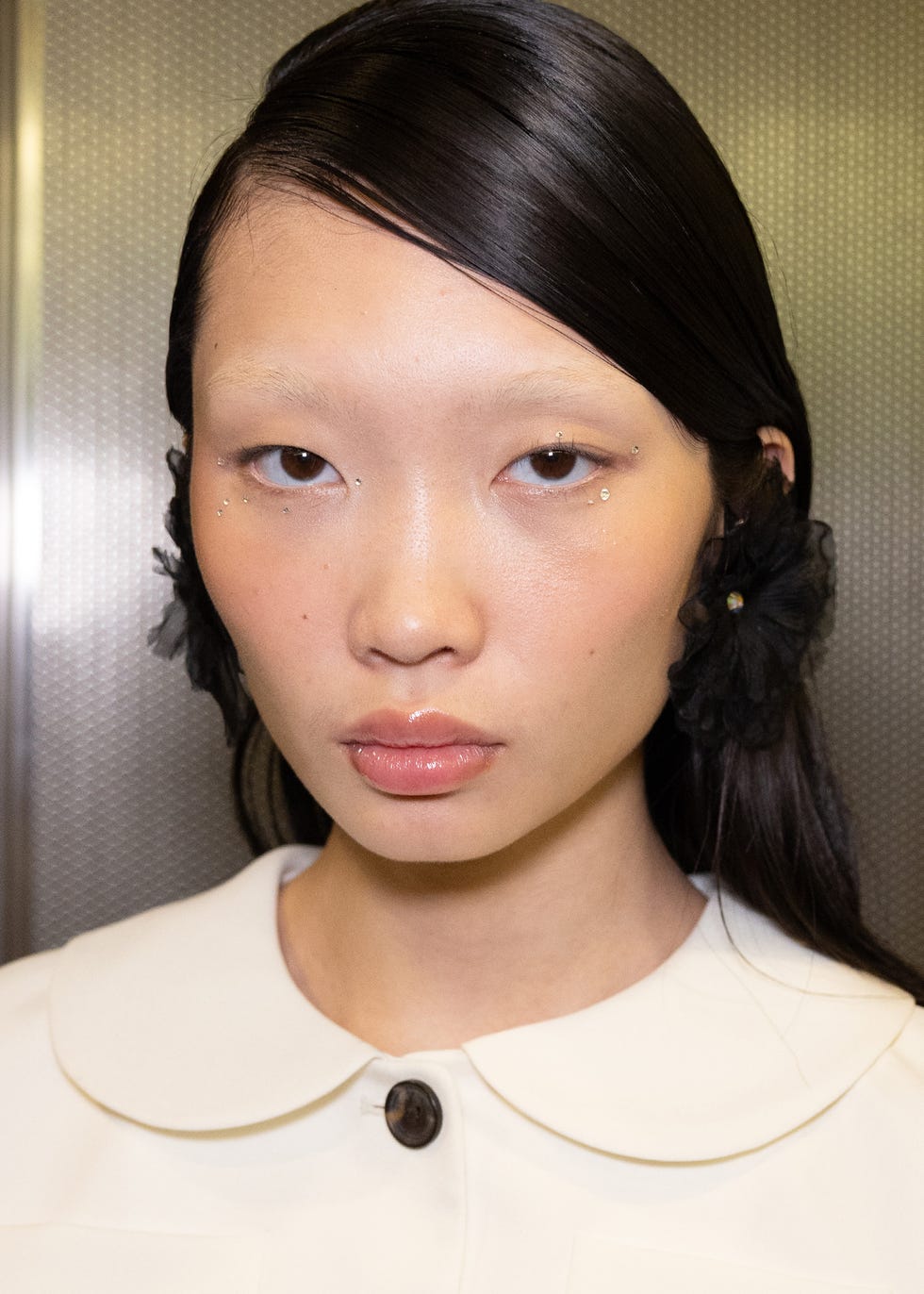 For all the wistful mermaids, those who love the markers of girlhood, and rhinestones, there's the Spring 2024 Sandy Liang show. If there was a main character for the new season, it would be a blend of Cecilia, the youngest depressed daughter of The Virgin Suicides mixed with a slightly melancholy Ariel. On the mood board backstage, Liang had pinned a note along with a few pictures: Cecilia wearing her ill-fitting prom dress along with flip flops, anime mermaids, and shiny, pearly conch shells. "She's wearing her mom's old lace dress with grippy sport sandals from TJ Maxx, on her way to collect bugs and rocks with shell phones in her ears" (so you can't call her on her shell phone), along with a saying that stuck in her mind: "But a mermaid has no tears and therefore she suffers so much more."
The beauty look was dominated by crystal "barnacles." "No constellations!" Jocelyn Biga, Global Pro Artist for Estée Lauder called out backstage. She had been directing her team to haphazardly, not purposefully, glue tiny rhinestone "barnacles" all across the lids and cheeks of models. There was no rhyme or reason to the crystal placement, other than meaning to look random – a crystal on the lashline, two on the cheekbone, a third on the eyelid, and two more someplace else for the hell of it (which is actually more difficult than it sounds). The crystal barnacles "grew" out of very dewy skin – the models had skincare-as-highlighter, with Advanced Night Repair that the makeup artist applied liberally onto the cheeks. Some had bleached brows, now colorless from the sun, and flushed lip stains.
Evanie Frausto also gave the models damp, slightly wavy hair, to go with the "she sells seashells by the seaside" vibe, using the haircare brand Bread. A few also got large tropical barrettes bedecked with rhinestone dew sparkles, which were pinned behind the ears, or on both sides, like a mermaid enjoying some leisure time ashore on the beach. For nails, manicurist Holly Falcone wanted to create a mother-of-pearl effect. She used a layer of KIKI World Pretty Nail Graffiti in Pearl as a base and then used eyelash glue to affix crystals of various sizes onto the fingers and nails (again, in random locations). It was all mix of pretty randomness that the Sandy Liang crew, which included Lola Tung, Greta Lee, and Ella Emhoff seemed to love.
More From ELLE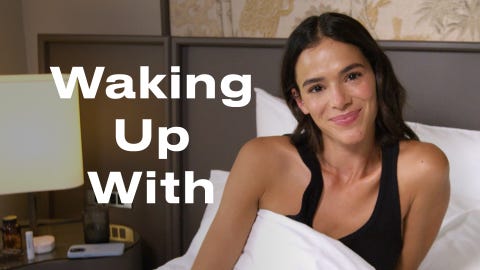 ELLE Beauty Director
Kathleen Hou is ELLE"s Beauty Director. Previously, she held the same title at New York Magazine's The Cut. She's appeared in publications such as New York, The New York Times Magazine, Vogue India, Forbes, and Allure. She was also a co-founder of Donate Beauty, a grassroots beauty donation project started during the COVID-19 crisis, which donated over 500,000 products to over 30,000 healthcare workers across 500+ hospitals.