Hermoso accuses Rubiales of sexual assault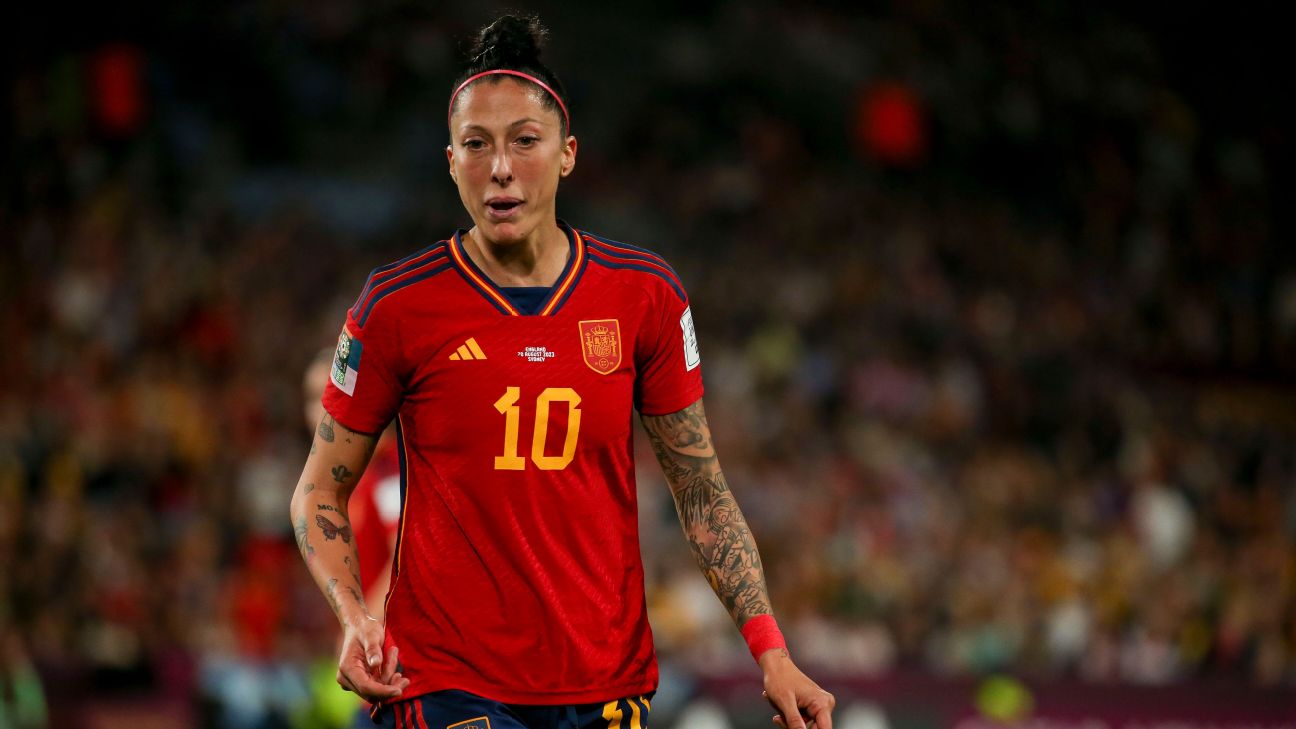 Spain's Jenni Hermoso has accused Luis Rubiales of sexual assault for kissing her on the lips without her consent after the Women's World Cup final, the country's prosecutors' office said on Wednesday.
Sources close to the Spain forward, who plays her club football for Mexican side Pachuca, confirmed to ESPN that she has pressed charges.
Rubiales, the now-suspended president of the Spanish football federation (RFEF), kissed Hermoso on the lips during the awards ceremony after Spain beat England to win the title Aug. 20 in Sydney.
– Charting Spain FA president's five controversial years in charge
In addition to facing criminal charges, Rubiales remains the subject of ongoing probes by Spain's top sport court (TAD) and by world governing body FIFA.
On Aug. 28, Spanish prosecutors announced they had begun a preliminary investigation into Rubiales' conduct and offered Hermoso the opportunity to file a complaint against him.
Hermoso, 33, had 15 days to formalise the complaint and did so in person this week, sources confirmed to ESPN.
In a statement released in August, Hermoso said that the "kiss was not consensual" and that she "felt vulnerable and the victim of aggression, an impulsive, sexist act."
Rubiales had previously claimed the kiss — which he referred to as a "little peck" — was with consent.
"The behaviour of Rubiales could be deemed as sexual harassment on the basis of current Spanish legislation," attorney Ignacio Alvarez Serrano, an associate at Gomez-Acebo & Pombo, told ESPN last week.
"[The legislation] punishes such misconduct with 1-2 years in prison and 18-24 months of professional disqualification."
In the event of a successful prosecution, Rubiales would be unlikely to do jail time: Prison sentences under two years are usually suspended in Spain if the guilty party has no criminal record and does not re-offend.
Although the incident took place in Australia, Spanish law allows for acts committed overseas to be prosecuted in Spanish courts if the parties involved are Spanish nationals and the conduct in question is also an offence in the country where it took place.
TAD opened an investigation of Rubiales last week and, after classifying the infraction as "serious," could ban Rubiales from the game for a maximum of two years. If they had classified it as "very serious," the government could have stepped in to suspend Rubiales as the investigation is carried out.
Rubiales was suspended by FIFA on Aug. 27, a day after he refused to step down, delivering a defiant speech to the general assembly of his federation in which he claimed he was the victim of a "witch hunt" by "false feminists."
As the fallout continues after Rubiales' post-World Cup behaviour — when he also hugged and kissed other players and grabbed his crotch inappropriately — the coach of Spain's women's team, Jorge Vilda, lost his job Tuesday.
Vilda — who has been criticised for applauding Rubiales' non-resignation speech two weeks ago — was backed by Rubiales last September when 15 players renounced their availability for the Spain team until certain changes were made to the setup.
Vilda initially maintained his silence over Rubiales' behaviour at the World Cup final. However, after four assistant coaches for Spain's senior team, two coaches of the women's youth teams, and five other staff members for the senior and youth women's teams resigned last month, Vilda released a statement criticising Rubiales' "improper behaviour."
Acting RFEF president Pedro Rocha made the decision to dismiss Vilda this week, replacing him with his assistant coach, Montserrat Tome.
"After everything that was achieved, after giving everything working, my conscience is clear: I have given 100% over 17 years and I do not understand [the decision], I did not deserve my sacking," Vilda told Cadena Ser on Tuesday.
"This team's success will be valued more with time. I am left with the doubt over what the footballing criteria are that mean I am not continuing as coach. It is a strange situation. What hurts most is that my honour and behaviour are questioned.
"I will never applaud anything sexist, I will never applaud anything that goes against feminism, understood as the fight for equality
"I didn't know what was going to happen: we thought there was going to be a resignation. There are lots of people, you are in the front row and it is your boss giving the speech, and a lot of it is directed at you.
"In that moment, he is saying publicly that he is extending my contract and valuing my work — and I did applaud."
Spain's government, players' unions, players and many citizens have come out in support of Hermoso. Rubiales, meanwhile, has become a soccer outcast.
Before joining Pachuca, Hermoso enjoyed a long career with top Spanish and European clubs, including Barcelona, Paris Saint-Germain and Atletico Madrid.
Information from The Associated Press was used in this report.