Emma Seligman's Bottoms Is the Newest Addition to the Teen Movie Canon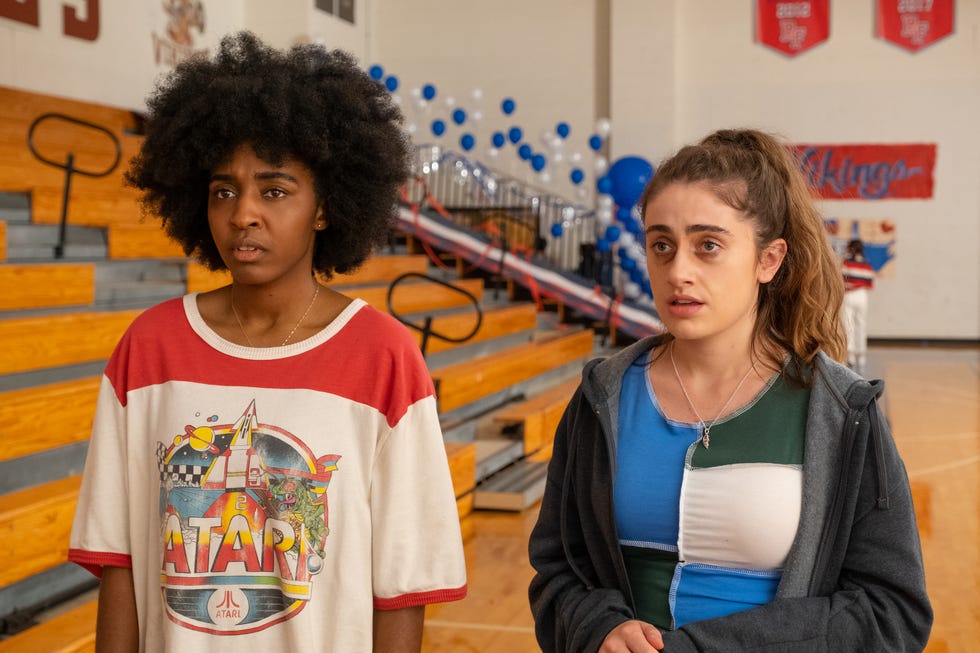 While gearing up for her second feature, Canadian director Emma Seligman took in the classics: Wet Hot American Summer, Superbad, American Pie, Scott Pilgrim vs. the World. "The only way I can get into making a movie is rewatching anything and everything that influenced it," Seligman says. And in one way or another, all of these raunchy teen movies paved the way for Bottoms, Seligman's film about two queer high school outcasts, PJ and Josie, played by Rachel Sennott and Ayo Edebiri, and their attempt to get laid by starting an all-girls fight club.
While writing each absurd joke, Seligman would think about how these films gave her the green light to proceed. "It's okay to make something absolutely ridiculous and stupid and dark," she says. "Those movies didn't have any hesitations about how uncomfortable and off-putting the humor was."
She also watched more female-driven, dark comedies, like Drop Dead Gorgeous, But I'm a Cheerleader, Sugar & Spice, and Dick. Bring It On became a major source of inspiration not just for the script, but for the film's blocking and lighting. "The music and sound effects are great as well," she says, "and obviously, that it's hinging on camp while still caring about the characters."
Then, Seligman put her own spin on it, making it queer and female and, as far as she and Sennott were concerned, showing us real characters. "They're not discovering a vibrator or discovering porn for the first time. They're just hormonal, selfish teenagers like everybody else in high school." Bottoms paints a campy, at times familiar, portrait of high school through the eyes of PJ and Josie, as they stumble in pursuit of their popular-girl crushes. The quest results in bloody noses, car explosions, and tall tales of their time in juvie. It nods to the teen sex comedies that came before it, and yet it's altogether new.
In many ways, Bottoms is a departure from Seligman's 2020 debut feature, Shiva Baby, which deals with uncertain futures, clandestine affairs, and overbearing elders in the claustrophobic setting of a shiva house. With Bottoms, Seligman just wants viewers to laugh. "I think that audiences, and queer audiences specifically, deserve to watch something that doesn't make them think too hard about their identity, and just lets them have fun."
Shiva Baby may have predated Bottoms by three years, but Seligman began writing both scripts in tandem while finishing her studies at New York University. Whereas writing her first feature alone was isolating and personal, writing the Bottoms screenplay with Sennott proved to be a strictly good time. "Rachel is just a pure joke machine," Seligman says of her co-writer.
As it turns out, they brought complementary skillsets to the table. While Seligman's focus was more on structure and character development, Sennott gave the film its campy tone and absurdity, making space for the two to feel "free to write whatever is funniest and whatever feels right, without thinking too hard at the beginning of the process."
The two first met when Sennott auditioned for the short film that Shiva Baby was based on. "She was ambitious and go-getting even from that time, skipping classes to be in short films and writing exercises for the film students so she could make connections," Seligman says. They wrote the entire script for Bottoms in person, first, at NYU, filling a big whiteboard with ideas like "bomb goes off" and "girls fighting" (as one does at a university conference room). When they graduated and their building access expired, they'd meet up at local spots like Ad Hoc and Court Street Grocers.
Seligman chalks up her relationship with Sennott to fate. "She's everything and more to me," she says. "I don't know how I got so lucky to have her. We joke that we're sisters, but it feels a lot more special than that." In particular, she says, it's unique to get to build her career alongside someone who also didn't come from the industry and witness each other's spectacular growth and struggles along the way. It comes down to the little things, too. When Seligman wants to tell someone unbelievable career news, Sennott is that person. And when she's frustrated by the limitations of making a studio movie, she goes to Sennott to commiserate.
Bottoms, like so many great comedies, relies on an ensemble cast that plays perfectly off of each other. Seligman and Sennott wrote the film with Edebiri, their NYU peer, in mind from the beginning. Seligman used to attend Sennott and Edebiri's comedy shows while in school.
Working with casting directors Laura Rosenthal and Maribeth Fox (A Quiet Place, Carol), Seligman and Sennott rounded out their dream cast, modeled after the style of John Waters. "What would it be like if we put a sports person and an influencer, and a trained theatre actor, and all these people together? It ended up being much more thoughtful and intentional, and a combination of having that inspiration, but also about who was best for the role," Seligman says.
From Havana Rose Liu and Kaia Gerber, who play cheerleaders and the objects of Josie and PJ's affection, to Nicholas Galitzine and Miles Fowler, who play the jocks, the cast all understood "that they had to believe their characters and stand by them," Seligman says. "They completely understood the genre." Finding collaborators across the board meant picking out kindred spirits, people who understood the absurdity they were going for. "It wasn't hard to pitch in that we felt so clearly about what it was," she says. "Once we found someone who like totally understood it, it was easy." That came in the form of producer Alison Small at Brownstone Productions and Alana Mayo at Orion Pictures.
From the get-go, Bottoms was a different beast than Shiva Baby. For starters, working with a studio meant "more, support, more money, more people believing in you at a higher power," Seligman says. She went from working with a crew of 30 to a crew of 200. "It's a system," she says, so succeeding came down to "understanding how the system works." It also involved familiarizing herself with the foreign world of sports-obsessed, small-town America, where the film is set. Seligman learned about powderpuff games and the revered status of football players, for example, through Sennott's experience growing up in a small, idyllic town Stateside.
And while Seligman's high school experience resembles nothing like the one in Bottoms, the visceral emotions are there, whether it's the feeling of insecurity or loneliness or intense dedication to a hobby. Seligman was a movie buff from a young age, growing up in Toronto and taking part in TIFF's Next Wave group in high school. For her, drama class and movies were everything. "When you're in high school, you can make a hobby your whole life," Seligman says.
Now that she's through with Bottoms, and her raunchy teen comedy rolodex of films, Seligman has been catching up on quality summer viewing, like Barbie, Theater Camp, Past Lives, and Oppenheimer. "This is the summer of returning to cinema," she says, glad to see both indies and blockbusters drawing crowds. "It's very exciting to see people back in theaters—really, really encouraging and making me emotional. It feels like how it felt before streaming blew up. We're having a little bit of a comeback." Now it's her film's turn to bring people together and, more than anything, to make them laugh.
Bottoms debuts in select theaters today before expanding to more cities on September 1.
Nadine Zylberberg is a writer based in New York City. She found her way through the world via movies, words, and chocolate chip cookies. After graduating from the University of Pennsylvania and Oxford, she worked at the New Yorker and the Academy of Motion Pictures, which landed her on the Oscars red carpet for a few years, wondering where they keep snacks in those dresses. She's always in pursuit of great sample sales and even better stories.