EXCLUSIVE: MERIT Launches Solo Shadow in 8 Shades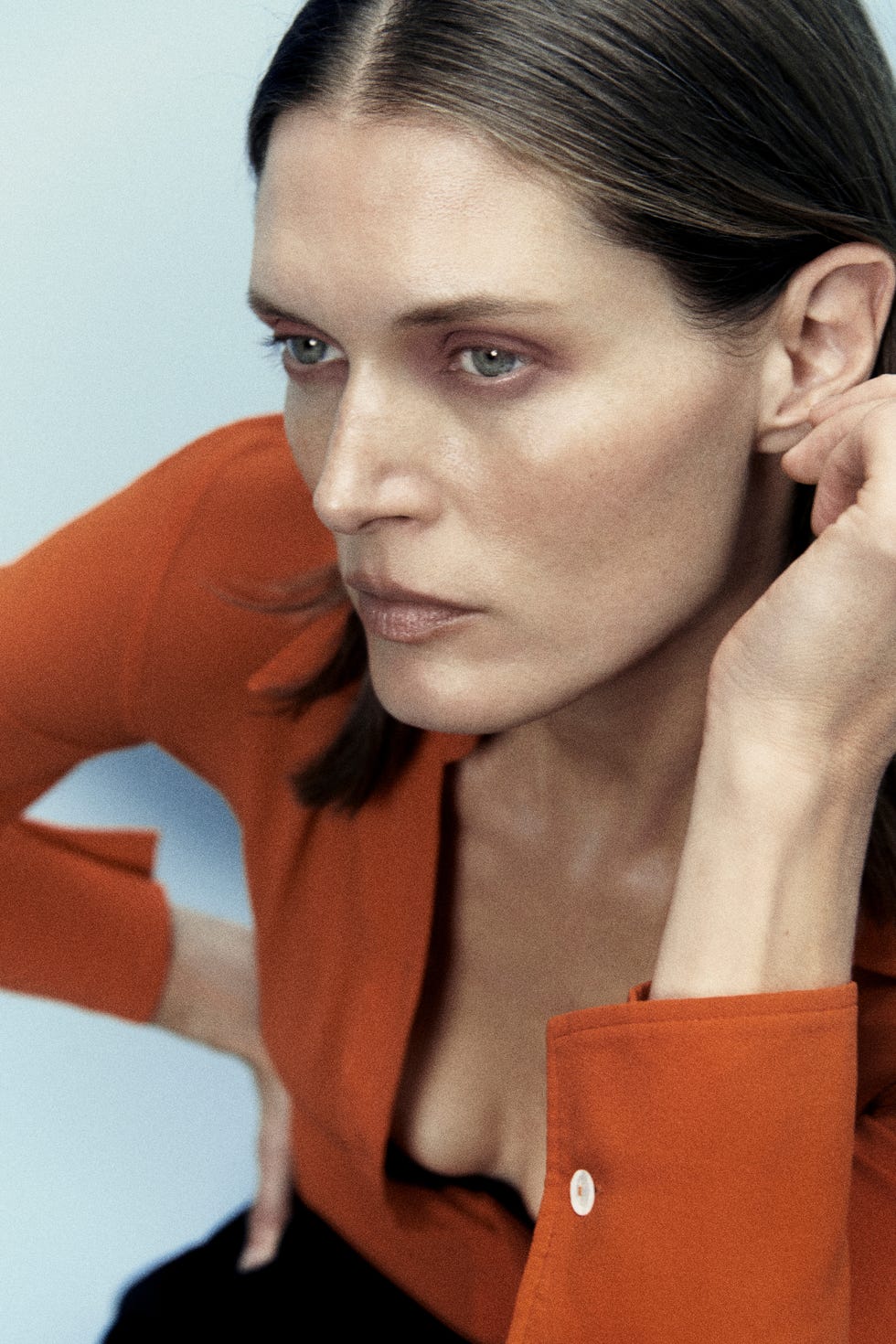 MERIT's latest beauty launch further proves its minimalist mission. This time, the focus is on the eyes. They are rejecting the 50-shade palette and releasing one pot pigments, called 'solo shadows' in 8 matte shades, including four neutrals—Brun (deep brown), MidCentury (warm brown), Vachetta (warm beige), Studio (cool taupe) and four statement shades—Nelson (soft grey), Social (soft mauve), Viper (warm green), and Midnight (classic navy), which are all cool-toned and a nod to the 90s. "It never sat well with us that we were hitting the pan on one or two colors at most, while the rest of the shades in a palette were barely touched," Aila Morin, SVP of Brand, Growth, and Innovation at MERIT, shares exclusively with ELLE. Known for being a well-edited brand, with only 10 sku's in their assortment, the Solo Shadow is a newcomer gunning for that regular spot on your vanity. Along with Morin, ELLE spoke with founder Katherine Power for an exclusive interview on the brand's newest product.
Why Merit Chose Solo
"A core inspiration for Solo Shadow was actually the lack of utility around the 10, 20, even 50 shade palettes that became popular in the 2010s," reveals Morin. In a beauty era where we are navigating sustainability, maybe beginning with a less is more attitude is [the] initial solution we need. "For us, a great product is one that you finish—and I don't know about you, but I've never used up every color in a multi-shade palette," Morin states matter of factly.
According to Nielsen, eyeshadow sales dropped 42% in 2020 as consumers pivoted toward more skin-focused routines. However, prestige beauty rebounded better than Hall of Famer Wilt Chamberlain in the NBA finals—in 2021, it was up 30% year over year, according to data from Circana, and 2023 is proving successful, with prestige beauty reaching $14 billion in sales as of June 30th. Nevertheless, Solo Shadow was truly customer driven. MERIT said eyeshadow became the most requested product in their 2022 consumer surveys. Little did consumers know the brand had been working on a formulation for 7 years, with over 100 iterations—finally, Solo Shadow is here.
More From ELLE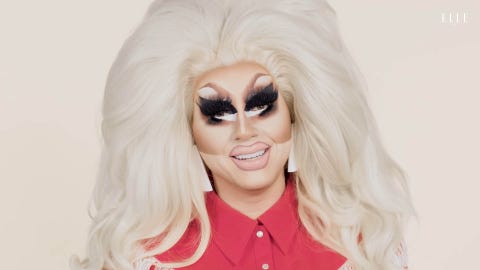 Formulated for Long Wear and Mature Women
"Even before the pandemic, eyeshadow had become this overwhelming category that skewed very young, filled with bright colors and lots of sparkles—it wasn't wearable. I noticed that I had pretty much stopped wearing eyeshadow unless it was some kind of special occasion," reveals Morin. Solo Shadow is a sheer, buildable formula, with a matte finish, fully designed to be easy for everyday use.
The waterproof and transfer-proof product was formulated with mature women in mind, ensuring that the creamy shadow would not settle into creases and fine lines. With many beauty brands chasing Gen Z, Founder and CEO Katherine Power saw a space in the market for women in their 30s, 40s, and 50s, "The idea of MERIT was born out of my own experience—I was looking for a brand that evoked the feeling of heritage luxury beauty but prioritized skin safety and created easy-to-use products. I wanted to create products dedicated to busy women with very little time on their hands for makeup, which means these products had to be efficient in use and impossible to mess up," Powers shares with ELLE.
In fact, both Sarah Jessica Parker and Kate Hudson have taken this eyeshadow for a test run. SJP's longtime makeup artist Elaine Offers Woulard placed the yet-to-be-released product on her lids for both seasons of And Just Like That and off-screen, including at the season 2 premiere. "I used Nelson, a deep charcoal brown in the crease for depth and to elongate the eye. I didn't use an eye primer, but the lids were clean of foundation, and gently moisturized. These shadows are stunning alone, but also play well as a first layer under other eyeshadows, which I did on SJP," Woulard shares with ELLE.
Furthermore, the campaign imagery illustrates the message. The face of the campaign is 46-year-old Polish high fashion model Malgosia Bella. She stares sultry into the camera with a smoky eye, looking ready for a night out and beyond. Solo Shadow is a soothing formula containing skin-first ingredients, including antioxidant-rich chamomile and calendula extracts, sunflower seed oil, and magnolia bark extract, all of which serve as an anti-inflammatory, soothe redness, and help reduce fine lines and wrinkles. "The formulas and textures lend themselves to women at a stage in life where they've got a lot on their plate," says Powers.
The Review
As one of the first editors' to try the product, I was excited when it arrived to my office at Hearst Towers. The packaging was a black box with the words "MERIT" written in white block lettering at the bottom. I opened the box to find four of the eight shades, including Brun (deep brown), Viper (warm green), MidCentury (warm brown), Midnight (classic navy), and the No. 2 brush.
The Solo Shadow has a gold top with the product held in a deep smokey gray pot. The first one I opened was one of the brown shades and from the packaging, it immediately reminded me of my concealer. My first instinct was to apply the product with my fingers—which actually felt really good between my index finger and thumb—as I rubbed the creamy formula into the back of my hand, it disappeared. With this application, they looked faint against my melanin. I was instantly disappointed and then went to a co-worker's desk to see if the colors showed up better on their skin. The colors did, and right when I was about to write off the product, wondering how the campaign images were way more pigmented than the shades on the back of my hand, I remembered the No. 2 brush.
I picked up product with the small, dual-ended brush and applied Viper onto the back of my hand. The deep green showed up sharply. I realized then it was all in my application! Smear for a blurred, diffused, smudged look, but if you want pigment and color—pat on product—the color shows up instantly and strongly (yes, it works well with your fingers, too). I loved the dual-ended brush because one side is small and perfect for getting in the inner corner of your eyes or placing the shadow close to your lash line, while the other is fuller and better for patting the eyeshadow onto your lids.
Woulard shared how she applies the product: "I found that using a medium dense eyeshadow brush to apply the shadow works great, followed by a fluffier shadow brush to blend out the color, and find the desired shape. For application to the lower lash line, I use a soft flexible liner brush to apply, and a tiny shadow brush to smokey effect. The colors can build to be very saturated, so experiment and get to know this wonderful product."
I adopted this method the second time I tried the product, resulting in a successful application.
All in all—use the brush for best results (semi-related: the bristles feel great when brushed across your eyelids).
It's true—the product doesn't move. I had to wash my hands three (!!!) times before it started to fade from my skin—and yes, I sang 'Happy Birthday' twice to make the 20 seconds fly by. When I applied it to my eyes, I didn't experience those pesky eyeshadow crease lines on the eyelids toward the end of the day.
Once I learned how to apply this product correctly, I enjoyed the eyeshadows. And a few shades are must-haves if you are on the latte makeup trend.
I know, you are clamoring for the product and impatiently wondering, where's the link? Slow down. The Solo Shadow ($24.00) and No. 2 Brush ($20.00) will be available to customers on Meritbeauty.com and Sephora.com on August 22nd, so you'll have to wait a couple more weeks to secure that sexy smokey eye or latte look.

Beauty Director
Danielle James is the Digital Beauty Director of ELLE.com. Previously, she was the Fashion and Beauty Director of HelloBeautiful.com and MadameNoire.com. She's bylined for The Cut, InStyle, Allure, Business of Fashion, Nylon, Essence, Good Housekeeping, The Grio, and Huffington Post. Danielle enjoys sailing, thrifting, Japanese whiskey, Naomi Campbell's runway walk, and Rihanna in the comment section.