Miranda Kerr Is the Face of Louis Vuitton's Pacific Chill Perfume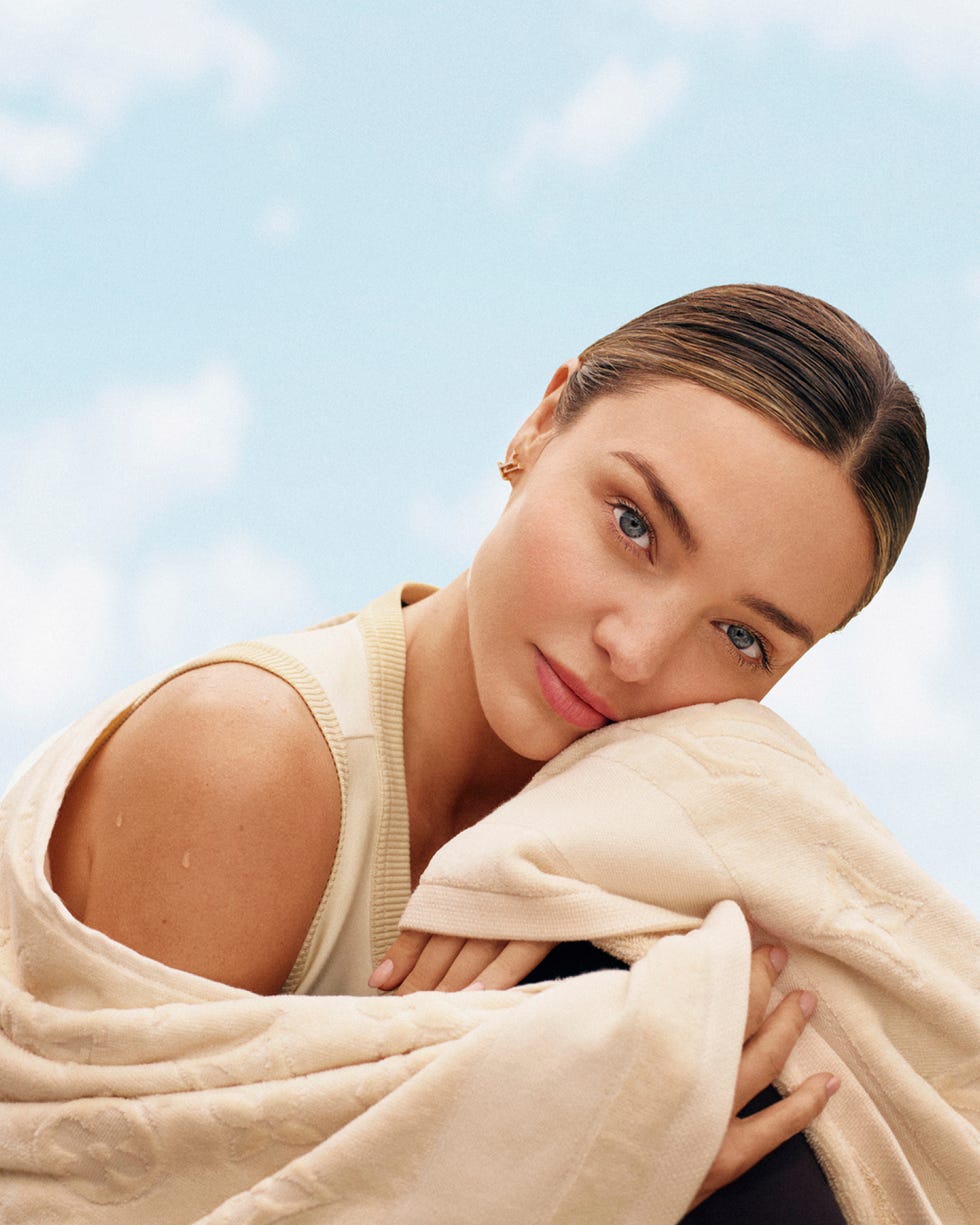 Miranda Kerr is a woman who wears many hats. To the public, she's the veteran Australian supermodel who rose to fame waltzing down Victoria's Secret runways as an Angel. Beauty obsessives know her as the CEO of KORA Organics—a skin care brand that channels the uplifting energy of nature into products formulated to nourish from head-to-toe. To her three sons, she's a mother who dedicates every minute of her day to ensure they're cared for, and quells any storm—even the after-school rush—ahead of an interview. "My son just came home from school and is calling for 'mommy,' so I had to get him all settled," she tells me over Zoom as she gets ready to start our interview.
With an impressive array of titles to her name, Kerr embraces the unpredictability of each day, and her commitment to wellness underpins every project she touches. To realign and recharge her own sense of "chill," she seizes every opportunity to indulge in self-care, whether it's embarking on a family hike, engaging in early-morning meditation, or practicing yoga. "I love health and wellness, and learning ways to nourish the mind, body, and spirit. For me, I always want to be the best partner, the best mother, and the best boss," she affirms. Or, a refreshing spritz of her new fragrance: Louis Vuitton's Pacific Chill.
Today, Kerr throws another proverbial hat in the ring as the face of Louis Vuitton's new Pacific Chill eau de parfum, the latest addition to LV's California-inspired scents under master perfumer Jacques Cavallier-Belletrud and L.A. artist Alex Israel's fragrance bromance. Where Spell on You and City of Stars twirled around in gardens, Pacific Chill returns to the sea. A comforting blanket of citrus notes burst after the first spritz and slowly shifts to the background to make room for the chill: mint and basil. Blackcurrant rounds out the scent composition, which feels a lot like a tangy mojito on a beach—or, the fruit detox juice Belletrud had that spawned the idea of the perfume in the first place. "It has a little squeeze of lemon and some fresh herbs that smell like an invigorating summer's day," Kerr says.
Here, Kerr tells us about fronting Louis Vuitton's new campaign, prioritizing self-care, and the best-smelling person she knows.
---
As the face of Pacific Chill, what do you enjoy most about this fragrance?
I love how Pacific Chill has this refreshing, uplifting aroma. The whole concept is all about inspiring the senses to get you into that serene mode, the energizing force of the ocean, and connecting the body and the spirit to bring about that sense of well-being. Scents evoke so many feelings within all of us. And this one really does make you feel like you're by the ocean.
What was your earliest scent memory, and how do you think that informed your fragrance palette?
One of my first memories with fragrance was watching my mom getting ready by her dressing table. It has so many beautiful bottles of different fragrances, and she had a couple of pieces of costume jewelry there. My cousin and I would sit there and play around with those little bottles and pretend that we were little ladies getting ready to go out. I remember we gave each fragrance bottle its own little story. From the moment you experience smelling the bottle, it opened up its own world and story.
What do you think the story is being told here with Pacific Chill?
The story here is about being on the ocean on the California Coast. The artwork was inspired by [L.A. artist] Alex Israel, and his favorite place, the Pacific Palisades hike, with that beautiful view of the ocean. Pacific Chill is all about the outdoors, prioritizing wellness and health, and the beauty of nature.
Do you believe in the concept of having a signature scent? And if so, what is your signature?
My relationship with fragrance has evolved over the years. I remember smelling my first gardenia in the garden at my grandparents' house. Actually, there was a rose bush there that my grandpa had planted for my grandma. I used to cut the roses off there and give them to my grandma, so my relationship with fragrance started there. Then, my mom also was very much into essential oils. As I got older, I become interested in peppermint aromatherapy, and how that feels very uplifting. Rose has always felt very nurturing to me. There's a different scent for every occasion. Pacific Chill itself is really inspiring to wear for the summertime. What I like to do is either spray a little on my clothes before I wear them, or on the ends of my hair, so you kind of get a little waft when you're walking by. I like that it's not too overpowering and captures wellness in a bottle. So, I guess that's my signature for now.
What does your ideal Pacific Chill day look like?
Probably just going for a walk with my children and my husband. We actually love going on family walks, being out in nature, and having the ocean breeze in our hair. Having a little family picnic is really the perfect day.
What are your go-to rituals for remaining chill?
If you take time to give back to yourself, then you can give so much more to others. I enjoy exercising six days a week—and that's a mix of yoga, pilates, weight lifting, and running. I really look forward to quality time with my family. We love going on hikes together or just having a picnic outside under the trees in nature. I wake up super early so that I can get my meditation in and a little skin care routine before the kids wake up. Now that I have three kids and a business that I run, I don't read as much as I'd like to, but I do keep books next to my bed so I can read a couple of lines before I go to sleep at the end of the day. Currently, I'm reading How to Talk So Kids Will Listen and Listen So Kids Will Talk.
I love learning about anything to better my relationship with my children, because they teach us a lot as well. I also love crystals. I've always loved crystals—clear quartz and amethyst and citrine. I've just always been really drawn to crystals, the energy they bring, and how they can create more balance in our life. Affirmations are really important, too. If we can check ourselves and try to be kind and gentle with ourselves, then we're so much more kind and gentle with others.
Lightening round! What does love smell like to you?
Oh, my babies. That unconditional love that you feel for your child, it's like nothing else.
Peace?
The ocean.
Warmth?
Apple pie baking in the oven. I do like to bake, yes. My kids love my apple pie.
Who is the best-smelling person you know?
My husband, of course. He has his own smell. I'm just so attracted to it; it's clean and fresh. It must be the endorphins. Nine years later, [they're] still working.
Beauty Commerce Editor
Nerisha is the beauty commerce editor at ELLE.com, covering all things beauty (and fashion and music). She has a penchant for sneakers and nude lip glosses, and spends way too much time re-watching 90s sitcoms.