Man United have had a great season under Ten Hag. Now comes the real work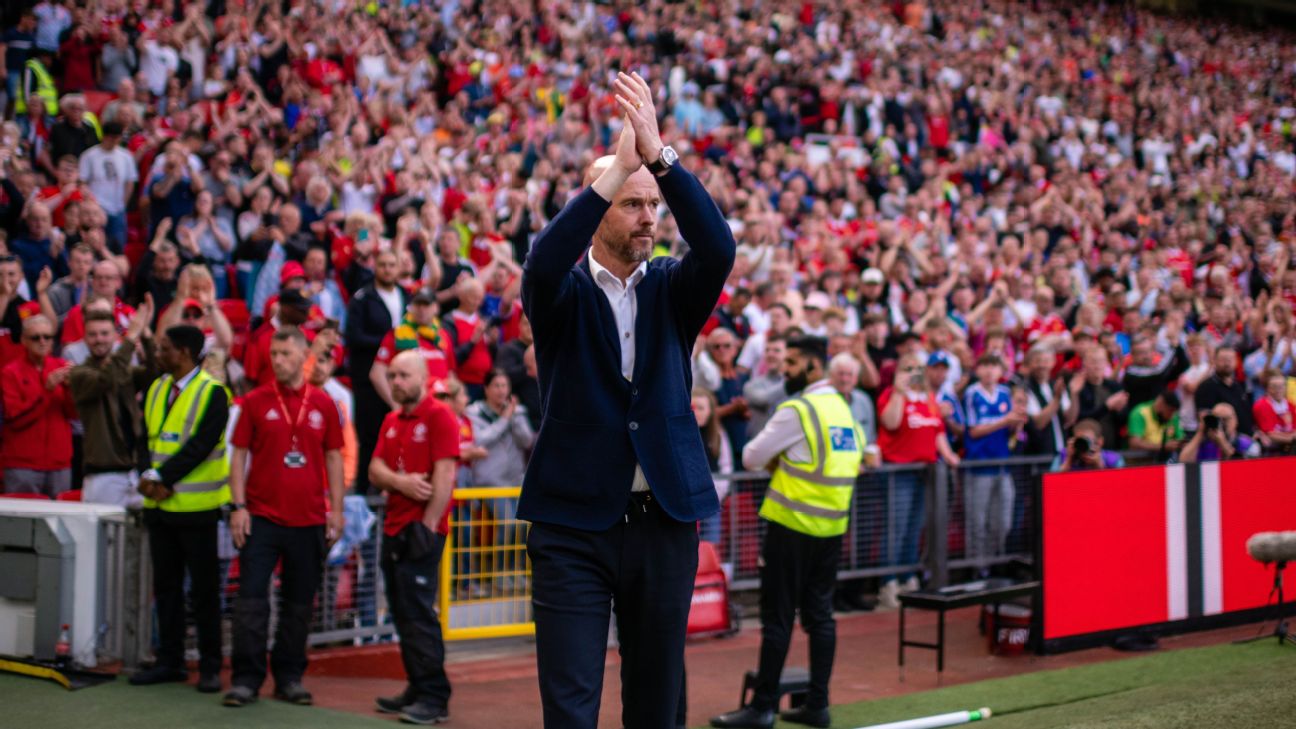 On FA Cup final day — also a Manchester derby day — it's impossible not to compare the blue half with the red half. Yin to yang. And sure, there are plenty of vantage points from which to do it.
One club (Manchester City) have very popular owners who are under investigation by the Premier League for breaching financial rules; the other (Manchester United) have very unpopular owners who have put the club up for sale, but may end up just loading more debt on the balance sheet. One club won the Premier League in five of the past six seasons; the other haven't won one since before the release of the iPhone 6. One club strengthened by bringing in a tall center-forward named Erling Haaland; the other by bringing in a tall center-forward named … Wout Weghorst.
There's no question that Man United want to be where Man City are now (in terms of results, not investigations for cooking books). And yes, they're trying. They have a higher wage bill than City, they outspent City (in net terms) in three of the past four years — in fact, since summer 2018, their net spend has been more than double City's. They changed chief executives last summer, they finally appointed their first ever director of football (welcome to 1998!) and brought in a manager, Erik ten Hag, whom most fans are genuinely excited about. Possibly because he's not a throwback attempt to recapture left over stardust from the Sir Alex Ferguson Era or a pugnacious quick fix.
– Watch LIVE: FA Cup final, Man City vs. Man United, Saturday, 9:40 a.m. ET, ESPN+
– Watch our FA Cup preview show: 8:30 a.m. ET, ESPN+
In his first season, Ten Hag guided United to third place, won the League Cup and came within 14 points of the top of the table, which, incredibly, is closer than United have come to first place than any year since 2013, bar one. And, of course, he got them to this FA Cup final.
More than the results, he has done very well — well, he far surpassed my expectations, anyway — in two other key aspects of the job.
First, he instilled discipline and showed excellent man-management skills internally, whether it was navigating Cristiano Ronaldo's presence (and his departure) or Marcus Rashford's contract negotiation (he's set to become a free agent in June 2024, yet that didn't stop Ten Hag from punishing him for being late to a meeting or coaxing his best-ever goal-scoring season out of him). These aren't things to take for granted when you make the step up from Ajax — where most of your charges are youngsters or club lifers, and unlike United, you have a strong, visible and vocal club leadership backing you up — to Old Trafford.
Second, he managed the bumps along the way with aplomb, deploying the sort of public messaging that generally resonated with fans. United started the second with back-to-back defeats, got hammered 7-0 by Liverpool and tossed up another stinker in getting eliminated by Sevilla in the Europa League semifinal, yet Ten Hag avoided a lot of the criticism some of his predecessors would have faced in those circumstances. For a guy who didn't appear particularly charismatic when he took over, he again went above and beyond.
But then there's the actual football on the pitch, which, you presume, is the reason United hired him in the first place. And here it's striking how different this United team is from his Ajax side.
If you assume — and I think it's a safe assumption to make — United hired him because they wanted to replicate at Old Trafford what he built in Amsterdam, we're a long, long way away from that.
In fact, comparing Ten Hag's 2021-22 Dutch champions with this season's United underscores just how long the road ahead might be. But it also illustrates what United can become.
---
I chose the 2021-22 side and not, say, the 2018-19 team that reached the Champions League semifinals and did the domestic double (the one with Frenkie de Jong, Matthijs de Ligt, etc.) because that was a side Ten Hag largely inherited, whereas the 2021-22 version is one he built after 3½ seasons at the club.
It's not surprising that his Ajax team scored more goals (2.88 a game to 1.52 a game) and recorded a higher xG (2.48 to 1.51) than United. Some of it, no doubt, is that Ajax were the best team in Europe's sixth- or seventh-best league, whereas United have to compete in the Premier League against tougher opposition. But there are other indicators that stand out. Ajax had the Eredivisie's highest possession numbers (66%). You'd expect United to be lower (and it is) but you wouldn't necessarily expect it to be a paltry 54%, behind clubs such as Brighton and Chelsea. That speaks to style of play and manager instructions as much as anything.
Our resident analytics guru Ryan O'Hanlon pointed me to another revealing difference I wouldn't have thought of: average goal kick distance. Ajax, unsurprisingly, were first with 29.5 yards, United were 16th, with 48.2 yards. That suggests Ajax like to build from the back, whereas United tended to have goalkeeper David De Gea kick it long. And as O'Hanlon explained, this is one stat that reveals a preset tactic and is less dependent on what the opposition are doing.
Two other numbers jump out at you. One is defensive distance, which measures how far up the pitch, on average, each team makes a successful defensive action. Ajax, with their high defensive line, topped the Eredivisie at 48.02, United were 14th in the Premier League, at 42.38. The other is opposition passes per defensive action (PPDA), which is the number of passes you allow your opponent to make before there's a defensive action like a tackle, interception or foul. It's a measure of how intense your pressing off the ball is. Ajax were first in the Eredivisie with 5.37 PPDA, while United were ninth in the Premier League at 10.07.
None of this means that Ajax 2021-22 were better than United 2022-23 (they probably weren't, because United has better players). It does however confirm that the "eye test" of anyone who watched both teams plays will tell you: These teams look nothing alike, and if you didn't know better, you'd struggle to believe they were coached by the same guy.
Which brings us back to Ten Hag and where he wants to take this team. If you assume Ajax 2021-22 is how he wants to play, how did we end up with Manchester United 2022-23? There are several, evident reasons.
For starters, it was his first campaign. It takes time to instill and shape your vision on to a team. Ask Jurgen Klopp. He took over a Liverpool side in 10th place in October 2015 and by the end of the season had gotten them all the way to … eighth place. Lest we forget, Pep Guardiola — yes, that Pep Guardiola — also finished third in his first season at Manchester City, and unlike Ten Hag, he had the benefit of a group that had won the league twice in the previous five years. Plus, he had proven high-quality executives in the front office who shared his vision. And, well, he's Guardiola and Ten Hag isn't.
Laurens: Why would Ten Hag want Neymar?
Julien Laurens plays down the prospect of Neymar making a dramatic switch from PSG to Manchester United.
Second, there's an evident personnel issue. That whole build-up play from deep thing? You can do it if you have a goalkeeper who is good with his feet as well as his hands. Ten Hag's keeper is David De Gea, who may be a fine shot-stopper but won't be mistaken for a "sweeper-keeper' anytime soon. It's a similar story with the pressing numbers. It's simply harder to pull off with players who are unaccustomed or unsuited to doing it, and in the likes of Ronaldo, Bruno Fernandes and Rashford, those are the players he had.
Of course, pressing isn't just about the front men; it's about the midfielders' ability to react, read the triggers and plug the holes. Again, Casemiro arrived late and from a side, Real Madrid, that rarely pressed. Christian Eriksen, for all his industriousness and intelligence, is 31 and coming off major heart surgery. Fred and Scott McTominay? Well…
You can see it in Ten Hag's recruitment. He signed Lisandro Martinez and Antony, two members of that Ajax team. Christian Eriksen came into play the Davy Klaassen role, Casemiro to impersonate Edson Alvarez (both, obviously, at a much higher level). Weghorst was perhaps meant to be some sort Sebastien Haller, with Marcel Sabitzer as an off-brand Ryan Gravenberch. But that's only part of the team, and while it's great to get guys who fit your system, it's also good to get guys who are actually good enough players at this level (and some of the above have not been).
Third, and possibly most important, this is a different context. This is the Premier League. It's not just a competition with better teams and better players; it's also something of a coaching Mecca, and United is one of the plushest jobs. Foreign coaches (and many British ones) don't get the benefit of the doubt for long, not just in terms of media and fan reaction, but with the players, too. For better or worse, it's one of the quirks of this island nation. Even Guardiola, with his three Champions League titles, was doubted and put through the wringer in his first season. And he was Guardiola. Ten Hag was just another bald Dutch guy who had never worked as a head coach in a Big Five league.
In other words, he had to churn out results and to some degree, that meant sacrificing vision and education for wins. Giving the ball for Bruno Fernandes and waiting for him to do something isn't a philosophy, but sometimes it's the best option. The same applies to sitting deeper, not conceding stupid goals and hoping that a through-ball finds Rashford. But the results — and his man-management — helped give him credibility and authority, and those are what he needs to build going forward.
– Stream on ESPN+: LaLiga, Bundesliga & more (U.S.)
You assume he's under no illusions. Sure, finishing third in the Premier League is great and all, but it was also the year in which Chelsea and Tottenham imploded with three different managers and the year Liverpool didn't get going until March (they were 10th in February). As for the cup runs, the toughest team they actually beat in the league cup were Newcastle in the final, and in the FA Cup it was Fulham (at home).
Ten Hag can only go so far playing this sort of football, and he knows it. It's not what he wants to be doing and it's not what got him the job. He needs time on the training pitch, and he needs the right sort of recruitment to deliver the players suited to the football he wants.
The good news is that his 2022-23 season has won him time and that his man-management has won him authority and credibility. Now he needs to deliver on the rest.