"Blockbuster piece of evidence": Experts say recording "fatally undermines" Trump's entire defense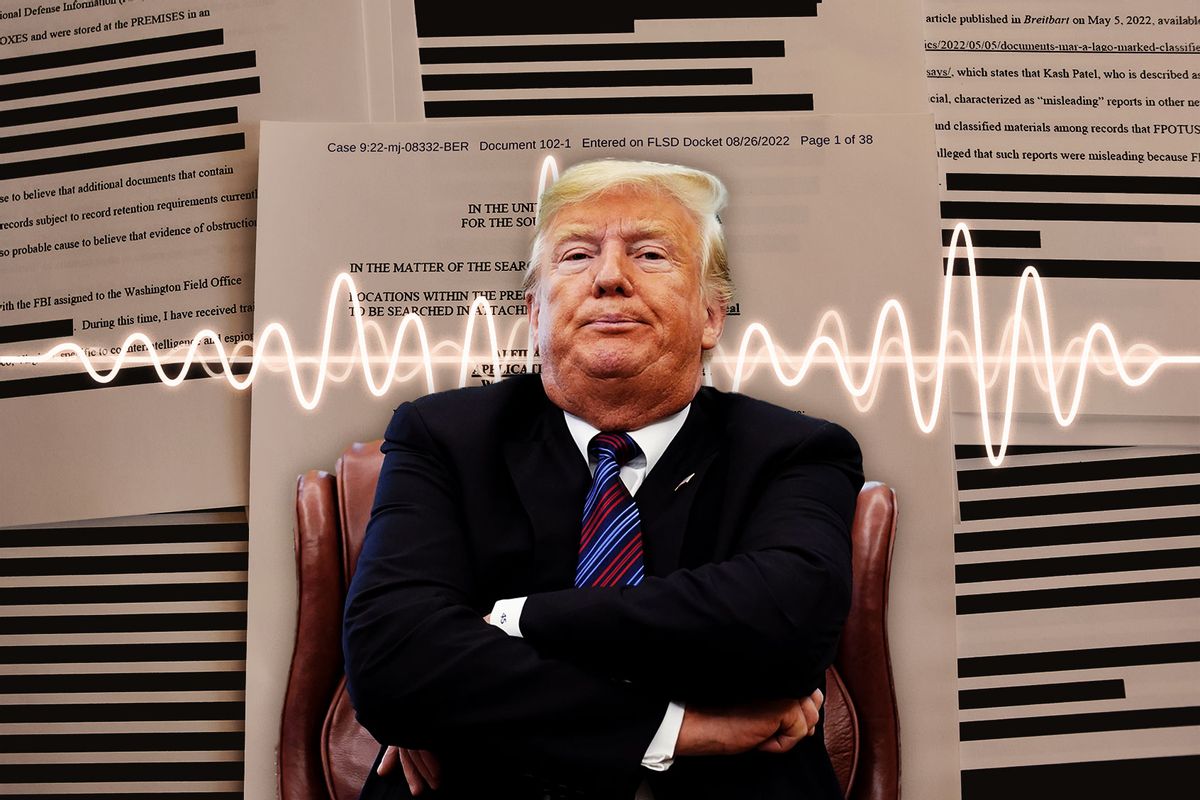 Former President Donald Trump admitted to holding onto a classified Pentagon document about a potential attack on Iran, according to an audio recording of a summer 2021 meeting, multiple sources told CNN.
The recording was made at Trump's Bedminster golf club in July 2021, when Trump met with two people working on the autobiography of former White House chief of staff Mark Meadows. His aide Margo Martin, who regularly tapes conversations with authors to ensure accuracy, recorded the conversation, CNN reported,
"This recording is significant because it demonstrates Trump's knowledge of the law governing classified information," former U.S. Attorney Barb McQuade, a University of Michigan law professor, told Salon. "For most crimes, ignorance of the laws is no excuse. Handling classified information is an exception to that rule. Prosecutors must prove the defendant knew his conduct was illegal. A recording of Trump discussing his knowledge of that law would be powerful evidence of this element of the offense."
Trump's comments on the recording indicate his desire to share the information, but also reveal that he was aware of the constraints on his authority as a former president to declassify records, two sources told CNN.
It contradicts the former president's repeated claims that he declassified all material he took from the White House, allowing the tape to serve as evidence for prosecutors to establish that Trump was aware he should not possess classified documents.
"The recording is also valuable because it pertains to national defense information," McQuade said. "For that reason, it is covered not only by statutes regulating classified information, but also under the Espionage Act. If he retained and discussed a document covered by the Espionage Act, then his claims that he declassified the documents become irrelevant. It would still be a crime."
Sources described the recording as a crucial piece of evidence that could potentially be used in a case against Trump, according to CNN. Special counsel Jack Smith has given particular attention to the meeting as a component of the criminal probe concerning Trump's handling of national security information.
The audio recording would be a "blockbuster piece of evidence" in the special counsel's case against Trump, demonstrating both Trump's knowledge and intent concerning his alleged mishandling of classified documents, said Temidayo Aganga-Williams, partner at Selendy Gay Elsberg and former senior investigative counsel for the House Jan. 6 committee.
"[T]his recording squarely moves the investigation of President Trump's handling of classified documents from potentially just an obstruction case to squarely an Espionage Act case," Aganga-Williams said. "The Espionage Act makes it a crime to, without authorization, retain documents related to national defense that could be used to harm the United States or aid a foreign adversary or share such information about the same to an unauthorized person."
---
Want a daily wrap-up of all the news and commentary Salon has to offer? Subscribe to our morning newsletter, Crash Course.
---
The recording indicates that prosecutors are not only focusing on Trump's involvement with retaining classified documents at his Mar-a-Lago resort in Florida, but they are also examining the events that took place at Bedminster a year prior.
"Trump's taped conversation, as reported, fatally undermines one of his earliest defenses, that he could declassify national security documents at will," former federal prosecutor Kevin O'Brien told Salon. "No credible person has believed Trump's defense. If reports of the taped conversation are accurate, Trump himself didn't believe it either."
He added that the context of Trump's reported remarks is even more interesting since at the time of the alleged conversation, General Mark Milley was Chairman of the Joint Chiefs of Staff.
"Trump supposedly claims on the tape that the disclosed document contradicts General Milley's assertion that he talked Trump out of invading Iran," O'Brien said. "If true, then the document must have contained extremely sensitive material on the military's possible plans to in fact invade Iran. Few subjects would have been more sensitive than this – and any breach of secrecy regarding it would have threatened national security. This possibility only heightens the seriousness of what Trump appears to have done."
Smith, who is spearheading the Justice Department investigation into Trump, is examining the removal of hundreds of classified government documents from the White House which were then taken to Mar-a-Lago after the former president left office.
"This recording, coupled with other recent revelations, makes it not only reasonable but extremely likely that former President Trump will be charged under the Espionage Act," Aganga-Williams said.
Read more
about the Mar-a-Lago probe