"You are not entitled to it": Jordan hearing blows up after he withholds "whistleblower" testimony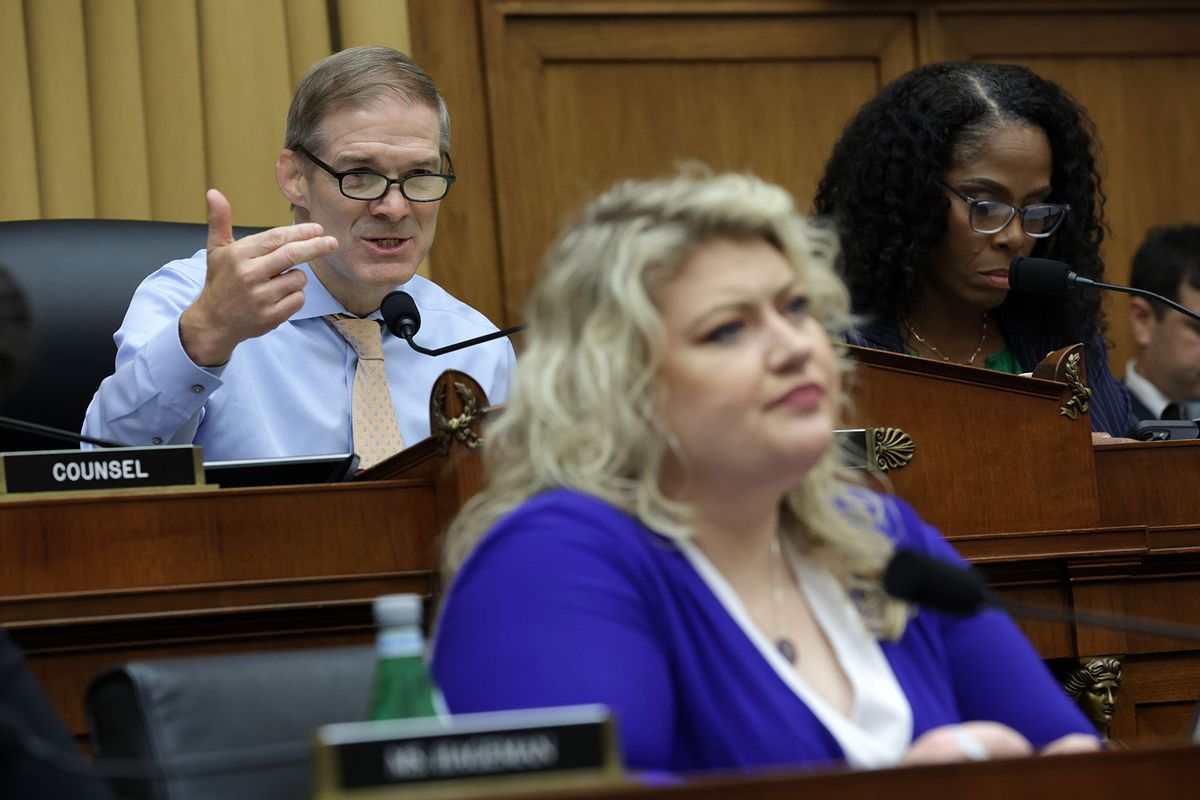 Judiciary Chairman Jim Jordan's, R-Ohio, hearing on the "weaponization" of federal agencies against conservatives, namely former President Donald Trump and his supporters, on Thursday descended into disarray after a Democrat questioned the credibility of one of his witnesses.
The "weaponization" subcommittee hearing began with testimony from self-proclaimed "whistleblowers" from the FBI, who claim that the bureau engaged in corrupt, political misconduct.
Rep. Debbie Wasserman Schultz, D-Fla., however, called out the credibility of FBI agent Stephen Friend, who had his security clearance revoked by the bureau.
"You… claim that your top secret security clearance was improperly revoked. Yet an independent investigation concluded that you demonstrated a number of security concerns, which included that you refused to execute a court-ordered arrest warrant, and when you downloaded documents from intelligence systems to an unauthorized removable flash drive," Wasserman Schultz said.
"The cherry on top could be your unauthorized recording of executive management, which, as I'm sure you know, violates Florida law, along with your unsanctioned interviews with Sputnik News, established by the Russian government in 2014 and fully owned by the Kremlin and Putin's cronies," she continued.
"I think it's clear who is weaponizing government," she added.
Following the witness statements, Wasserman Schultz and fellow Democrat, Virgin Islands Del. Stacey Plaskett, questioned Jordan during a heated exchange about why Democrats had not been shown parts of the testimony,
"It's my understanding that the minority in this committee under the rules is entitled to the same testimony, information, documents that the majority is entitled to," Wasserman Schultz said. "So I mean, I'm not aware that you're able to withhold information from the minority."
"When it comes to [FBI] whistleblowers, you're not," Jordan replied.
"That's not right," another Democrat called out. "We gave you all the information we had."
The representatives then talked over each other until another Republican called for Jordan to return the room to order.
As Jordan began to speak again, Wasserman Schulz insisted on a reponse, saying "I'm inquiring."
"And I've told you that when it comes to whistleblowers, you are not entitled to it," Jordan said, cutting her off.
"Mr. Chairman, these individuals have been determined not to be whistleblowers," Wasserman Shultz responded. "These are not whistleblowers. They've been determined by the agency not to be whistleblowers. Are you deciding that they're whistleblowers?"
"Yes, the law decides," Jordan quickly replied.
---
Want a daily wrap-up of all the news and commentary Salon has to offer? Subscribe to our morning newsletter, Crash Course.
---
On Thursday morning Jordan had reportedly defended another witness, suspended FBI Special Agent Garret O'Boyle, slated to take the stand during the hearing. In March, The New York Times revealed that O'Boyle received payment from an ally of the former president.
"We're talking a lot about the point of this press conference, the point of the hearing is to talk about how the FBI is politicized, but do you think it's appropriate for some of these whistleblowers, including two who will get your hearing today, to be paid by one of the former president's closest advisors?" a reporter asked Jordan about the matter during the morning press conference. "Kash Patel, who actively—"
"They got a family. How are they supposed to feed their family?" Jordan shot back, interrupting the correspondent. "Four hundred and fifty days the FBI has kept these, uh, has kept Mr. O'Boyle in, in limbo where he can't work without pay. He's got four kids. He was selected to come to this special unit they were forming here in Virginia.
"He moves his family and the day he gets here, the day he gets here, they say, 'Hey, we're suspending your clearance.' And they won't let him get access to his furniture, his clothes, and he's got a two-week-old newborn child," Jordan continued. "I mean, you gotta be kidding me. Of course, they're gonna, they're gonna do whatever they can to feed their family and I don't fault them for that."
Read more
about Jim Jordan