What's the Secret to a Long-Lasting Love Story?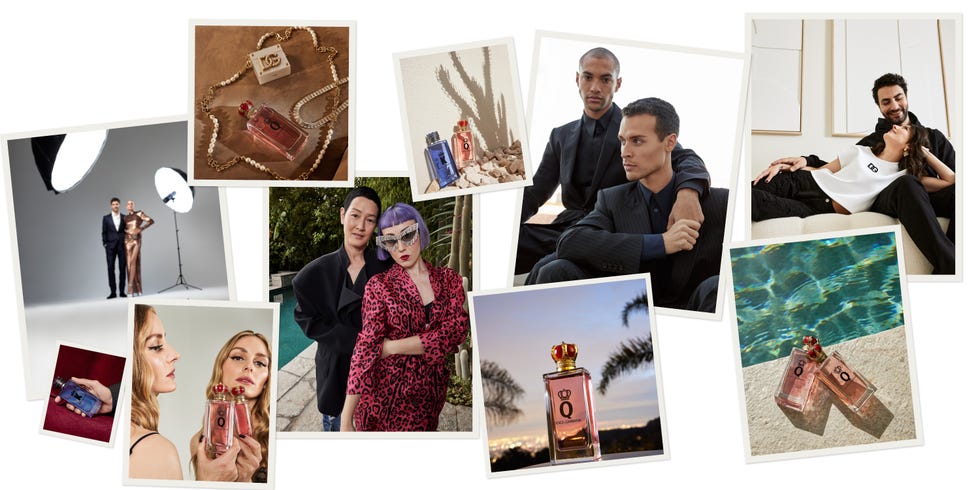 Some couples just seem to have it. They live together, work together, always look chic—and make it all seem so effortless.
Four such pairs are style icon Olivia Palermo and model and designer Johannes Huebl, model Jenny Shimizu and entrepreneur Michelle Harper, fashion blogger Alexandra Pereira and influencer Ghassan Fallaha, and French influencers Théo Aïto Sanchez and Rémy-Sennah Dossou. Each of these power couples are crushing it as partners both in and outside the home–so what's their secret?
To celebrate the launch of Dolce&Gabbana's K&Q, a new fragrance duo with Sicilian lemon and cedarwood at its heart, ELLE sat down with each couple to talk courtship and relationship advice.
Click on the names below to discover their stories.
Olivia Palermo and Johannes Huebl
Influencers before it was even a thing, this pair is known as much for their sophisticated lifestyle and effortless style as for their professional drive. Now they're both entrepreneurs; she recently launched her own eponymous beauty line, while he has a creative partnership with a major footwear brand.
What kind of couple are you?
Each of us has our own way of seeing the world, while still being on the same wavelength. When you live in such close proximity to another person, it's normal to take inspiration from what they do, the way they make decisions or manage their life or work. Even when one of us is away, we always think about what the other one would do in any given situation. Some people call that learning, some call it inspiration, others call it empowering one another.
What is your strength as a couple?
Trust, communication, never ever holding the other person back, and always being supportive. Being able to count on each other is what allows us to go out there and realize ourselves as individuals and to be the best version of ourselves.
---
Jenny Shimizu and Michelle Harper
They say opposites attract. Model Shimizu is known for starring in iconic androgynous ad campaigns in the 1990s as well as her own minimalist style. She's married to fashion muse and entrepreneur Harper, who is recognized for her "more is more" aesthetic.
How did you two meet?
Harper: We met at a party in New York, at a friends' house. She showed up in her standard "baseball boy" look, while I…well, as usual, was more, more, and some more. At first glance I just didn't get anything about her, so imagine my surprise when, at one point, Jenny started challenging everyone at the party to an arm wrestle! I never imagined that this woman who looked so different from me would be capable of doing something that I would have done myself.
How do two people who are so different stay together for so long?
Shimizu: It's funny, people ask us that all the time. Like it's unthinkable that two people could choose one another when they seem so different. We definitely are in terms of what you see—our styles are objectively opposite. I just need a T-shirt, while Michelle…well, I'm happy with whatever she wears, as long as it pulls focus away from me! Our superpower, you know, is that our life is never boring.
---
Alexandra Pereira and Ghassan Fallaha
She's a fashion blogger, he's an entrepreneur and influencer. Together, Pereira and Fallaha have been partners in life and in love since 2017. And recently they became parents, a milestone that brought them closer together.
It's been six years since you first debuted your relationship in a video on social media…
Yes, and there's been a wedding, two different careers, a different city and, in the last five months, a baby boy. We've both achieved so much; we feel so grateful and lucky to have experienced it together. Today, we're always traveling, telling our followers about it all, and we know we wouldn't be able to do it without each other. We are a team!
What's the secret behind your relationship success?
Being parents is both the biggest challenge and the greatest gift we could share. We share the same dreams, the same vision of the future, for our business, for our family; also we agree on the way we want to live our best lives together. And we both, in our own individual ways (Alexandra is more impulsive and determined, Ghassan calmer and more thoughtful), bring something special to our relationship.
---
Théo Aïto Sanchez and Rémy-Sennah Dossou
Sanchez and Dossou are a pair of content creators who have made a career out of their matching style. The couple attend fashion shows and events and work on a variety of projects, including a cameo in a hit streaming show.
Do you remember the first time you chose a look for one another?
Sanchez: Oh, yes, it was just after our first date in Paris. We actually started working together right away. You asked me to be the artistic director for your first fashion show. I remember it made me feel so important that you chose me not only as your partner in life, but in work too.
Dossou: Yes, and at the same time, I made you my personal stylist.
Sanchez: That's right, you immediately took me out of my comfort zone.
Dossou: True, even today I'm the one who adds that spicy twist to our looks.
What's the significance of always choosing matching outfits?
Dossou: Matching is what makes me feel good. It makes me feel powerful.
Sanchez: Same. When we're walking down the street, holding hands, in our matchy looks, I feel safe, I feel like nothing can stop me.
---
K&Q by Dolce&Gabbana
Introducing another power couple: K&Q by Dolce&Gabbana. The complementary scents both open with zesty Sicilian lemon and have a base of seductive cedarwood, but feature contrasting notes at heart. In Q, middle notes of cherries and heliotrope add sweetness, while in K, juniper essence and fig milk bring a sharp yet creamy aroma. The wearer of each is the ruler of their life, but as a couple, they are invincible.