ELLE Loves: Gucci Beauty Éternité de Beauté Foundation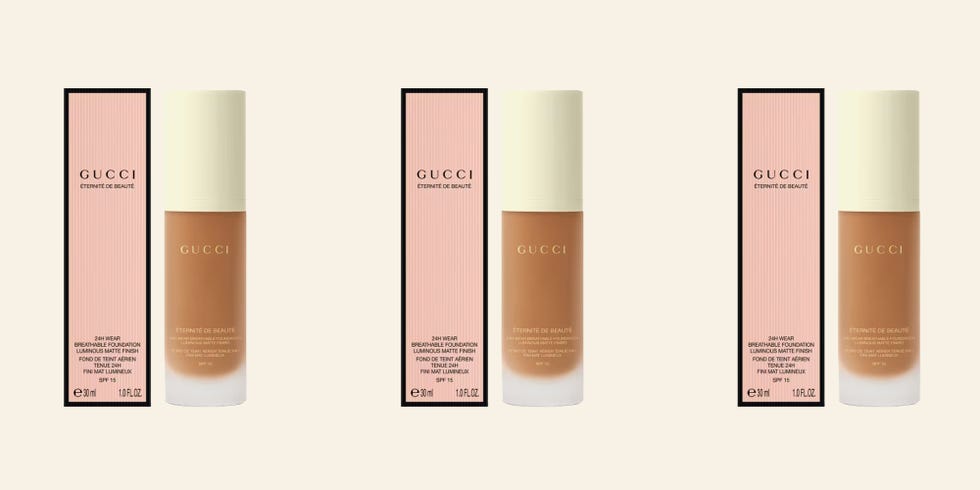 There's no denying that skin is in—but the quest for a luminous complexion often leads to your acne or fine lines being on full display. The 'no makeup makeup' trend is not slowing down and as more minimalist makeup looks dominate our feeds, runway, and everyday life, it can feel less like a carefree look and more like a war on mature or acne-prone skin.
It's 10:45 PM on a Wednesday­­­—I'm in the mirror carefully examining my face as my expression transforms into disbelief. I've been wearing my foundation for 13 hours. Typically, you'd see my large pores speckled across my cheeks, my face shiny in its t-zone, and depending on the brand, oxidization. Not today. I smile at my reflection, impressed that I still look fresh-faced and like I'm not wearing any foundation. There is no product settling into the creases of my smile line, tattling on my 'no makeup; makeup' look. The formula didn't transform onto my N-95 mask. My skin didn't feel weighed down. What am I wearing? Gucci Beauty Éternité de Beauté, the 24-hour, no-transfer foundation that gives you full face coverage in one drop (yes, really).
I've been looking for a new foundation and like a hopeful single, constantly swiping left on a dating app, Gucci Beauty made me swipe right with this new formula. There are multiple reasons to like it; first off, it comes in 4 different undertones—neutral, warm, cool, and olive. Personally, I find that olive undertones are vastly underrepresented in the beauty market. I spoke with Thomas de Kluyver, Gucci Beauty Global Makeup Artist, who shared that olive "is more of a mid-tone, a little bit greenish, a little bit neutral" and that the undertone is "some of the shades we use the most—they are really popular." He adds, "It was something I felt was missing or other brands do it, but they don't put it in a category, so it makes it more difficult for the consumer to see."
More From ELLE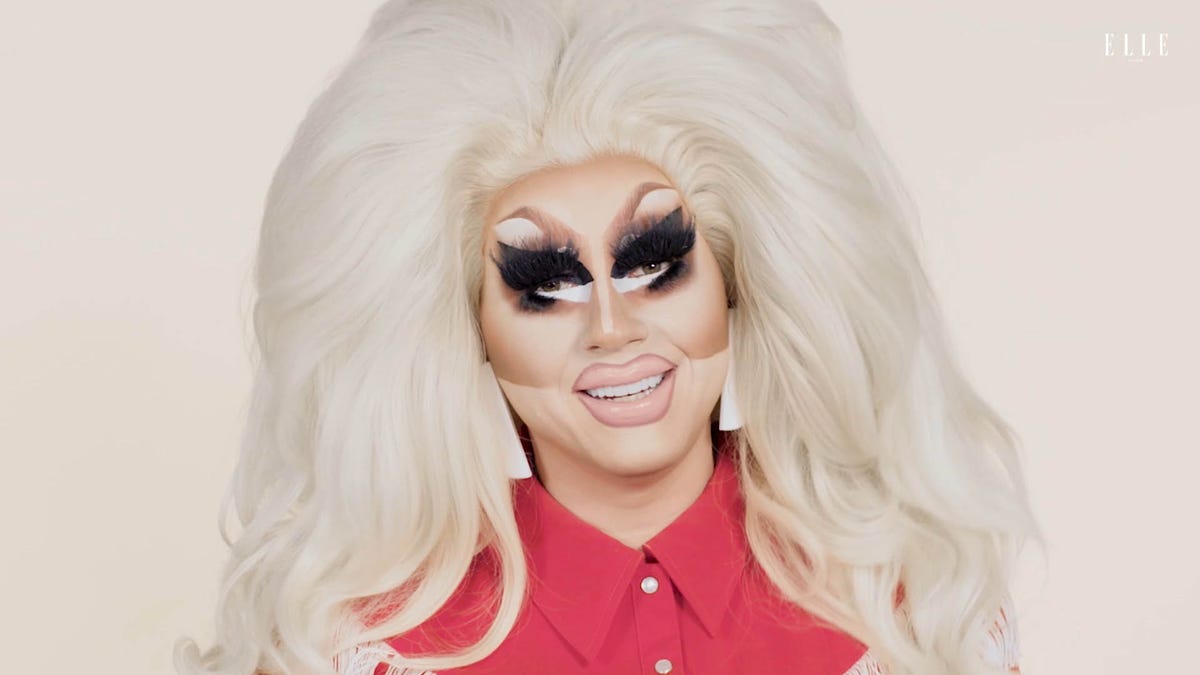 In addition to four undertones, the formula contains both hyaluronic acid and black rose oil. "What's so revolutionary about this product is that it's a full coverage, 24-hour, transfer-proof, luminous matte finish foundation. What you'll find with a lot of those products on the market, they can be quite drying," explains de Kluyver. The hyaluronic acid helps hydrate the skin, while black rose oil helps minimize fine lines and wrinkles, leading to soft, smooth skin. "When I was working on the product it was more this idea of mimicking real skin," states de Kluyver, who worked closely with the Gucci Beauty Research and Development Team on the formula, which is made in Korea.
When I first tried this foundation, I used the Gucci Beauty Hydrating Silk Priming Serum as my base; then, I applied the foundation with no powder on top. I've also used the foundation with a powder and prefer it without; it just looks more natural and keeps the foundation looking fresh all day. My skin tends to be on the normal to dry side. If you have oily skin, de Kluyver recommends using the Gucci Beauty Mattifying Face Primer. You can apply the foundation however you like, I use a brush, and de Kluyver personally likes to use one too. "Just use one pump. A little goes a really long way. I suggest to everyone to start with a really small amount and build it up," he instructs. The formula truly is buildable and de Kluyver reveals that backstage for runway shows, he's been using the foundation as a concealer. "It works great," he says with a smile.
With 40 shades and 4 different undertones, online shade matching may feel daunting. But don't worry. The Gucci Beauty website has a shade finder that works pretty well. I advise you to shade match your face bare and in natural lighting. Ironically, in artificial lighting, it matched me one shade lighter than my current foundation color. When I matched my face wearing the actual Gucci foundation, it matched me at 360W (my Winter shade); however, I was wearing 410N (my Summer shade). Sans makeup, it matched me about two shades lighter than my actual shade, so I would keep that in mind. However, I do like that the shade finder gives you three different options.
I highly recommend Gucci Beauty Éternité de Beauté. Most long-lasting, luminous formulas can be quite aging to the skin, particularly mature skin, and this product is the opposite. Anyone who wants stealth mode coverage that makes people say, "Wow, you have such great skin!" should get this foundation. It's all I've been wearing and ask anyone in the ELLE office, it's the foundation I won't stop raving about.

Beauty Director
Danielle James is the Digital Beauty Director of ELLE.com. Previously, she was the Fashion and Beauty Director of HelloBeautiful.com and MadameNoire.com. She's bylined for The Cut, InStyle, Allure, Business of Fashion, Nylon, Essence, Good Housekeeping, The Grio, and Huffington Post. Danielle enjoys sailing, thrifting, Japanese whiskey, Naomi Campbell's runway walk, and Rihanna in the comment section.