A Local's Guide to Boston, Curated by Shoe Designer Sarah Flint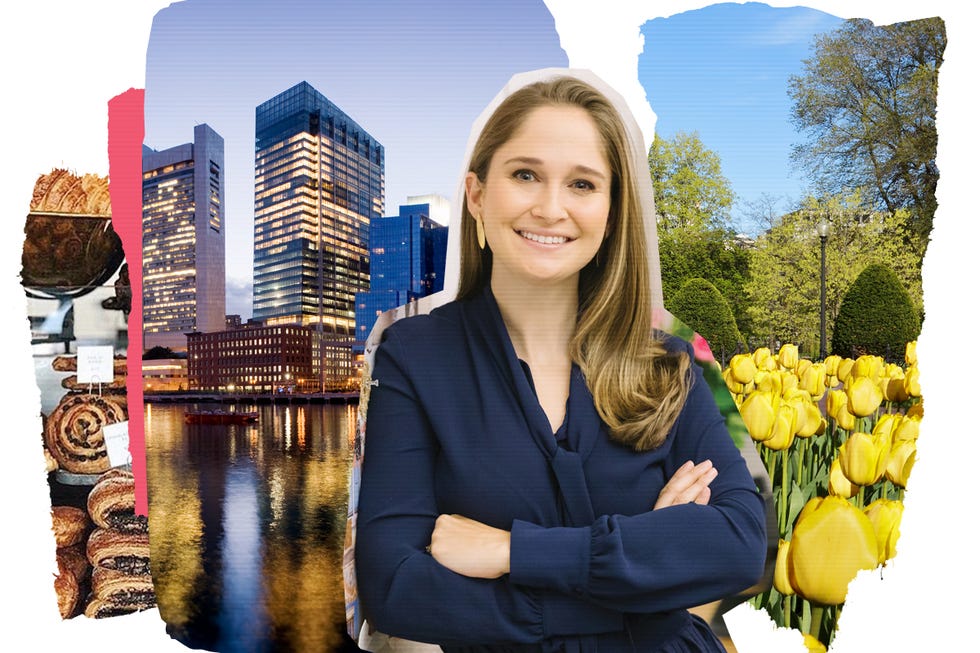 Though it admittedly might not be your first choice for a weekend getaway, Boston is experiencing a rebirth of sorts, thanks in part to the redeveloped Seaport District. Picture yourself taking a stroll along the waterfront―the faint smell of water in the air as you scope out new restaurants, bars, and hotels, like the sprawling Omni. Stop for a coffee break at Fan Pier as you scroll through the lineup for the upcoming Boston Calling Music Festival, featuring the Yeah Yeah Yeahs, Alanis Morissette, and Queens of the Stone Age, among others. If concerts aren't your thing, cheer on runners at this year's Boston Marathon, taking place on Monday, April 17. Here, we tapped Boston native Sarah Flint, the designer behind her namesake footwear brand, for the things you can't miss―as you aimlessly wander in very cute shoes, of course.
---
TRAVEL
o Walk — Boston is often referred to as "the walking city." It makes sense, then, that being on foot is the best way to see all of its charming streets, historical sites, and unique shops. In particular, the Anderson Memorial Bridge on the Charles River is a great area to explore. It connects two neighborhoods: Allston and Cambridge.
o Bike — Bikes are another way to get around, especially during the warmer months. There are plenty of biking trails to best experience your surroundings.
o Train — Using the MBTA is without a doubt the fastest option. The subway runs throughout Boston and into Cambridge as well as nearby suburbs, providing access to everything the city has to offer. To use the train, you upload money into a Charlie Card. There's even a song called "Charlie" on the MBTA!
---
STAY
o The Whitney Hotel Boston — A charming hotel in Beacon Hill, The Whitney perfectly balances the city's vibrancy with chic signage and gleaming architecture. It sits at the foot of Longfellow Bridge just off the Charles River Esplanade, where you can find biking and walking paths, and plenty of room to hang outside.
o The Newbury Boston — This beautifully restored hotel has bright, ultra-stylish rooms and a rooftop bar overlooking the historic Boston Public Garden. The property is nestled on one of Boston's most quaint corners and is an easy walk to shopping, dining, and many notable sights in the Back Bay, like the Boston Public Library.
o The Langham, Boston — The Langham is a historical luxury hotel located in the Financial District. Originally built in 1922, the building was once Boston's U.S. Federal Reserve Bank until the '80s. There's New England-chic décor throughout, plus, on Saturdays, it offers a chocolate buffet. (Yes, you read that right.)
---
EAT
o Beacon Hill Books & Cafe — The perfect spot for afternoon tea with friends, where you can relax with a book and a quick bite. The cafe has a curated selection of reads, matched with a warm atmosphere to boot.
o Tatte Bakery and Cafe — Situated in the heart of Beacon Hill, Tatte boasts a beautiful morning pastry display, seasonal tarts, cookies, and cakes. On the weekends, it serves brunch all day long. The space is an open kitchen, so you can see the chef in action while he cooks. Outside, there's a large patio where you can sit and enjoy your carb-filled order in all its glory.
o Coquette — This coastal French-inspired brasserie located in the Omni Boston Hotel at the Seaport has delicious fresh seafood, a hot-and-cold raw bar, and flatbreads. The vibe is sophisticated with velvet chairs, art murals, and glass chandeliers that function as prime photo backdrops.
---
SHOP
o SoWa Vintage Market — For a guaranteed good time, head to this market in the South End filled with food, crafts, vintage finds, and food trucks. You can find unique, one-of-a-kind pieces from mid-century furniture to old prints, jewelry, and clothing.
o Brodney Antiques & Jewelry — Brodney Antiques & Jewelry is a must-see family-run shop that has a wide range of antiques and curiosities. It sells jewelry, small metal and ceramic pieces, paintings, and other fine arts and crafts. A great option for gifting.
o Newbury Street — If you are in the mood to shop until you literally drop, visit Newbury Street in Beacon Hill, where you will find countless cute boutiques and stores to fit anyone's taste.
---
EXPERIENCE
o Beacon Hill — In addition to Newbury Street, exploring the rest of Beacon Hill is one of my favorite things to do in Boston. It's one of the oldest neighborhoods known for its charming cobblestone streets. Filled with boutiques and antique stores, it will keep you occupied for hours on end. One of my favorite stops is the Boston Athenaeum—check out the fifth floor reading room.
o Faneuil Hall Marketplace — A bustling marketplace with countless shops and restaurants, Faneuil Hall has three buildings surrounding it: North Market, South Market, and Quincy Hall. I love going to Quincy Market, a stop on the Freedom Trail in the heart of downtown.
o The Museum of Fine Arts — One of the top things to do in Boston, not to mention one of the most comprehensive art museums in the world. The MOFA houses over 500,000 works, from ancient Egyptian times to interactive contemporary art.

Deputy Editor
Claire Stern is the Deputy Editor of ELLE.com. Previously, she served as Editor at Bergdorf Goodman. Her interests include fashion, food, travel, music, Peloton, and The Hills—not necessarily in that order. She used to have a Harriet the Spy notebook and isn't ashamed to admit it.