The Most Exclusive Merch Is Sold at the Masters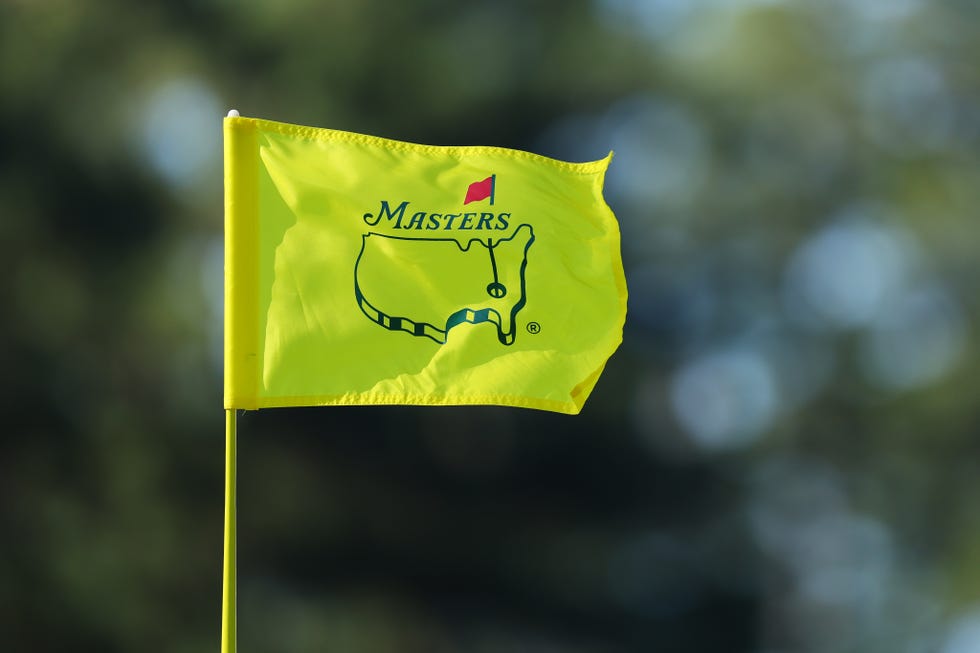 Even the most apathetic sports fan knows about the green hat. Sold exclusively at the Masters—the prestigious golf tournament held annually at Augusta National in Augusta, Georgia during the first full week of April—it's not so much an accessory as a sartorial signal to the world that you were among those lucky "patrons" who attended the elite event: an idyllic golfer's mecca of civility, top-tier vehicles, and classic Southern food—you will not leave this magical, Disney-like place hungry. Considering the social currency it provides, a Masters hat is worth every penny of its $32 price tag.
For the uninitiated, the first major golf championship of the season is celebrated on a global scale for its rich history and traditions, including but not limited to the coveted merchandise, only available to purchase on-site (or via the secondary market at a huge markup). In 2022, the Masters was estimated to collect $69 million in merch sales, according to Forbes, which sports and business expert Joe Pompliano broke down in a recent tweet to around "$10 million a day, $1 million an hour, $16,000 a minute, and $277 every second." The club has two golf main golf shops that sell everything from polos to half-zip pullovers, needlepoint belts, the hard-to-find gnome, and, of course, green hats. (You will not find the green jacket, reserved only for members and winners.)
More and more brands are getting in on the action. Tory Burch, Peter Millar, and Maui Jim have all created limited-edition collections for the Masters. As part of her Tory Sport line of performance-driven activewear, Burch's cashmere sweaters, icon cardigans, argyle merino crewneck, and gingham pants were particularly big hits this year, along with a special colorblock camera bag emblazoned with an illustration of the Augusta National clubhouse, despite no photos being allowed on the premises. Perhaps what makes the merch so popular is the fact that only your haul can show you were there, or at least know someone who was.
J.Lindeberg even opened its first-ever pop-up during the Masters, where top customers could immerse themselves in the Swedish label's universe and shop House of J.Lindeberg, a capsule collection designed for wearing on and off the course (like hoodies, hats made in collaboration with New Era, and custom-made golf bags designed with MacKenzie). All of the pieces exist in limited quantities, so there's a "get it or regret it" feel, head of design Neil Lewty tells ELLE.com. "Merchandise obviously serves as memorabilia, but because the tournament is so exclusive, it's impossible to buy elsewhere," he says. "It is almost like a badge of honor—you've attended and you were a part of something very special in this moment in time."
There are two ways of getting into the Masters: either you are grandfathered in and have season passes, or you enter the lottery. "I love how old-school it is," Lewty adds. "Cell phones aren't permitted and the food and beverage prices are like you're back in the '90s. [Editor's note: Concession prices at the Masters are remarkably low—a pimento cheese sandwich will cost you $1.50.] The organizers have really kept the tournament unique and special. They haven't just capitalized on this moment. It's the players and golf. It all goes back to the sport."
Other luxury partners, like Mercedes-Benz, make their pride as a sponsor known by providing VIP guests and players with an electric car to get to and from the club, entering at the famous Magnolia Lane—literally, quiet luxury at its finest. Each EQE-class model offers heated and massaging seats, scents to choose from ("Mimosa" is an ideal choice for Masters Sunday), as well as a passenger display that can stream content while the car is moving—but sadly not the tournament itself, seeing as that could potentially be hazardous depending on whether the player makes par on a hole. Beyond the transportation experience, the German carmaker hosts a select group at Firethorn Cabin, a hospitality area by the 10th fairway replete with free-flowing drinks, Masters food staples like egg salad and the aforementioned pimento cheese sandwiches, and folding chairs to secure your viewing spot on the green.
In a world where a person's value is determined by their number of Instagram followers, if you're not actually going to the Masters yourself, maybe the merch is the next best thing. You'll just have to find a really good friend who will buy it for you.

Deputy Editor
Claire Stern is the Deputy Editor of ELLE.com. Previously, she served as Editor at Bergdorf Goodman. Her interests include fashion, food, travel, music, Peloton, and The Hills—not necessarily in that order. She used to have a Harriet the Spy notebook and isn't ashamed to admit it.