Mugler x H&M Brings the Brand's Sexy, Avant-Garde Style to Your Closet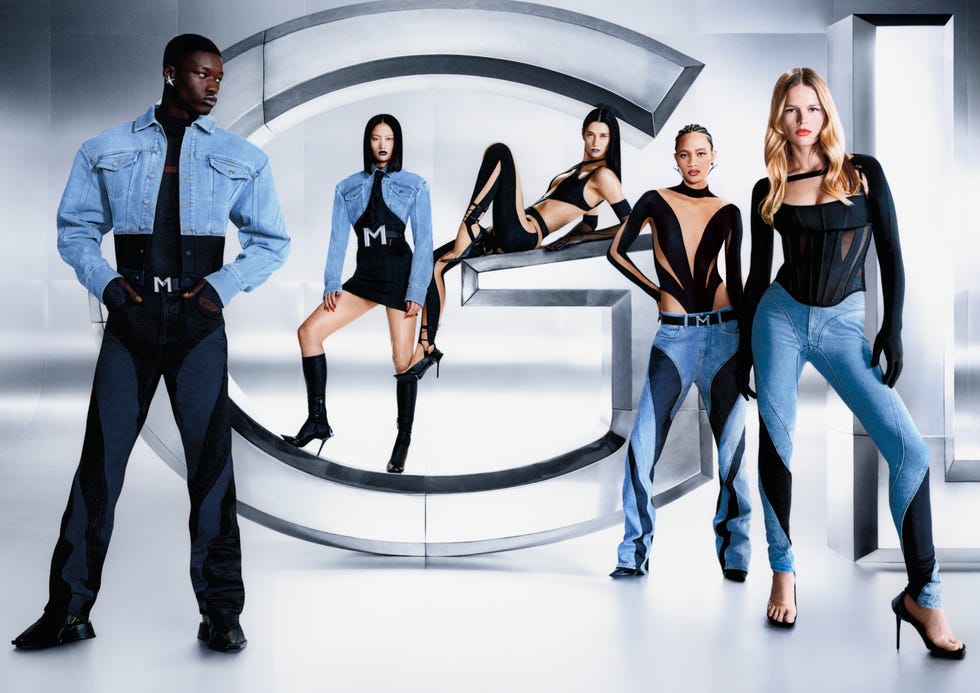 When Manfred Thierry Mugler passed away last year, he was in the early stages of a new project. A collaboration with H&M—one that will bring the ultra-viral, outré brand to a wider audience—was one of the last things the iconic designer worked on with Casey Cadwallader, Mugler's creative director. "It was so great that we knew that he wanted to do it and that he was so excited about it. That gave us something to have in our hearts. We wanted to do this really well for him," the youthful and energetic Cadwallader, a New Hampshire native, says during an interview at a Paris showroom.
When Mugler first made a splash in the '80s and '90s, his shows were filled with statuesque and often boundary-breaking models: Grace Jones, Connie Fleming, Naomi Campbell. His casting was a move forward for fashion in terms of race, age, and gender expression, and strikingly innovative for its time. Cadwallader, who became creative director in 2017, has seen interest in Mugler skyrocket in recent years and understands the outsize role the brand plays in pop culture today. Clients like Cardi B, Kim Kardashian, and Beyoncé have helped Mugler's sexy and avant-garde looks become recognizable worldwide. (Thierry Mugler: Couturissime, an exhibition of Mugler's work, is currently on view at the Brooklyn Museum.)
Cadwallader knows that working with H&M will give young fans an opportunity to wear Mugler for the first time, and he sees great meaning in the chance to be a part of that. "This is going to have so much more visibility than Mugler does itself," he says. H&M agrees. "The idea with collaborations is to offer customers a designed piece they maybe couldn't afford any other way," says creative advisor Ann-Sofie Johansson.
The success of the 109-piece collection—which comes out next month and includes womenswear, menswear, and accessories—hinged on being able to recreate the high-quality fabrics and meticulous attention to detail that go into Mugler's architectural silhouettes on a much larger scale. It was Cadwallader's biggest concern, and something he felt increasingly assured of as he went further along in the design process with H&M. The company's greater production capacity and broader ability to source materials allowed the line to maintain the brand's integrity at a more accessible price. "A lot of the fabrics are the same ones that I use. And in some cases they've been developed to be more sustainable or to go for a better price without giving up on the technicalities, which has been so nice," he says. Among the archival pieces Cadwallader included was an update of Mugler's 1981 Vampire dress, a cocktail number that was worn by Dua Lipa on Saturday Night Live and seen on HBO's Euphoria. "It's so much about the body as a sculpture," he says.
Production methods weren't the only adjustments to be made in order to welcome slightly less adventurous dressers into the world of Mugler. Many of his designs "are so bold that they push the edge of wearability, and I'm very happy and proud to do that. But with this collaboration, I knew where to control things and where to rein it in," Cadwallader says. That meant creating pieces with a bit more coverage and pared-back details. "It was about thinking about how to keep the essence but simplify things for more mass appeal and accessibility, where people wouldn't be put off. In fashion circles, you can make the craziest thing and everyone's like, 'Let's give it a try.' But I want someone who doesn't know what Mugler is to see it and be like, 'I can wear this.'"
---
A version of this article appears in the April 2023 issue of ELLE.
Editor
Adrienne Gaffney is an editor at ELLE who previously worked at WSJ Magazine and Vanity Fair.