When gun violence came to my school, the district added even more guns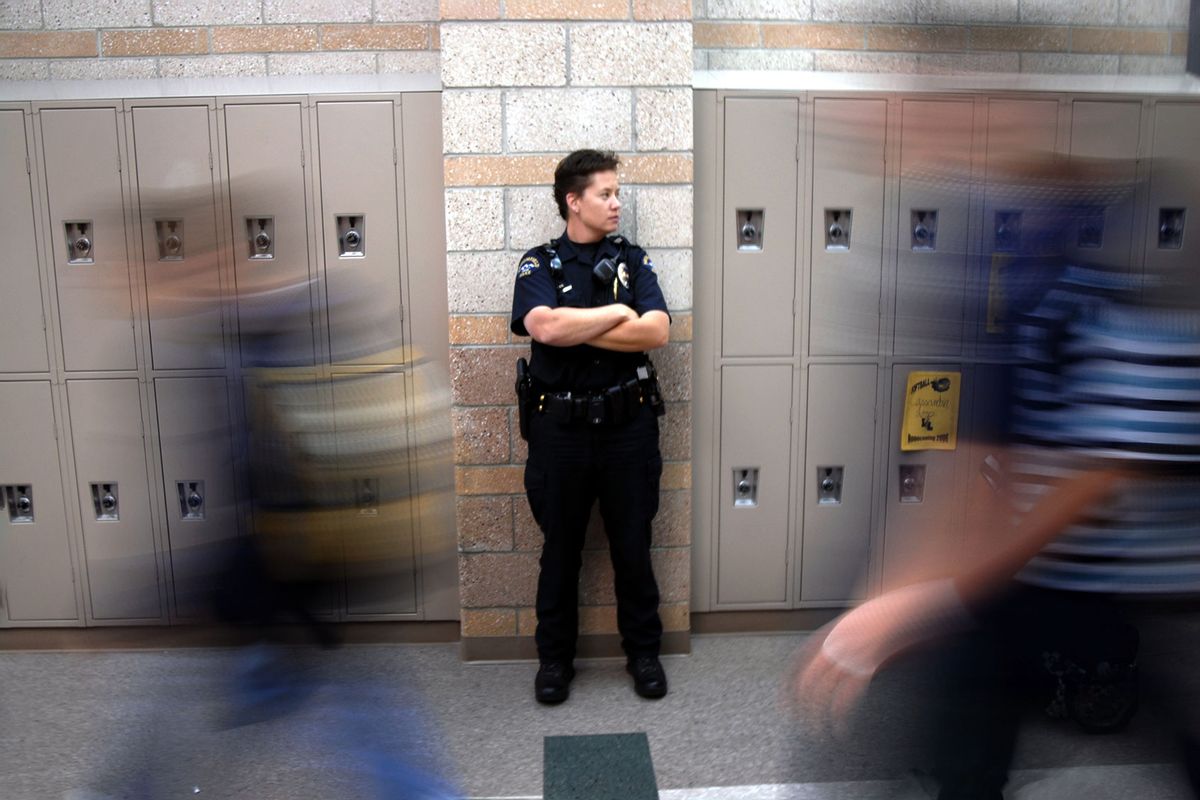 This week, it was Nashville. Last week, it was my child's school district. In an incident you may have already forgotten, because more gun violence has happened since, a gun went off at a Denver high school last Wednesday, injuring two school administrators. The 17-year-old suspect was later found to have died of a self-inflicted gunshot wound, according to police.
A mere day after the incident, the Denver School Board unanimously decided to allow armed police officers back into the city's high schools. This is in direct opposition to the removal of such officers from the schools, which was decided by the school board back in 2020.
Only a few days after the Denver shooting, a shooter in Nashville killed six people, including three children, at an expensive, private Christian school, shattering some parents' mistaken belief that shootings only happen at public schools. No school — or place — in America is safe. But one thing that won't keep our children safer?
More guns, including more officers in schools with guns.
Three years ago, the Denver School Board kicked armed officers out of schools following the murder of George Floyd. This was an action supported by parents and advocates alike, and a movement across the country. At that time, the Denver Public Schools had a contract with the city's police department to supply armed officers to schools. As Chalkbeat reported, the school district also had "its own force of armed and unarmed campus security officers." A little over half of schools in the United States had at least one armed officer in 2019.
What message does it send to children, so recently traumatized by a gun going off in their school, to see still more guns?
But the death of Floyd, who was murdered by a white police officer in 2020, and the racial justice protests that ensued, prompted Denver, like other cities, to end its contract with the police department. Denverite reported the decision to remove armed officers "was not a decision made lightly, but it was one many saw as necessary to keep kids from negative police interactions."
That went out the window in the wake of last week's gun violence. What message does it send to children, so recently traumatized by a gun going off in their school, to see still more guns, now on the hips of officers patrolling their hallways?
Armed officers in schools do little to curb violence, and in fact, may have the opposite effect. Poynter and many others have reported on the numerous studies that armed school officers do not prevent school shootings. The Trace wrote that "gunmen have often targeted schools with armed guards," citing four major 2018 school shootings, including Florida's Marjory Stoneman Douglas High School, where the attacked schools had armed guards: "In all four of those cases, guards failed to stop the gunman from killing." School shooters are rarely deterred by armed officers, and as a 2021 study reported, "The presence of a weapon increases aggression. Whenever firearms are present, there is room for error, and even highly trained officers get split-second decisions wrong."
Officers with guns in schools also increase the danger for students of color and disabled students. Education Week wrote, "The presence of school resource officers contributes to an increase in disciplinary actions, particularly among Black and Hispanic students and students in special education programs." Over a period of five years, officers in Denver schools gave tickets to – or arrested – over 4,500 students for infractions such as truancy. Approximately 80% of those officer-disciplined students were Black or Latino.
Mental health is a footnote.
The rush to return armed officers to schools is a rash one, meant to placate (mostly white) parents while amping up the danger for all marginalized children. It also doesn't serve them, doesn't serve any student. What would be helpful for them? An increase in mental health resources and support.
Mental health is a footnote in the Denver shooting stories. Denverite writes, "two mental health professionals will be" at high schools, along with a pair of armed officers, until the end of the 2023 school year. But one doesn't cancel out the other. It's also not enough. Mental health should be a part of regular school curriculums, and should have been for years, starting in elementary or preschool. Counselors should be more than simply around; they should have meetings easily and regularly — for students and for their whole families.
Students shouldn't have to miss school, be pulled from class, come in early or stay late to see a counselor. What if meetings were required for all students, to further reduce the shame of seeking help? How much are these armed officers costing schools — and how many more trained counselors, therapists and mental health resources could schools afford without them?
---
Want a daily wrap-up of all the news and commentary Salon has to offer? Subscribe to our morning newsletter, Crash Course.
---
If you've never gotten a panicked text from your child whose school is on lockdown; if you've never picked up a child, jittery and hypervigilant, after a traumatic incident of gun violence, it may only be a matter of time. Our country keeps going precisely the wrong way with more guns in schools, not less — and more violence and not enough help.
Read more
about gun violence