Could Jonathan Majors' arrest affect the MCU? Here's what we know so far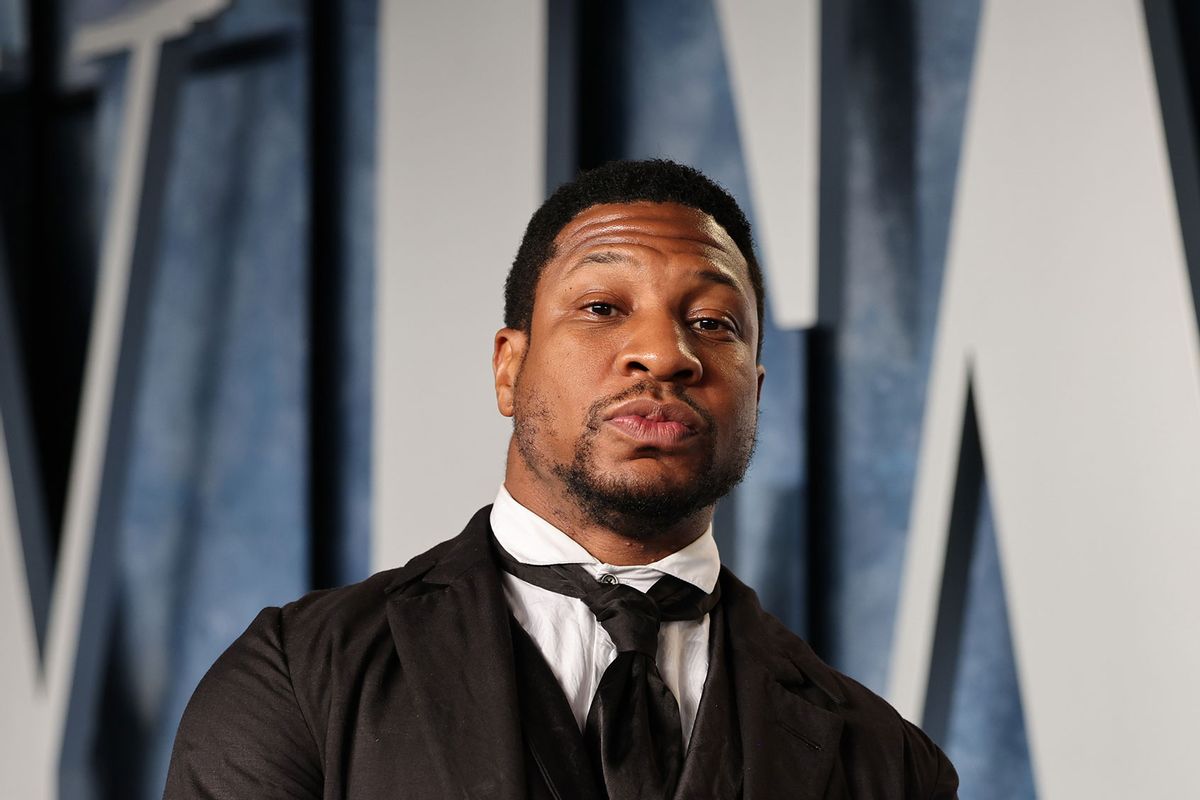 Jonathan Majors, the star of "Creed III" and "Ant-Man and The Wasp: Quantumania," is currently embroiled in legal tension following an alleged domestic violence incident.
On Saturday, Majors was arrested in New York after officers responded to a 911 call from a 30-year-old woman, who alleged that Majors had assaulted her at an apartment in the city's Chelsea neighborhood. Officers placed Majors into custody without incident, per the NYPD.
The 33-year-old actor's legal team came to his defense, asserting that Majors is "completely innocent" in the aforementioned dispute.
Despite their claims, one group dropped their ads that feature him, and the status of his upcoming Hollywood projects also remains a mystery. The conversation about what Hollywood insideres might have known about the actor, and whether or not they may have turned a blind eye until now, has also been raised.
As for Majors, the actor is set to appear in court in May in New York City. Here's a closer look at his recent arrest, the consequences and what it means for his career:
Arrest and legal response
In a criminal complaint filed in the incident, Majors' girlfriend claimed that Majors struck "her about the face with an open hand, causing substantial pain and a laceration behind her ear." She also claimed Majors "grabbed her hand and put his hands on her neck, causing swelling, bruising and substantial pain to her neck and hand," per ABC News.
Police said the woman, whose name was not released, was taken to a local hospital and treated. The Manhattan district attorney's office told USA Today that Majors was arraigned on multiple charges, including assault and aggravated harassment.
In response to the arrest, Majors' attorneys denied the allegations and said there's evidence to prove his innocence:
"Jonathan Majors is completely innocent . . . We are quickly gathering and presenting evidence to the District Attorney with the expectation that all charges will be dropped imminently," Priya Chaudhry, Majors' attorney, said in a statement to ABC News. The specific evidence includes video footage from the vehicle where the alleged assault took place, witness testimony from the driver and others who both saw and heard the alleged incident, "and most importantly, two written statements from the woman recanting these allegations.
"The NYPD is required to make an arrest in these situations, and this is the only reason Mr. Majors was arrested. We expect these charges to be dropped soon," Chaudhry added.
On Sunday evening, Majors appeared in court for an arraignment and was released without bail. He is set to appear in court again on May 8.
Ad campaign yanked
The U.S. Army paused its advertising campaign with Majors in response to the actor's arrest. Majors was the narrator of two ads titled, "Overcoming Obstacles" and "Pushing Tomorrow," which are part of the Army's "Be All You Can Be" campaign aimed at reviving the group's recruiting numbers.
Advertisements featuring Majors kicked off at the start of the NCAA's March Madness college basketball tournament. They were still running during the NCAA broadcasts on Saturday evening before they were officially pulled Sunday.
"The U.S. Army is aware of the arrest of Jonathan Majors and we are deeply concerned by the allegations surrounding his arrest," Army Enterprise Marketing Office public affairs chief Laura DeFrancisco said in a statement to Variety. "We recently released two ads in which Mr. Majors appears. While Mr. Majors is innocent until proven guilty, prudence dictates that we pull our ads until the investigation into these allegations is complete."
Allegations of Majors' past abusive behavior
In February, director A.B. Allen tweeted about a "new [actor] on the scene" being a "vicious, cruel, abusive human being." Allen recently confirmed that the actor in question was Majors after a Twitter user shared a screenshot of the old tweet alongside the caption, "Now we know who this tweet was about."
Similarly, Society Theatre co-founder Tim Nicolai called Majors a "sociopath and abuser" in a now-deleted tweet:
"I'm just gonna say this about Jonathan Majors and be done with it: folks at Yale and the broader NYC community have known about him for years. He's a sociopath and abuser and that is how virtually everyone speaks about him," Nicolai wrote, per FandomWire. "It's a shame it took this long for him to be reported. I'm already seeing a bunch of 'why didn't you do anything?!' Folks, people have tried. Ultimately needed a victim to come forward. It's both simultaneously awful to know he is still doing this and also a relief that he may never get to again."
As for why Majors' abusive history wasn't disclosed earlier, Allen said he can't share any additional information, as it risks exposing people "who have been hurt."
"The specifics of what *I* know unfortunately would still expose people who have been hurt and deserve to not become part of some larger media inquiry if they don't want to," Allen said.
Nicolai added, "A bunch of us are close with people (and sometimes multiple people) he has directly harmed. I don't know if they will speak on it. It is completely their decision."
What's next for the MCU and DCU
Majors is set to star as Kang the Conqueror in Marvel's upcoming film "Avengers: The Kang Dynasty." Kang, who is known as one of Marvel's most notable and powerful villains, was teased as the next major threat to the Avengers in the post-credit scene of "Ant-Man and the Wasp: Quantumania."
Per Sean Keane of CNET, the scene takes place on Earth in the 1940s, when Loki and Mobius (Tom Hiddleston and Owen Wilson) meet another Kang variant, named Victor Timely (Majors).
"When we last saw Loki in the Season 1 finale of his self-titled Disney Plus show, his female Variant Sylvie threw him into a time portal and killed He Who Remains, a Kang Variant who managed the flow of time and prevented any branches," Keane explains.
"The timeline dictator's death restored the multiverse and He Who Remains' own Variants, which were kept under control by his efforts, were able to run amok again." This explains why the post-credits scene shows multiple if not thousands of Kangs, all played by Majors. "Avengers: The Kang Dynasty" also stars Paul Rudd, Iman Vellani, Brie Larson and Benedict Wong.
The uncertain future of the Marvel timeline bears a resemblance to what's happening over in the DC Universe. Many have drawn parallels between Majors and Ezra Miller, whose role as the Flash in the eponymous DC Studios film has been under scrutiny due to a string of troubling behavior. In 2022, Miller was arrested twice in Hawaii, once for disorderly conduct and harassment and once for second-degree assault. They have also been accused of abuse, grooming minors and leading a cult.
In light of Majors' arrest, fans wonder if Marvel would recast Majors (which would require significant reshoots or delays) or keep him onboard and fix his public image:
"This is another reason I think we need to keep an eye on how Warner Bros. tries to rehabilitate Ezra Miller for 'The Flash' press tour," tweeted writer and critic Kayleigh Donaldson. "If they can get enough of the media to capitulate to their demands (and they will), what's to stop anyone else from doing it with violent abusers?"
Similarly, HuffPost's senior culture reporter, Candice Frederick tweeted, "Related: I'm curious to see how Hollywood moves with Ezra versus how it will move with Jonathan Majors."
In addition to his upcoming role as Kang, Majors stars in "Magazine Dreams" as an aspiring bodybuilder. Searchlight snapped up the title out of Sundance and has set a December theatrical release. He also plays controversial basketball star Dennis Rodman in "48 Hours in Vegas."
Read more
about Jonathan Majors: