5-goal Haaland breaks City single-season record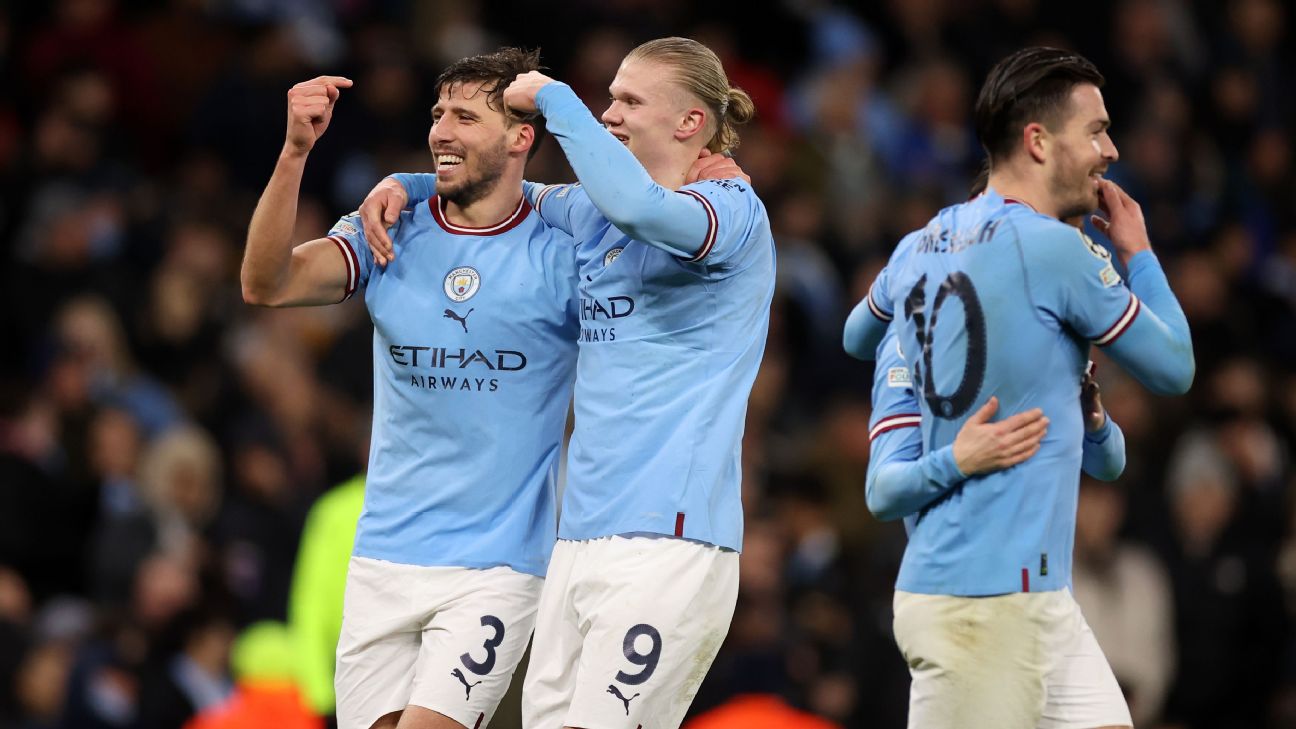 Erling Haaland broke Manchester City's single-season scoring record with his fifth goal of the game in their Champions League round-of-16 second leg win over RB Leipzig on Tuesday.
Haaland, 22, now has 39 goals in all competitions for City this season, surpassing the mark of 38 set by Tommy Johnson during the 1928-29 season.
– Dawson: Haaland makes City look unstoppable in UCL rout
– Champions League knockout round draw: Full details
The Norway international became the fastest player to reach 30 goals in the competition — he ended the night on 33 from 25 UCL goals — when putting the English champions 2-0 up in the first half.
"I'm blurry in my head. I remember shooting but not thinking," Haaland said. "It's a big night. Firstly, I'm proud to play in this competition, I love it. Five goals. To win 7-0 is amazing.
"My super strength is scoring goals. Should I be honest? A lot of goals today, I didn't think. I was just trying to get it into the back of the net. A lot of it is being quick in the mind and trying to put it where the goalkeeper is not."
At 22 years, 236 days old, Haaland is also the youngest player to reach that 30-goal landmark, surpassing Kylian Mbappe, who was 22 years, 352 days when he scored his 30th Champions League goal.
But Haaland wasn't done then, he scored three more before 57 minutes to reach his total of five and put his side up 6-0 on the night before being substituted by Pep Guardiola shortly past the hour mark.
The hosts went on to win the match 7-0, with Kevin De Bruyne and Ilkay Gundogan also scoring as Man City advanced to the quarterfinals on the back of an 8-1 aggregate win.
Haaland, who has now scored 10 goals in six Champions League games this season, said the team dedicated time in training to work on pressing on the eve of the clash.
"Especially at home we have to run and press. We are so good at getting the ball," he said. "I think we can use [pressing] more, there is more space for the guys in between to play. Compared to last year and now we can play with a striker in behind and that's what I'm trying to bring.
"I told [Guardiola] I would love to score a double hat trick, but what can I do?," he added on being substituted before he could become the first player to ever score six goals in a single Champions League game.
After the match Guardiola explained his rationale for taking Haaland out when he did, saying: "If he achieves this milestone at 22, his life would be boring. He has something to aim for."
The stellar night for Haaland put him in elite company, as only Lionel Messi and Luiz Adriano have scored five goals in a single Champions League match. Haaland is also just the third player to score 10 goals or more in a single European campaign, with Messi having done it five times and Cristiano Ronaldo seven.
Perhaps more remarkable is that Haaland still has 11 Premier League games left to play, and with City also alive in the FA Cup and the Champions League the records could continue to fall.
Twenty-eight of Haaland's goals have come in England's top flight, where he has an excellent chance to overtake joint single-season scoring leaders Alan Shearer and Andy Cole at 34 apiece.
Next up for Man City is an FA Cup quarterfinal match against Championship side Burnley at the Etihad (stream live on ESPN+ at 1:45 p.m. ET).