"Absolutely shameful": Biden administration reportedly mulling return to migrant family detentions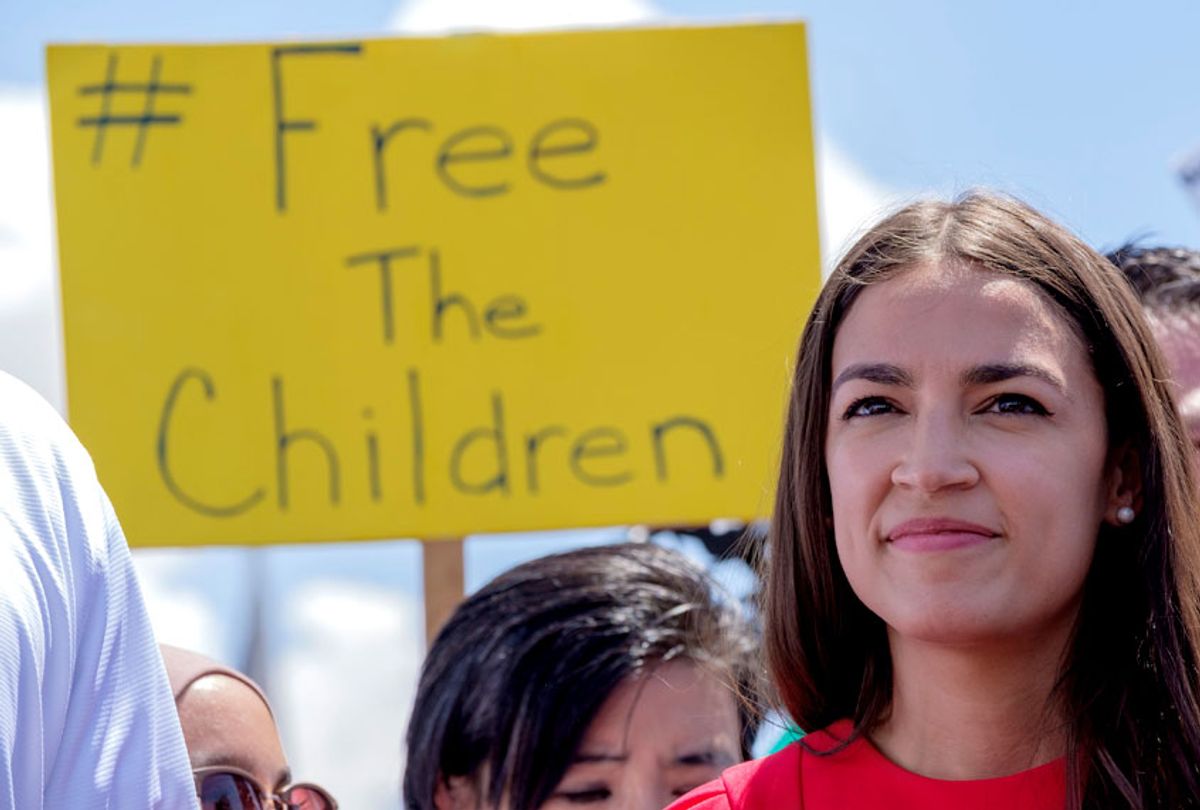 Multiple news outlets reported late Monday that the Biden administration is considering restarting migrant family detentions that were used extensively by previous administrations in an attempt to crack down on border crossings.
While "no final decision has been made," according toThe New York Times, "the move would be a stark reversal for President Biden, who came into office promising to adopt a more compassionate approach to the border after the harsh policies of his predecessor, former President Donald J. Trump."
Immigrant rights advocates were quick to warn Biden against following through with any plan to revive migrant family detentions, which the administration had largely shut down.
"I've got one word for them: unacceptable," wrote Aaron Reichlin-Melnick, policy director at the American Immigration Council.
"The thing about family detention is not only that it's cruel and inhumane," Reichlin-Melnick added, "but also that it was a money pit and absolutely useless as a 'deterrent.'"
Bob Libal, an immigration justice advocate and consultant with Human Rights Watch, said it is "absolutely shameful that this is even being considered again."
Both the Obama and Trump administrations made expansive use of family detention, with the latter attempting to rescind limits on how long children can be held in migrant detention facilities—an effort that was ultimately blocked in federal court.
On the campaign trail, Biden condemned the practice of family detention—as well as the separation of migrant families—as morally bankrupt, writing in a Twitter post: "Children should be released from ICE detention with their parents immediately. This is pretty simple, and I can't believe I have to say it: Families belong together."
But with the 2024 election looming, the Biden administration has moved to reinstate immigration policies that it previously denounced as cruel—including a Trump-era asylum ban—as it prepares for the May expiration of Title 42, another Trump administration policy that Biden has used to rapidly deport migrants.
Reutersreported Monday that in addition to restarting family detentions, the Biden administration is "weighing reviving immigration arrests of migrant families within the United States who have been ordered deported."
"It's all on the table," an unnamed official told the outlet.
In the place of family detentions, the Biden administration has used ankle bracelets and other methods—decried as "digital prisons" by rights groups—to track migrant families as they move through the court system.
But as the Detention Watch Network has observed, the Biden administration did not end its contracts with facilities that were previously used to hold migrant families.
"Instead, following cues from the Obama administration, it converted the contract with Berks County to detain adult women and shifted its usage of the Dilley facility to detain single adults," the organization noted.
Citing one unnamed official, CNNreported Monday that the Biden administration is "looking at multiple options for how to handle migrant families at the southern border, not all of them involving family detention."
"Another source familiar with the deliberations added that among the options discussed are some that wouldn't involve detaining families in ICE facilities," CNN added. "This source said that family detentions would be limited to a small number of days—an attempt to set the policy apart from the Trump administration's handling of family detentions."
But it's not likely that rights groups and advocates would accept such an alternative.
"I was part of a legal team that sued to get access to the first family detention center that President Obama opened (in Artesia, N.M.)," Karen Tumlin, a civil rights litigator, recounted Monday. "Talking to families and kids detained at Artesia was one of the lowest points of my legal career. I can see the cribs lining the hallway now, families and babies crammed into tiny rooms."
"A family detention policy is a policy of adding trauma to trauma," Tumlin added. "It is painful to see this as a rumored proposal from the Biden administration."