Whitney Peak Is Changing History With Chanel Fragrances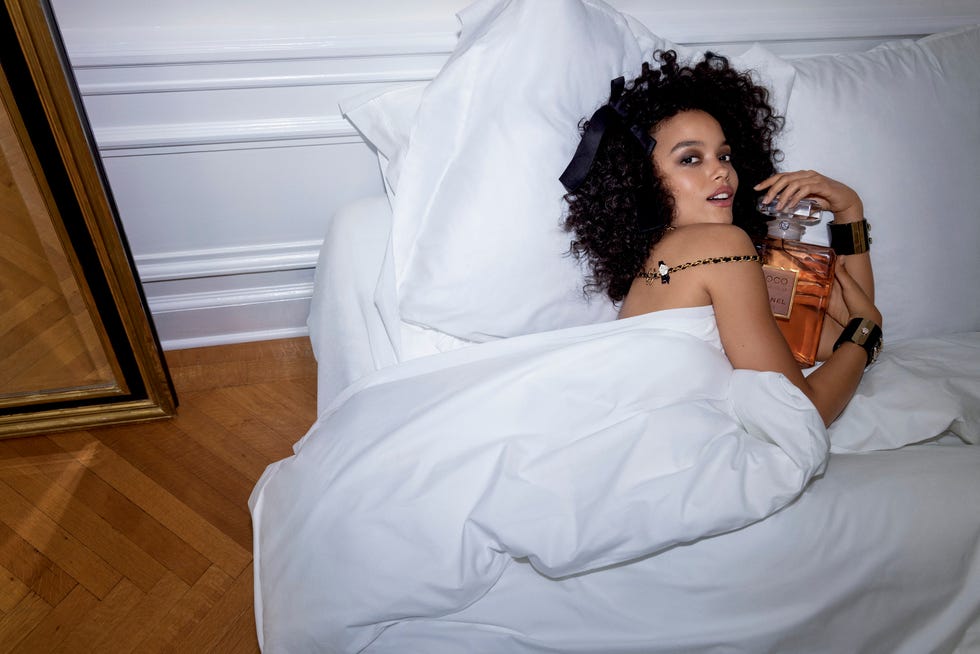 It's 3 PM in Paris on a Friday and actress Whitney Peak is beaming from ear to ear, even across a Microsoft Teams meeting. Yes, Teams – so you know that her excitement is extra palpable, even across video streaming's second favorite application. It's not TGIF, but because she has a big announcement. Huge. It's the kind of announcement that actors would live for. It's not a superhero franchise, but better, bigger, and more glamorous than that. It's so big that it's not even a dream that the Ugandan-Canadian thought she could dream of.
The Gossip Girl and Hocus Pocus star is already the face of Chanel, but you'll soon see her representing the brand in an even bigger way, as the face of the COCO MADEMOISELLE fragrance. The move makes her the first Black face of a Chanel scent, and overall, one of the rare Black faces seen in fragrance ads. ELLE talked to Peak about perfume rituals, her scent memories, and being a part of history.
Walk me through what happened when you found out you were going to be the face of Coco Mademoiselle.
My manager teased it for a little while. He and my team were saying, "Oh, there might be a fragrance in your future. There might be something going on, there might be a certain campaign," just being very vague. And then one day I got a call and it was all three of them. I was like, Oh no, this is either going to be something really bad and terrifying or it's going to be really good. What happened? What's wrong? And then he said, "Chanel wants to give you the COCO MADEMOISELLE campaign."
Internally, I was like, "Oh, really? Cool," because I'm always trying to avoid getting too excited about things and them not working out. That's why I set my expectations super low. And then I was like, "Why? Why do they want me to do this?" Then we made it, filmed it, and shot it. And then now it's coming out in a few months and it's real." It feels so crazy, but I'm so, so, excited.
I remember the ads that were like mini films with characters and elaborate sets. Are you playing a character?
It felt like a mini movie. Everybody on set would refer to my character as Coco. "Okay, it's crazy Coco, she's going out with her friends and she's having so much fun." Or "It's sexy Coco. She's in bed with her lover." I was tapping into these parts of myself that I've never really explored before. I've always played a young person on screen. Having to play this adult-ish person was very interesting for me. I got a glimpse of what my next decade was going to look like. It was fun.
I was thinking fun, sensual, spontaneous, confident, intelligent, and very independent. She carries herself very well, so I'd try to pull that into my normal life. We all need a little bit more of that. I was pulling that feeling that putting the perfume on gives me. It's like the final touch, and your little air of confidence. It's an extension of your personality.
What would you say your first scent memory is?
Literally speaking, I would say baby powder. All I can remember is the baby products, like the Johnson & Johnson stuff that my mom would lather me in all the time. Also, probably anything that my mom wore all the time. She has a very specific smell, and I could point it out anywhere – a combination of cocoa butter and almond oil. Also, hair products, like hair grease. She has this one hair grease that she uses that I smell on her every time I hug her.
Food is also a big part of my life and my culture. I like African food, and the smell of plantains, that just really gets me. And also pilau, which is rice with herbs, meat and veggies and a lot of spices. It smells kind of like jerk chicken, sauce, and stew.
How do you associate fragrance with self-care?
I don't like not smelling good. If I know that I skipped deodorant or my perfume that day, and I don't have it on me, I just don't feel like I should be anywhere. I need to go home and clean up and put on my perfume. It's a form of self-care because it adds to your confidence. You want to put the best version of yourself forward, and you want to make sure that you feel comfortable in the spaces that you're in. You're so close to people, and I love to hug my friends. It's just the best compliment when somebody tells you that you smell good. That's the realest compliment I can receive.
Will you associate this perfume with a certain phase of your life?
I'm about to turn 20. I moved to New York when I was 17, and then I started working with Chanel when I was 18. This is when I was living on my own, having to take more responsibility, and have to do things for myself. My mom did a good job of teaching me how to do those things at a very early age, thank God. But growing and becoming, and allowing myself to get in and out of phases feels appropriate for the stage that I'm in right now. When I want to feel young, in my sixties or something, I'm going to just spray a little bit of MADEMOISELLE and draw back to the days of my youth.
What is your perfume ritual?
I will put some on when I'm getting dressed, after I do my makeup. On my way out the door, there's a bottle of perfume. I spray me and whoever is around me, because I'm like, "Come on. We have to pull up looking, smelling good." And I always have one in my bag. Before I enter any restaurant, and I go to the bathroom, I spray a little bit just to make sure that it's still there. I always put it on my skin, on my wrists, and then the sides of my neck and in my hair, because I feel like it sticks really well in your hair.
I imagine you've learned a lot about Coco Chanel as a historical figure. Is there anything significant which sticks out to you?
I didn't know a lot about who she was at first, but I learned. In her time, it was not a common thing to be headstrong, independent, smart, and driven, and to rebel against all society's expectations upon you. It also wasn't common to have an opinion, be different, and to rebel against society's expectations. I visited her apartment and got this whole presentation about her and her history. I learned about the relationships she had, and how much of herself she gave to the people around her. I got to see the archives. I feel very, very connected to the foundation of Chanel.
You're the first Black spokesmodel for a Chanel fragrance. What does that mean to you?
It's insane. Honestly. Not insane in a crazy, "this is a bizarre" way, but also just that it's me. I can't even wrap my head around it. I just feel very lucky and I'm so happy that I get to do this. I never felt, when I was younger – I never saw myself in this position, and I never really saw, or felt represented. The fact that I'm doing this right now at my age with Chanel is so… I don't know. I was just proud of myself. It's just so cool.
What do you hope that other young people will feel, when they see you as the face of the fragrance?
I just hope that it expands everybody's perception of opportunity. A lot of times, there's a way that things are done, or there's a certain look or thing that people feel like is the norm, or is more valued or more wanted. It's just another step forward to show people that it doesn't really matter. You have to do what you've got to do, and do what you love, and hope that it works out for you. I'm getting emotional. I really just hope that it shows anybody, if I can do it, you can do it too. You just have to believe in yourself and just take all the risks.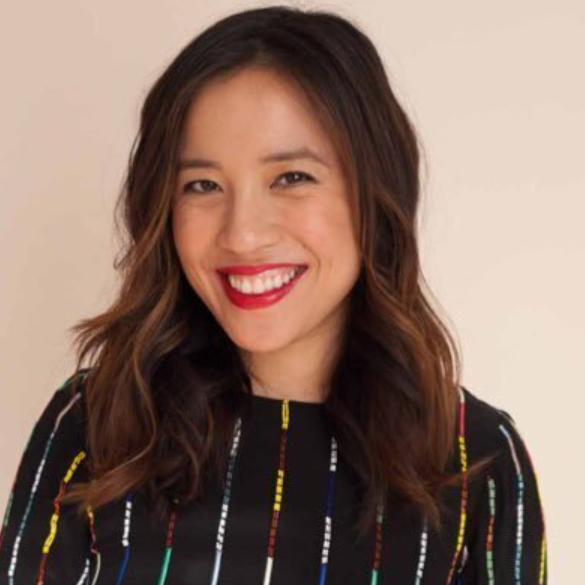 Kathleen Hou is the beauty director at Elle Magazine.