Hoyeon on Beauty, Her Favorite H-Mart Snacks and The Real K-Beauty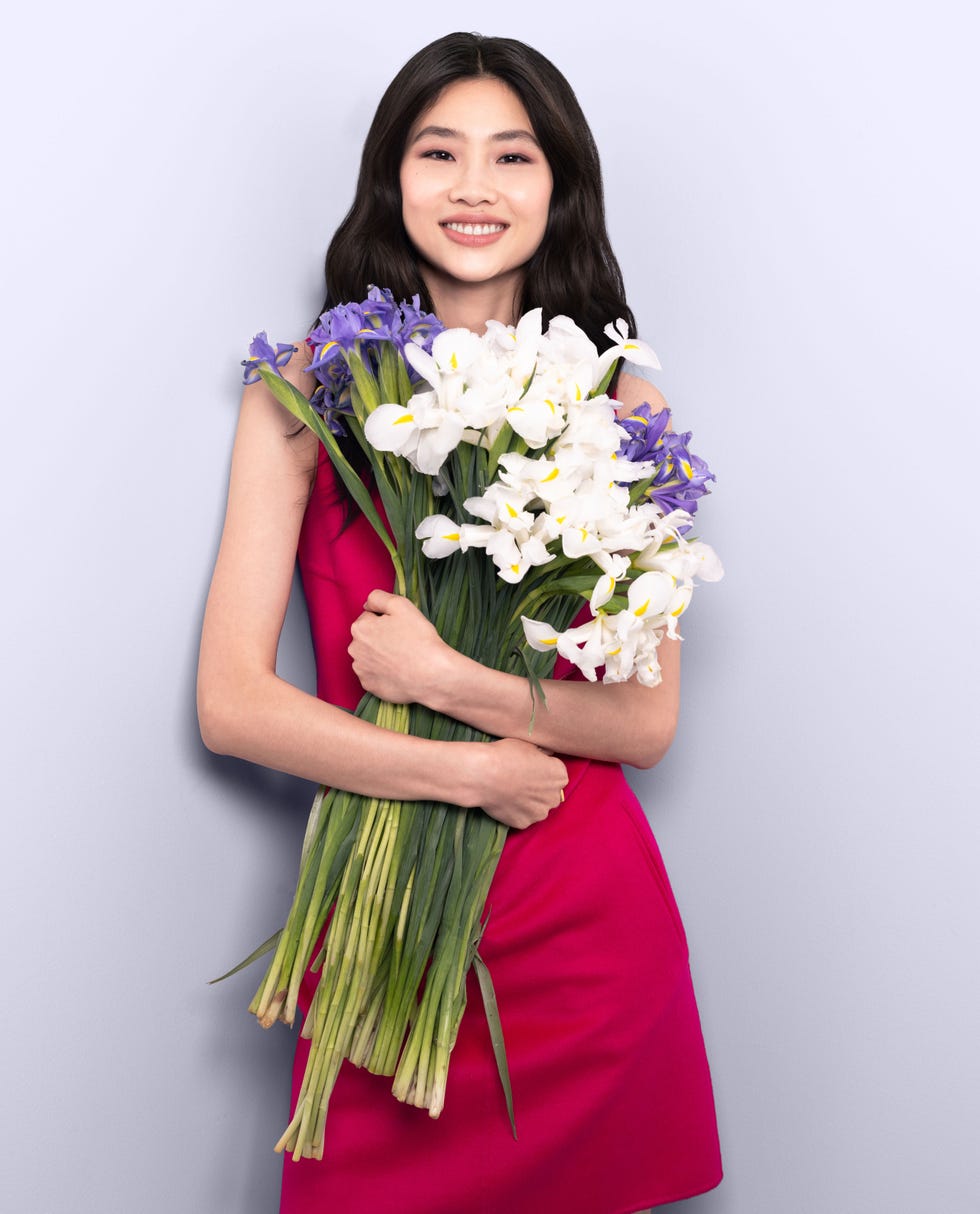 Several years ago, Hoyeon was the "model on fire" – best known for her blazing, cherry red hair (an accidental shade that came about when she told her colorist, "a little redder than usual"), and starring in Chanel and Louis Vuitton ads. Now, she's one of the hottest young stars, winning a SAG award for her breakout role in Netflix's Squid Game, starring in a music video for The Weeknd, and her newest role as a Lancôme spokesmodel. Over Zoom with a translator, Hoyeon says, "I'm slowly beginning to understand what happened last year, but I haven't fully yet." Hoyeon talks to us about the real essence of Korean beauty, the spicy instant ramen not for beginners, and the beauty value she thinks about most.
What was it like working with Mario Testino? Have you worked with him before?
Back in New York, in my modeling days, I went in for a casting call with him. This was my very first time working with him. He has always been a dream photographer to work with, so I was extremely nervous. I couldn't really get my words out, but I finally got to say hi. He told me that he also watched Squid Games, which made me very proud. He's great in that he really leads the ambiance of the shoot in a very organic and natural way.
I believe Lancôme to be a brand that pursues the beauty of women who are confident in their own skin. I wanted to portray in front of the camera, the essence or the aura of believing in oneself, knowing of your worth and your beauty, being satisfied with it, and having inner strength. Words like fearless came to mind, so that's what I tried to bring to the character during the shoot.
More From ELLE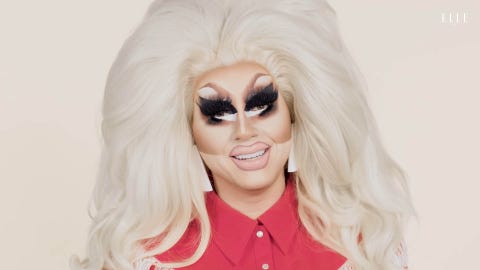 As an actress or model, you're often not playing "yourself." Is this the first time you feel like you're being yourself, in a big way?
I think you're right. I feel like I've been given the chance to really explore what kind of woman I am, the kind of beauty I put value in, and the kind I pursue in life. I think about inner strength, uniqueness, and even things like what environment a person grew up in. For example, I grew up in Korea, and it tends to get very dry in some seasons. I heard constantly growing up from my mother: "You have to hydrate, you have to drink a lot of water." Now, hydration has become one of the beauty values I think about a lot. As a model, I had the chance to do a lot of different makeup styles, and I experienced a wide variety of beauty. Nowadays, I put a lot of value in the natural self, and going back to the basics. When I think about facial expressions, I want to come across as being full of energy and having a positive energy.
Have you always been comfortable with beauty or has that changed over time?
Growing up, my mom didn't really tell me that, but my grandmother told me I was beautiful all the time. She would call me a doll. This gave me albeit, ungrounded or unfounded confidence, so I felt pretty confident in my own skin. Of course, in my teenage years, there were days where I wanted to look prettier, so I would wear those lenses that would enlarge your pupils, or out-there makeup styles. Nowadays, I start to get a little bit worried about getting wrinkles on my face, but I think as an actor, it's not too bad to have wrinkles, so I'm learning to live with that.
What would you say your nighttime routine is if you're winding down to get ready for the end of the day?
It's not that different from my daytime routine, actually. The only difference is that I add an eye cream to postpone when I will see wrinkles on my face. Again, I try to focus on hydration, so I would do a hydration sheet mask at night. To be honest, I've been lazy about taking care of my skin, doing masks, those kinds of stuff. But I started to go to the Korean spa to do a face mask, and also a body massage. And maybe once a week, I do the hydration mask before bed. I'm really bad with sunscreens. I've been trying my whole life to wear sunscreen. My friends scold me about that, so I'm trying to do better.
Michelle Yeoh once told me she does one sheet mask every day.
I heard many of my actor friends do that. It's actually very good for your skin. Since we have makeup on everyday, and need to recover from that. I think the key is to be very diligent.
Well, I'm sure Lancôme can supply you with one Genifique mask every day…
They actually did!
What does it feel like being home in Korea? Do people recognize you on the street?
People definitely recognize me more than back in my modeling days. But in Korea, I'm often driving so I haven't had that many chances to meet strangers. I recently took a one-month holiday there and my typical day was I would get up, have breakfast, go work out, and take English classes. And since COVID, I usually hang out with my friends at home.
Yesterday I just started watching this show, do you know the Physical: 100 on Netflix?
Oh my God, I just watched a new episode this morning. It's so great. I recommend it.
Did watching Physical: 100 make you think of Squid Game?
I definitely think there's a resemblance. In Korea, we are seeing more and more survival programs, and shows with a huge cash prize with quests that really use mental strength. When you watch survival shows, they reveal a wide variety of different human archetypes. I was watching the show and thought, "Oh, now I get why people were so engaged with Squid Games." In these unpredictable situations, it reveals a lot about humans. It was so fun and I can't wait to see what happens next.
With the hallyu wave, what are you hoping people appreciate most?
I really want everyone to get into Korean food. I am the most proud of the food from my country. I love the spiciness that we use. I love every kind of Korean soup, Tteokbokki and Kimbap, with some fries. It's very typical food, it's my favorite. I can eat it every day.
I was just reading, there's an all-you-can-eat Tteokbokki place in New York City.
In Korea, you can do that. You can choose what kind of rice cake, even add pumpkins, and add noodles. You can use soy potato noodles, ramen noodles, and any kind of noodle as a topping.
Do you visit H-Mart a lot when you're in the States?
In my New York days, H-Mart was probably the one place I went to most. I would always go and buy cup noodles, the frozen Tteokbokki, "meal kits," as we call them in Korea, kimchi and Banchan, which are the Korean name for side dishes. Whenever I visit the States, I always remember to bring a lot of Korean cup noodles with me. They are very heavy in sodium, so obviously I can't have them the day before or even two days before a shoot. But after a very long day of shooting, I like to take all stress off with a good cup of hot Korean cup noodles.
I love a Shin Ramyun.
Yes, Shin Ramyun is good. I also like Samyang and the Hot Chicken Hot Spicy. I don't recommend it to people who are not familiar with Korean spiciness. Even some Koreans couldn't eat it. I wouldn't recommend it to beginners.
We all know that Korean beauty has been big in the past few years. What is your favorite aspect of Korean beauty?
I wish I was a K-Beauty expert so that I could give some good advice. Across Asia, we think a lot about blood circulation in the body. In Asian medicine, there is what we call a blood spot, areas in the body where you have to make sure you massage and soften the muscles, for circulation. I started going to this spot which not only does facials, but also massages, scalp, neck, and shoulder massages.
Another thing I like in K-beauty is the fake eyelashes sold there. They're a little different in that it looks very natural, almost to the point where people might wonder, "Are those her real eyelashes or are they fake?" To me, the essence of K-Beauty is that you don't want to come across as having tried too hard, but you still look like you care and you put in the effort. There's a phrase in Korea that is, "It almost looks like you did put on makeup, but it also looks like you are without makeup." So did she or didn't she try and put makeup on? That's what I really cherish in K-Beauty.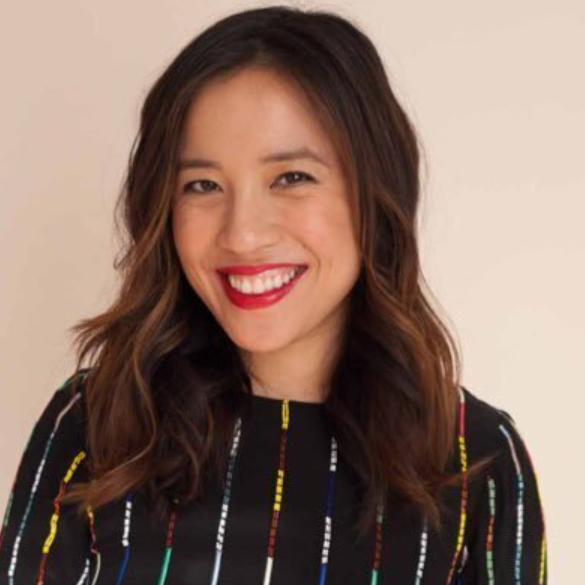 Kathleen Hou is the beauty director at Elle Magazine.