Trump attorney lawyers up after attempt to invoke attorney-client privilege backfires: report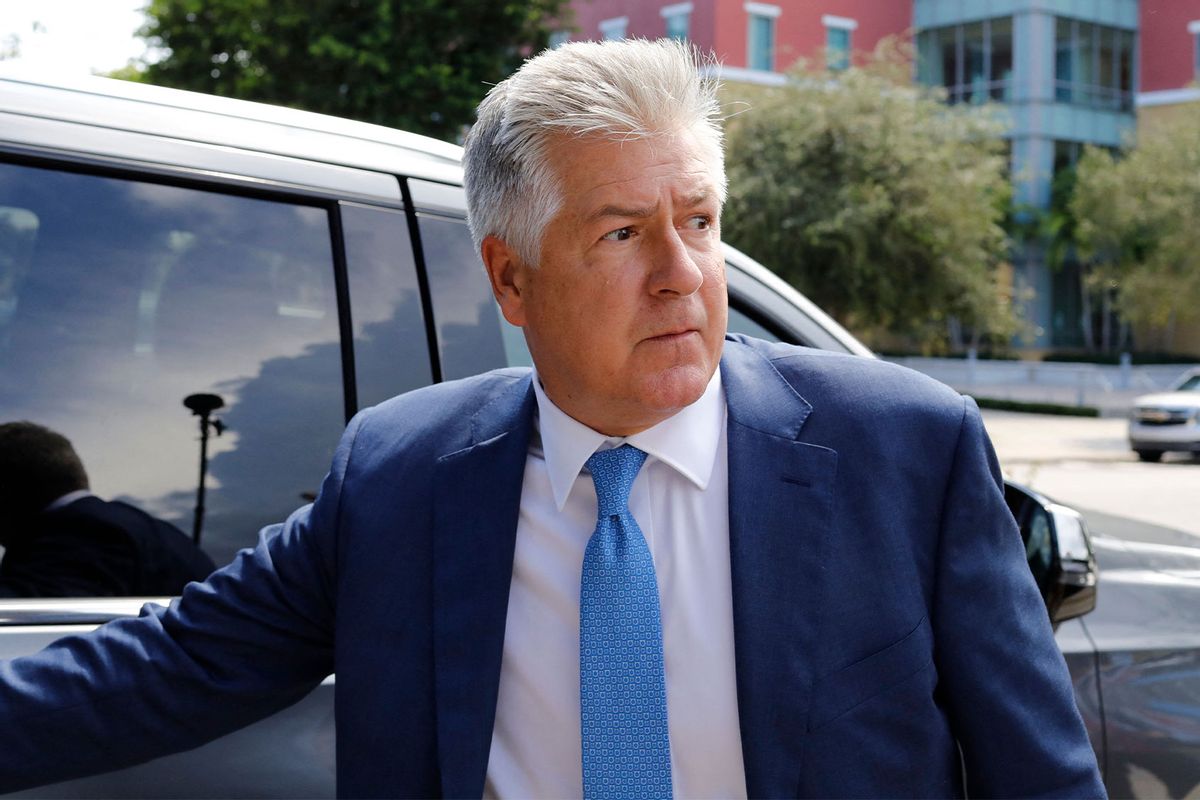 Former President Donald Trump's lawyer hired an attorney to represent himself after prosecutors intensified their inquiry into whether Trump mishandled sensitive records at his Mar-a-Lago resort, according to Reuters.
Attorney Evan Corcoran, who has been at the center of Trump's discussions with the government over its requests that he return all classified materials, has retained a prominent white-collar lawyer in Washington named Michael Levy, according to the report.
His law firm, Silverman Thompson Slutkin & White, hired Levy to represent Corcoran in the probe, according to one of the people familiar with the matter, Reuters reported.
Corcoran appeared before a grand jury in January in connection with special counsel Jack Smith's investigation into classified documents taken to Mar-a-Lago, but is believed to have asserted attorney-client privilege.
Smith's team is now seeking to compel Corcoran to testify under the crime-fraud exception, which allows the prosecutors to pierce attorney-client privilege by arguing that they've uncovered evidence of a crime.
Corcoran communicated with both the National Archives and Justice Department last year as the government issued a subpoena for any of classified materials at Mar-a-Lago.
Corcoran drafted a statement signed by another Trump lawyer, Christina Bobb, that "a diligent search" for classified documents had been made, and all documents had been turned over.
But a few months later, when the FBI searched Mar-a-Lago again, they found more than 100 classified documents and another 42 empty folders marked "Return to Staff Secretary/Miliary [sic] Aide," according to a filing by the Department of Justice.
Trump has denied any wrongdoing in the matter and claimed that all documents at his residence had been "declassified," though his attorneys have produced no evidence. He has repeatedly referred to the probe as a politically motivated "witch hunt."
---
Want a daily wrap-up of all the news and commentary Salon has to offer? Subscribe to our morning newsletter, Crash Course.
---
Smith's team has also interviewed Trump attorney Alina Habba, who is not representing Trump in the Mar-a-Lago case, but said in an affidavit in another case that she searched the former president's office and residence in May.
Prosecutors are also seeking to question Alex Cannon, a former Trump attorney, who reportedly advised Trump to cooperate with the government's requests to return the documents.
A third lawyer close to Trump, Jesse Binnall, also spoke with prosecutors about Boris Epshteyn, a longtime Trump adviser who has coordinated lawyers in multiple investigations targeting the former president, The New York Times reported.
Investigators have asked witnesses about discussions between Ephsteyn and others about establishing a "possible common-interest privilege" in the case, according to the Times.
Investigators are interested in whether Ephsteyn was "trying to improperly influence witness testimony."
Conservative attorney and Trump critic George Conway, who has described Trump as a "walking, talking crime-fraud exception," wrote in an October tweet that "His lawyers are going to be the witnesses who put him in jail."
His tweet recently resurfaced after the new developments in Smith's investigation into Trump. Conway added "this tweet seems to be aging well."
Read more
about Trump's lawyers