Scott claimed Biden lied about his plan to sunset Medicare, Social Security — then quietly edited it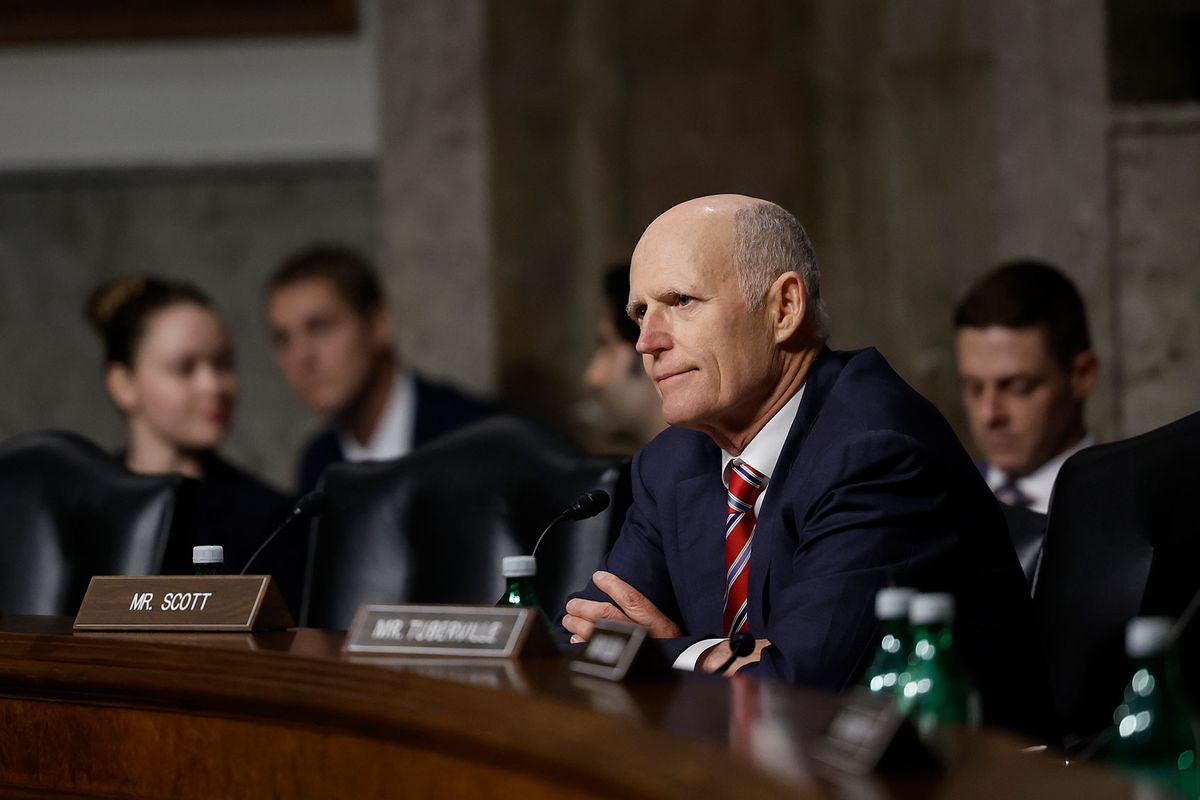 Sen. Rick Scott, R-Fla., has amended his contentious plan to sunset federal legislation every five years to include exceptions for Medicare and Social Security after months-long criticism from both parties.
The change comes just over a week after President Joe Biden's State of the Union address, when he called out Republicans over Scott's proposal. Scott and other Republicans criticized Biden over the comments, claiming the party had no intention to sunset the programs.
Scott's "Rescue America" plan would have required all federal legislation to be renewed every five years, and while Medicare and Social Security were never explicitly mentioned, Democrats pointed out that both programs would be affected.
The new version of Scott's plan reads: "All federal legislation sunsets in 5 years, with specific exceptions of Social Security, Medicare, national security, veterans benefits, and other essential services. If a law is worth keeping, Congress can pass it again."
Senate Minority Leader Mitch McConnell, R-Ky., pushed back on the plan since it was first introduced last year and stated last week that Scott was not speaking on behalf of all Republicans on the issue.
"It's clearly the Rick Scott plan. It is not the Republican plan. And that's the view of the speaker of the House as well," McConnell told Kentucky radio host Terry Meiners.
During his State of the Union address, Biden mentioned that the GOP wanted to sunset Social Security and Medicare, drawing heckles from Republicans like Rep. Marjorie Taylor Greene, R-Ga., who called him a "liar."
"As we all apparently agree: Social Security and Medicare is off the books now, right?" Biden said in response to the jeers, prompting applause from the GOP. "We've got unanimity!"
"It looks like we negotiated a deal last night," Biden said in Wisconsin the next day, referring to the exchange.
"A Senator from Florida is in hot water right now because of his plan to sunset Medicare and Social Security every 5 years," Biden tweeted on Thursday. While the programs are still on the table, The Washington Post reports that the federal government will have a hard time keeping them afloat after 2028 and 2035, when funding runs out. Republicans have opposed tax increases to keep the programs going, which Biden will likely propose in his upcoming budget to keep Medicare functioning.
Scott responded to Biden's comments by calling on him to resign in an ad, and telling CNN that he does not support cutting the programs.
---
Want a daily wrap-up of all the news and commentary Salon has to offer? Subscribe to our morning newsletter, Crash Course.
---
Former Rep. David Jolly, R-Fla., called the quiet change an "embarrassing reversal" for Scott that "can only be interpreted as a huge political victory for Joe Biden."
"Going into debt ceiling talks, Republicans have now been castrated on the issue," he added. "Just a remarkably quick victory by the President."
Igor Bobic, a senior politics reporter at HuffPost noted that "this is actually the second time Rick Scott has amended his plan after bipartisan blowback. The first reversal was after he called for a tax hike on low-income working families."
MSNBC host Mehdi Hasan also pointed out how Scott backtracked on the issue.
"Why did he feel the need to exempt them from his sunsetting plan if they were never part of it? Oh wait! They were!" he wrote. "The White House was right and Rick Scott was… gaslighting us."
Read more
about Rick Scott's plan