"Of course he's coming": My single-lone mom and kid travels taught me the joys of not playing it safe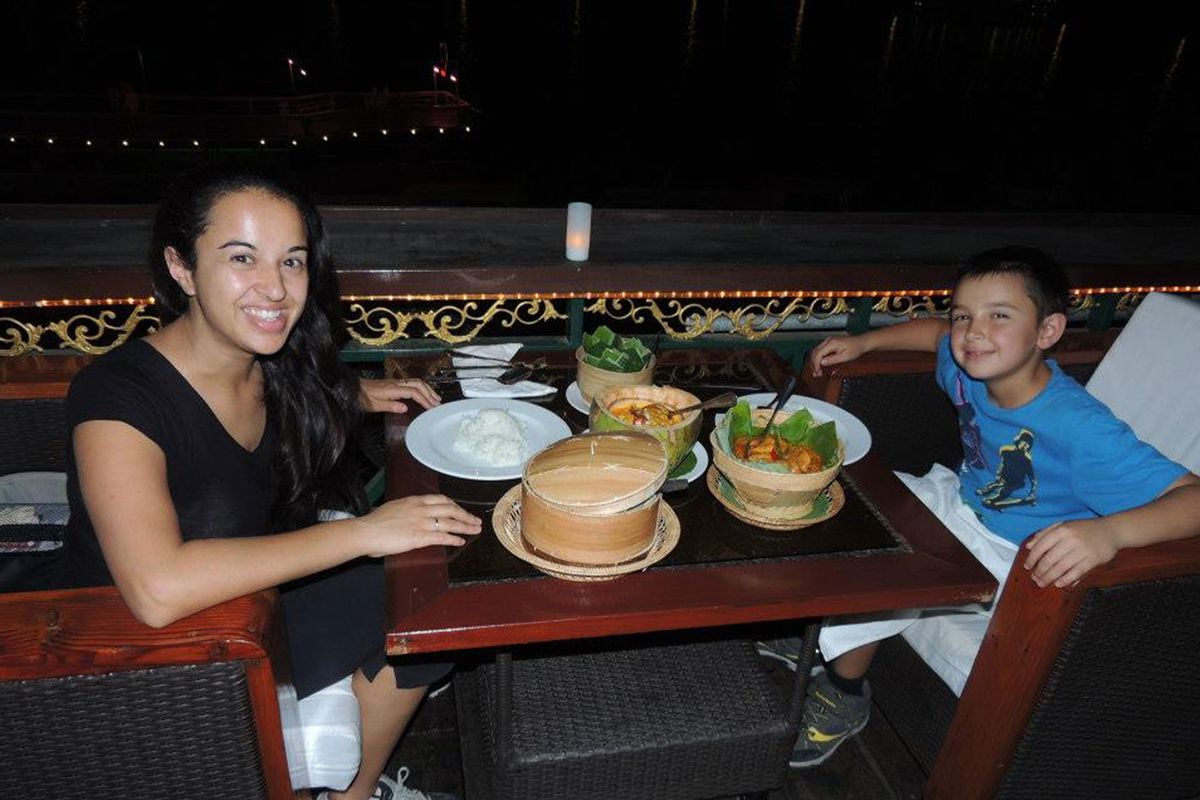 We were about to miss our bus. As I turned the corner, I called back over my shoulder. "Zac, PLEASE. We're going to miss it!" We were walking from our hotel in Phnom Penh, Cambodia, and Zac was dragging behind. It was hot and his bag was heavy, but I kept up the pace—we'd be left behind otherwise.
"My stomach hurts!" Zac's voice came from too far behind me. I turned, impatient.
"I know, but we really need to keep going, OK?"
"OK … but it really hurts …"
I turned to keep walking, rationalizing that if I kept up the pace he'd speed it up, too. I felt bad. My nine-year-old son was rightfully uncomfortable under his backpack and the hot sun during a long walk, and a stomach ache on top of that couldn't be pleasant. Still, we needed to make this bus to Ho Chi Min City. He'd be able to rest once we sat down.
I sped up as we neared the bus terminal, eyes searching the platforms until they landed with relief on our bus. I turned to see my child dragging himself up the sidewalk, leaving my pack on the ground before walking back toward him. I took his bag off so I could carry it the rest of the way. Finally, I could afford to be a concerned mom. "Does it still hurt?"
He nodded. "I don't feel good."
"Here, have some water. We'll get you on the bus and get you all cozy and hopefully you'll feel better then, OK?" I carried our backpacks to the bus, leaving them in the pile with the others while I searched my pouch for our bus tickets.
* * *
We were still adjusting to our big move from Canada to Wuhan, China. Life had been very different, with a lot of steep learning curves along the way—especially during our first international vacation, which hadn't gotten off to a smooth start: I'd lost my wallet first thing off the plane. But lately, it felt like we were finally getting the hang of it. We'd just spent several days in Siem Reap and Phnom Penh, and I'd finally been able to relax.
The man running our hotel in Siem Riep had convinced me that we needed a tuk-tuk driver during the days as we visited ancient ruins, markets and a butterfly conservatory. Having our own driver had felt strange and slightly uncomfortable, but I couldn't deny it significantly eased the work of trying to be organized — our driver knew where to go, knew where the best food was and was excellent company.
After following the ruins with a gorgeous horseback ride through the countryside, it finally felt like Zac and I had settled into travel life.
It was nice to be enjoying ourselves, rather than simply navigating the latest catastrophe.
* * *
On the bus and in our seats, I handed Zac the water bottle one more time. He leaned his head on my shoulder, closing his eyes.
As I stared at the scenery whipping past us out the window, I wondered if maybe my family had been right after all. Maybe we shouldn't be here.
As the bus rumbled to life, I stroked my son's hair.
"I still don't feel good."
"I'm sorry, babe. Do you think you're hungry? Do you want to eat?"
I began opening our food container as I spoke, wanting a few bites myself.
"Mommy, that doesn't smell good. It makes me feel like I want to—"
Zac doubled over, puking onto his feet.
"Oh no—hold on!" I moved quickly to get him a bag to puke in, saving his feet and the floor from some of the mess. He looked up, apologetic, and I felt the eyes of everyone on the bus on us. "Don't worry about it honey, it doesn't matter—do you feel better? Here—have some water."
As I twisted off the cap, Zac began to throw up again—only this time, there was no bag. Moving swiftly to help him, I knocked over the two-liter water bottle.
"What the…" Confused by the amount of liquid sloshing onto the floor—how much could one stomach hold?—it took me a moment to realize in horror that the water bottle had tipped over, creating a little pond at our feet that was mixing in with Zac's vomit.
I started babbling as the bus attendant came up to see what was happening, suddenly cold at the thought that they might not let us stay on the bus if they thought he was sick. "I'm so sorry…it's mostly the water…maybe it's motion sickness—can we move up to the front?"
Once in the front row, I tucked my kid into my shoulder and told him to close his eyes or stare straight ahead so he wouldn't get sick. But as we sat there, I realized this didn't make sense—Zac didn't throw up from motion sickness.
I was suddenly, desperately grateful we'd gotten to the bus on time. I remembered that the bus form had specifically stated that suspected ill riders would not be allowed to board. And I'd read in my travel book that medical attention was more developed in Vietnam than in Cambodia. Still, I felt sick that I'd made my son struggle along behind me with his backpack in the hot sun.
Now I was the one who wanted to throw up.
More than that, I was suddenly apprehensive at the thought of caring for my sick child while traveling through developing countries. I'd been trying desperately, unsuccessfully, to plan this trip into submission. But here was more proof that I couldn't control everything, as much as I tried.
As I stared at the scenery whipping past us out the window, I wondered if maybe my family had been right after all. Maybe we shouldn't be here.
Zac's soft regular breathing told me he'd fallen asleep. Gingerly moving him into a more comfortable position, I closed my own eyes, trying to keep the worry at bay.
* * *
As the bus gently lumbered closer to Vietnam, my thoughts were drawn back to the moment I'd started telling friends and family about moving to Wuhan, China.
"Are you bringing Zac with you?"
I laughed. I could no longer count the number of times I'd been asked this question. "What else would I do with him? Of course, he's coming!"
I was a single-lone mom—I'd parented my son independently his whole life. I wondered if two-parent families were asked this question when they moved. Who on earth thought it was OK to leave your child behind?
I wrapped my fingers around the large tea mug, legs tucked up under me. My friend caught my eye. "Maybe you should hold out a little longer? Maybe you'll find a teaching job here after all?"
I'd been trying desperately, unsuccessfully, to plan this trip into submission. But here was more proof that I couldn't control everything, as much as I tried.
It'd been two years of feeling frozen in time. I'd pursued the degrees, parented the hell outta my kid, then waited for the next stage—employment in my field—to come.
It hadn't.
I'd been striving for the safe, socially prescribed path my whole life. It'd gotten me nowhere.
"I'm not sure. I just know I can't stand sitting still any longer, waiting to find out."
* * *
The bus turned a corner as it exited off a major road, jostling Zac awake. The first thought that sprang to mind was that Tet—Vietnamese New Year—was being observed right now. l knew from our time in Cambodia that banks were likely to be closed. What about health care clinics?
Our bus pulled into the center of Ho Chi Minh and I grabbed our bags before we walked to the side of the road, hailing a taxi that brought us to the hotel I'd booked only yesterday. Once settled, I called our travel insurance to get the nearest location for a doctor.
Less than an hour later, we were at a clinic.
"Likely a case of food poisoning," the doctor revealed, pulling his stethoscope down around his neck. "I'll give you a prescription, but you may not need it. Otherwise, lots of fluids."
I was grateful that—for once—there was a simple solution.
* * *
As we walked down the street, mesmerized by the abundance of scooters, I mentally searched for what might have caused the food poisoning. We'd been careful, heeding advice not to get ice in our drinks and to avoid certain uncooked options. Coming up short, I reminded myself that some things were beyond my control.
Noticing a little restaurant proclaiming excellent Pho, Zac and I stepped in and ordered, then returned to their outside patio to eat. By the end of the meal, Zac had color back in his cheeks again, declaring the Pho had magically cured him.
As we got up to leave, Zac slipped his hand in mine and began to chatter about the scooters, which took up the majority of the road—sometimes 10 rows deep. I squeezed his hand, feeling the last of the anxiety leach out of me.
My kid was safe. I could breathe.
* * *
A few days later, I snapped a picture from the back of the scooter I was riding. As Zac's tour guide maneuvered her scooter amongst the others, I took a breath as I soaked in the uniqueness of the city.
I blinked as another scooter pulled up alongside me and my guide—five grown men, squished together as they shared a seat. I grinned, delighted with the absurdity of the picture they painted.
Like these men crowded together, I'd tried for so long to fit into a life that didn't fit. To try to make it work, to make it to some—but not all—of my destinations; to feel uncomfortable all along the way.
Now, as I sought out something different, I realized there would always be bumps in the road. In some ways, it was easier to play it safe.
But were any of us really made for a safe life?
Though I'd been unsure, Zac had been eager to take a scooter tour, and I couldn't help admitting, as we zoomed toward our next destination—this was fun.
I raised my camera just as Zac twisted his neck around to look for me from beneath his white helmet, pink and green sunglasses perched atop his nose.
He flashed me a grin.
Read more
about vacations