Investigate Killing Of Young Man In Edo — Reps Urge IGP – IBRANDTV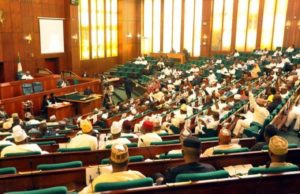 The House of Representatives has urged the Inspector-General of Police, Usman Baba, to investigate the killing of a young man identified as, Godsent Obhafuoso, by the bullet fired by a policeman in Uromi, Edo State.
Observing a minute of silence in honour of the deceased, the lawmakers urged the IGP to "investigate the killing of Mr Godsent Obhafuoso by a police stray bullet on August 13, 2022, at a social event at Uromi."
The House also mandated its Committee on Police Affairs to ensure compliance with the resolutions and report back within four weeks for further legislative action.
The resolutions were based on a motion moved by a member of the House from Edo, Sergius Ogun, titled 'Need to Investigate the Killing of Godsent Obhafuoso by Police Stray Bullet in Uromi Edo State,' which the lawmakers unanimously adopted at the plenary on Thursday.
Ogun said, "The House is disturbed by the rate of deaths of innocent and unsuspecting citizens occurring from stray bullets of police personnel in different parts of the country. The House is informed that on August 13, 2022, Godsent Obhafuoso was killed by a police stray bullet, one month after he graduated from Ambrose Alli University, Ekpoma, Edo State, at a social gathering at Uromi, Edo State.
READA ALSO: Police To Fill 5% Of Force Employment With PWDs
"The House is also informed that attempts to bring the erring police officer to justice failed due to complacency on the part of the police personnel at the Office of the Assistant Inspector General of Police, Zone 5, Edo State."
This call is coming barely a month after a Lagos-based lawyer, Bolanle Raheem was also killed by a policeman in the Ajah area of the state.
Related