Amazon UK makes cautious move into insurance sales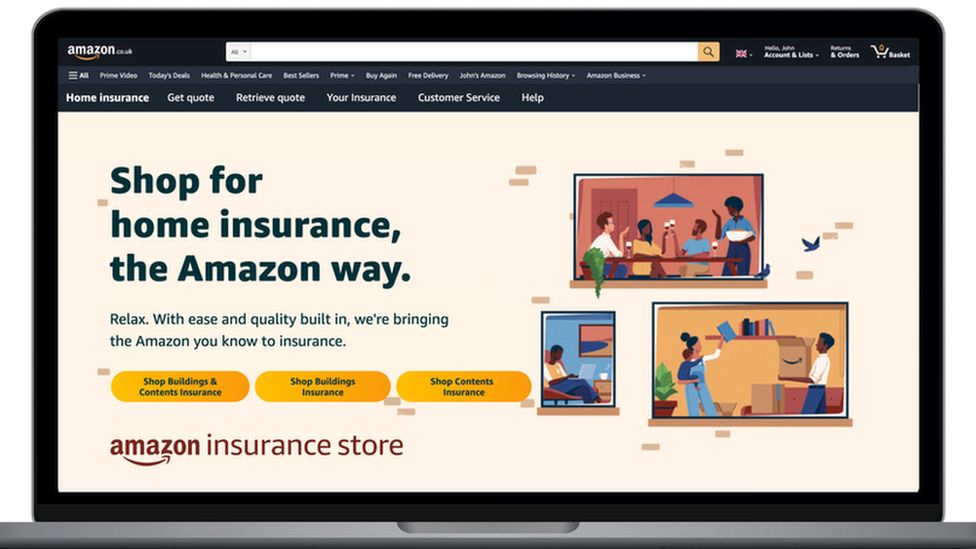 Amazon has launched a small online insurance store in the UK, with an initial focus on home policies.
It has just three insurers on board and plans to add more next year.
At first, the Amazon Insurance Store will only be available to a limited number of Amazon UK account holders, and payment will be taken from the same payment card used for other shopping.
This is a small start but Amazon has been eyeing the UK insurance market for a while.
Last year it partnered with a London-based broker called Insuretech to offer a range of policies to small and medium-sized businesses.
Jonathan Feifs, Amazon's general manager of EU payment products, told the BBC that in the UK particularly, shopping for insurance online was "a well-established behaviour".
He added that he hoped the Amazon offering would be more simple and transparent than its competitors – but he did not say it would necessarily be the cheapest.
"As Amazon has shown in its retail marketplace, it may not be the cheapest supplier in town, but it's the ease of use that gives it the edge over the competition, particularly as it has a ready presence as an app on millions of phones," said Susannah Streeter, senior analyst at Hargreaves Lansdown.
"However, it may find the amid the cost-of-living crisis, consumers will prioritise value over efficiency, giving more resilience to price competitive rivals."
With its new venture the tech giant enters a crowded insurance comparison market alongside established platforms like ComparetheMarket and MoneySupermarket.
In 2020, ComparetheMarket was fined nearly £18m for keeping insurance policies artificially high by preventing insurers from advertising more cheaply elsewhere.
Amazon said it believed it was offering a "simplified" experience, with streamlined questionnaires and no need to leave the site to actually purchase a policy once selected.
It also said it would display customer ratings and reviews left about individual insurance companies, and the rate at which they accepted claims for the policy offered.
The new insurance store will not be restricted to Prime customers, the tech giant's premium service.
The firm will take a sales commission from insurers but declined to say what percentage that would be.