Megan Fox and Machine Gun Kelly's Complete Relationship Timeline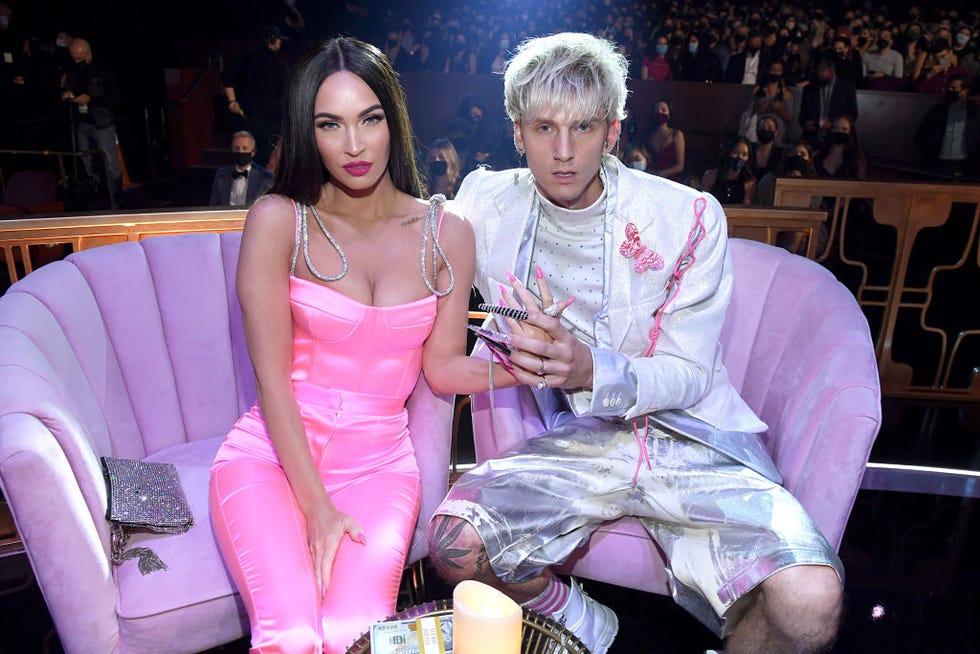 Megan Fox has started a new chapter in her dating life. Months after separating from her husband of more than a decade Brian Austin Green, the actress has found new love with musician/actor Machine Gun Kelly (real name: Colson Baker). After meeting on a movie set earlier in 2021, they're now engaged over a year later.
Below, a breakdown of Fox and Kelly's time as a couple, including how the couple is "planning their future together."
March 2020
Fox, 34, and Kelly, 30, met earlier this year on the set of the upcoming indie thriller Midnight In The Switchgrass. Deadline reported that the film's production in Puerto Rico shut down after two weeks due to the coronavirus pandemic. A source told E! News that the co-stars had "been hanging out a lot since their movie was shutdown," adding, "The down time has been good for them…They are intrigued by each other and having a lot of fun."
May 15, 2020
Rumors of romance between Kelly and Fox began when the DailyMail published photos of the pair grabbing takeout together in Calabasas. The outing came amid rumors that she was quarantining separately from her longtime husband, Green. Both had been spotted without their wedding rings in recent months.
The next day, Green posted a cryptic message to Instagram, marking his wife's birthday.
"Eventually butterflies get bored sitting on a flower for too long," he wrote alongside a photo of a butterfly on a flower. "They start feeling smothered. It's a great big world and they want to experience it."
May 18, 2020
Three days later, the Beverly Hills 90210 alum confirmed that he and Fox have been on a break since December 2019, via his …with Brian Austin Green podcast. "She said, 'I realized when I was out of the country working alone that I feel more like myself and I liked myself better during that experience and I think that might be something worth trying for me,'" he recalled Fox telling him. "I was shocked and I was upset about it, but I can't be upset at her because she didn't ask to feel that way. It wasn't a choice she made, that's the way she honestly felt."
He also addressed recent photos of Fox and Kelly out together. "I've never met him, but Megan and I have talked about him," Austin said. "They're friends at this point, and from what she's expressed, he's a really nice, genuine guy, and I trust her judgment."
Green and Fox share three sons, Noah, 7; Bodhi, 6; and Journey, 3. The former couple began dating in 2004 and split in 2006 before getting married in 2010. They filed for divorce in 2015, but reconciled ahead of their third son's birth in 2016.
"I will always love her, and I know she will always love me, and I know as far as a family, what we built is really cool and really special," Brian explained, later adding, "I really don't want Megan and I to be at odds. She's been my best friend for 15 years, and I don't want to lose that."
A source from Fox's camp spoke to E! about her relationship with Kelly. "Megan has been working on a movie with Machine Gun Kelly and gotten close to him. They are hooking up and have been for a little while," the insider said. "She is separated from Brian Austin Green, and they are taking time apart as a couple. She has something going on with Machine Gun Kelly that she is excited about."
May 20, 2020
Then, Kelly released the music video for "Bloody Valentine," the first single off of his upcoming album. Fox starred in the video as Kelly's domineering girlfriend, sharing an almost-kiss with the musician and stoking further speculation about their relationship.
This content is imported from youTube. You may be able to find the same content in another format, or you may be able to find more information, at their web site.
June 15, 2020
Nearly a month later, the Daily Mail published photographs of Fox and Austin holding hands and kissing after a night spent at Mr. Furley's Bar in Sherman Oaks, California. The couple's public date night came one day after Green was seen having lunch at a Mexican restaurant in Los Angeles with model Courtney Stodden by TMZ.
Later that day, Kelly seemed to allude to his new relationship, tweeting a lyric from "Bloody Valentine." "I'm calling you girlfriend, what the f*ck.' Life imitated art on that one," he wrote.
June 16, 2020
A source told E! that although Fox may be moving on, Green "isn't filing for divorce yet," adding, "He wants to give Megan space and is hopeful they will find their way back to one another. It's been hard to see her get back out in the dating world, but he is trying to fill his time with his kids and friends."
June 17, 2020
The next day, Us Weekly reported that Kelly and Fox were officially dating. "Megan and MGK have gotten more serious and are officially dating and referring to one another as boyfriend and girlfriend," a source told the outlet. "They're enjoying spending more and more time together and have a strong connection."
A source told E! News that this relationship is "new and exciting for Megan" and that she's spending time with Kelly whenever Brian has the kids. The insider continued, "She has only been with Brian for many years, and this is very different. She's into it."

June 23, 2020
More than a month after their first public outing, Fox and Kelly appear to be going strong. The Daily Mail ran photographs of the couple leaving dinner at Soho House in West Hollywood, on Tuesday, June 23. Earlier that day, Kelly shared photos of his and Fox's matching "Bloody Valentine"-inspired manicures on his Instagram Story, via Us Weekly.
July 17, 2020
The couple was seen at Los Angeles International Airport and spotted sharing a kiss, which The Sun captured in these photos.
July 22, 2020
Fox and Kelly gave their first joint interview on Lala Kent and Randall Emmett's podcast, Give Them Lala … With Randall. Randall directed the couple in Midnight in the Switchgrass and Fox recalled her initial thoughts when she discovered Kelly was cast. "I was like, 'Who is going to play this role?' And he was like, 'Oh, we just got Machine Gun Kelly,' and immediately, I was like, 'Uh oh,'" Fox said, via Entertainment Tonight.
"Because I knew—I could feel that some wild shit was going to happen to me from that meeting, but I wasn't yet sure what. I just felt it like, deep in my soul—that something was going to come from that," she added.
After meeting on set and filming for two days, Fox said she felt an astrological connection between them. "I knew right away that he was what I call a twin flame," she recalled. "Instead of a soul mate, a twin flame is actually where a soul has ascended into a high enough level that it can be split into two different bodies at the same time. So we're actually two halves of the same soul, I think. And I said that to him almost immediately, because I felt it right away."
"I think it was the second day [of filming]," she continued. "I asked him to come into my trailer for lunch, and I put him through all of this astrology stuff. I went deep right away. I knew before I even did his chart, I said to him, he has a Pisces moon. I could tell by his energy."
All of the astrological talk ensued because the couple got a reading from astrologist Susan Miller during the podcast. Miller said the pair appeared destined to be married, although Fox clarified, "We're not engaged or anything like that." But when the astrologist said Kelly was meant to marry someone who is "happy, or it could be a scholar," he replied, "Yeah, Megan is always really happy."
July 28, 2020
The pair of more than two months went Instagram official a week later. Kelly was the first to post a photo, sharing a black-and-white mirror selfie of the couple sticking their tongues out. He captioned the picture, "waited for eternity to find you again … ????????❤️????" As if that wasn't passionate enough, Kelly tagged "The Universe" as their location.
August 5, 2020
Fox made the relationship official on her feed the following week. This time, the declaration caused some drama. It all started when Fox shared her own black-and-white mirror selfie of the couple. She sported a bikini, while Kelly opted to go shirtless. "Achingly Beautiful Boy… My heart is yours ????♥️????" Fox captioned the photo.
And although she disabled comments on the post, that didn't stop her ex from weighing in. Green copied Fox's caption, posting his own photos of his four sons, including his three with Fox, on Instagram and Twitter. "Achingly beautiful boys…… My heart is yours," he wrote alongside headshots of sons Kassius, 18; Noah, 7; Bodhi, 6; and Journey, 4.
Green's shade comes two days after he spoke on the Hollywood Raw podcast about co-parenting with Fox. "I think for us…the realization of that we can't take the view that it won't affect the kids, because it will," he said, via E!. "I think it's up to us, and parents in general, how it affects your kids…whether it's a really negative experience for them or it's ok and they feel safe in it and they feel loved…and they feel like, you know, everyone still loves and respects everyone, things are just different. But, it's not bad different, it's just different." He added, "I wish Megan the absolute best in everything. I want her to be completely happy for her and for the kids. That's super important."
August 14, 2020
If Instagram didn't already make things official, then Kelly just did. When the rapper appeared on BuzzFeed Celeb's Thirst Tweets, he read a tweet from a fan who asked if he'd go out on a date.
"Machine gun kelly I just wanna let you know am free this sunday to go on a date just let me know if ur free sunday cause I am free and would like to take you on a date," the fan wrote.
Kelly responded: "I'm locked in already right now. No dates for me. Probably ever."
When another fan wrote, "I would let machine gun kelly suck my toes maybe," Kelly responded: "Like I said, I'm only sucking one pair of toes."
August 25, 2020
Fox slyly reacted to her ex's post while speaking with Entertainment Tonight. "For whatever reason, people are very trigger happy to call me stupid or call me vain or call me a slut, which is crazy. I was in the same relationship for 15 years, you know?" she explained, adding, "It's bizarre, this image that gets projected onto me that people have just accepted and that's lived for over a decade and that I never really did anything to earn in the first place."
August 30, 2020
Green went ahead and gave another update on how he's feeling regarding his ex's romance. "I never say never," he said when asked on an Instagram Live whether he'd reconcile with Fox, via ET. "I kinda feel like people are on paths in life and sometimes your paths are together and you travel that path together and you see eye to eye, and then sometimes paths do different things."
He was also asked by a fan what his opinion of Kelly was. "I've never met him, I have no idea," he replied, adding, "I can say, yeah, I've heard bad stories about him, but I've heard bad stories about myself as well and I know most of those aren't true. As of right now, I have no problem with him at all. I really hope that he and Megan are happy."
September 10, 2020
Despite the occasional public input from Green, Kelly and Fox's relationship appears to be going smoothly. "MGK has met Megan's kids, but Brian is pretty protective of them," a source told Us Weekly. "Megan and Brian's relationship is so up and down. They have been coparenting in a healthy way as best as they can."
However, the insider explained that this four-month relationship wasn't going faster than in needed to. "MGK and Megan aren't seriously taking about getting engaged, married or having kids right now and they're not there yet. It's too soon for everyone, both of their kids and Brian included," the source said. "They are definitely super into each other. MGK is obsessed with Megan."
September 17, 2020
Then the couple shared another milestone from their romance—hearing the song "Bloody Valentine" on the radio for the first time. Megan and Kelly sit in the car together as the song for which they co-starred in the music video plays in the background.
September 23, 2020
Kelly offered another update on his and Fox's relationship to Howard Stern, telling the host that he "didn't know what [true love] was until me and her made eye contact," via E!. "That's when I was like, 'Whoa.'"
He elaborated on how falling in love impacted the creation of his latest album. "After I made the big chunk of the album [Tickets to My Downfall] I did fall in love for the first time," Kelly explained. "That was my first experience with being open to love and stuff like that. I definitely wasn't set up to believe that that's something that could ever exist."
September 25, 2020
The pair made a stir days later, while celebrating the release of Kelly's album. People spotted Fox and Kelly out for a date night in Los Angeles, which later proved to involve the couple scaling the roof of The Roxy. Kelly posted photos from the evening, including a media request for info about The Roxy scaling, to Instagram.
September 30, 2020
Kelly's next music video for his song "drunk face" also showcases his love for Fox. In the documentary-style video, there are several clips featuring Fox, including one where the pair shares a kiss for the camera.
This content is imported from youTube. You may be able to find the same content in another format, or you may be able to find more information, at their web site.
Fox also plugged Kelly's record on her Instagram feed, lip-synching along to one of her favorite songs from the album.
October 13, 2020
A few days after their last public date night in Santa Monica, new reports emerged that Kelly had been introduced to Fox's kids. A source told People that Kelly "recently met her kids for the first time. Megan thought it was a natural step, since they are getting more serious. They are in a committed relationship and it's not just a fling. They are planning a future together." The insider added that Fox and Kelly "spend as much time together as they can" and are "doing great."
Another source spoke to E! about how the couple is "planning their future together" and are "very serious." The insider explained, "They see themselves as soulmates and life partners. They are taking steps every day to build on that. Machine Gun Kelly has met her kids and is becoming a part of their lives. She wanted to make sure it was going in a serious direction and they both feel very strongly that it is."
As for their five-month long relationship, the E! News source affirmed, "They are very much in love and excited that they have found one another."
December 2020
Now that Kelly and Fox have been together for, well, the entire pandemic, things are starting to get serious. A source told Entertainment Tonight that Kelly sees marriage with Fox as something that will happen for them soon.
"MGK and Megan make each other laugh and that's a big thing for Megan," the source said. "They keep each other smiling. MGK totally sees marriage in his future with Megan and friends could 100 percent see them getting engaged within the next year."
The source added, however, that "Megan doesn't think about getting engaged [or] married and she doesn't put a timeline in place and it's not something that really crosses her mind."
February 2021
Although marriage could very much be in Fox and MGK's future, a source told Entertainment Tonight that Fox isn't quite ready for marriage with her "twin flame."
"An engagement could be in Megan Fox and MGK's future and same with having kids together. MGK definitely wants both of those things, but Megan is a little hesitant right now. In the meantime, they are constantly laughing together and always have the best time."
March 2021
The couple made an appearance as they had a date night at the UFC 260 event in Las Vegas. They seemed to notice the cameras on them:
Kourtney Kardashian and Travis Barker were nearby:
Ah, we do love a socially distanced celebrity-couple sighting.
April 2021
A source close to Fox told E! that Fox and MGK "plan to get engaged and married" and that the couple is "very much in love and have a strong and intense relationship…Her divorce is moving along, and they are hashing out custody details."
For context, a separate source told E! in February that Fox's ex, Brian Austin Green, was dragging out divorce proceedings. "Brian is definitely not making it easy or doing things quickly," the source said. "Megan would like to wrap it up and get it finished as quickly as possible, but Brian is not exactly working with her on that."
May 2021
Kelly and Fox had a big month of appearances—and potentially even bigger private talks about their future. A source told ET that the couple is "doing great," and that the singer "would marry Megan in a heartbeat." Fox, meanwhile, was "definitely in love" with Kelly but in no rush for that next step. "[She is] having a great time with where things are at now," the source said. "She really takes her kids into consideration and knows that taking that next step would be a big adjustment, but it's not off the table."
On May 23, Fox and MGK attended the Billboard Music Awards together, where they were seen touching tongues (Kelly had a black tongue), being affectionate in front of the cameras, and just generally showing a lot of PDA.
Later that week, at the iHeartRadio Music Awards, they wore matching pink outfits. Fox was in a pink Barbie jumpsuit while Kelly matched her with a white suit embellished with a pink butterfly. Their PDA was more restrained this time compared to their previous date's tongue touching:
The same week, Kelly tweeted about the one-year anniversary when Fox told him she loved him for the first time.
On a photo of Fox on the red carpet at the iHeartRadio Music Awards that Fox captioned "Daddy Issues Barbie," Kelly also commented, "daddy loves you."
During Indy 500 weekend, Kelly and Fox made an appearance at Barstool Sports' party at Grand Park in Westfield, Indiana, where the audience called for Fox to join Kelly onstage.
"She came out after everyone was chanting 'Megan' for some time," a source told E!. "Then she did stay on the stage in the background for the whole song."
June 2021
The following month, Fox and Kelly were spotted sharing an intimate PDA moment for all to see. The two shared a kiss near a street in Sherman Oaks. Fox showed off her abs as she wore beige matching crop top and short set. Kelly wore a pink button down with light blue jeans paired with white sneakers.
Meanwhile, a source told Entertainment Tonight mid-month that the pair "are pretty inseparable" and are planning a serious future together.
"MGK would love to start a family with Megan someday, but right now doesn't seem to be the time in terms of scheduling," the source told the outlet. "As far as engagement goes, it is likely that this will happen sooner than later, and it has been a topic of conversation without question."
The source continued, "their schedules are starting to get super busy again, so they just want to make sure that the timing is right since it would be a big step for both them and their families."
July 2021
In an appearance on Fox 5 New York Fox shared the nicknames she calls MGK. Included on the list are: "Cookie," "Buddha," and "Booby."
In a separate interview surrounding the release of her movie Till Death, Fox also shared with The Washington Post that she knew MGK was her "soulmate" as soon as they met:
"The first time I looked into his eyes, I was like…'I know you. I have known you so many times, in so many different forms, in so many different lives.' She told the publication that "wasn't expecting it'd be like, 'God, you are my soulmate,' instantly."
October 2021
Fox and Kelly were interviewed by British GQ in October and described their romance as "intense."
"This is a very intense relationship," Fox said. "Our souls chose this to absolutely have to face our shadow selves; to face things about ourselves we didn't want to have to know, that we tried to push away."
"It should be light [like first love], but also we go to hell with each other," Kelly added. "It's ecstasy and agony for sure… I don't want people to think anything's perfect with us. I didn't say it was the darkest fairy tale for no reason. God help you if you would've met us last Saturday."
January 2022
Machine Gun Kelly proposed to Fox under a banyan tree that was apparently pretty significant to their romance, according to a post on Instagram. In the caption, she explained the meaning of the location and admitted that after she accepted his hand in marriage, they drank each other's blood.
On his Instagram MGK shared a photo of the emerald and diamond ring designed by jeweler Stephen Webster, saying it incorporated both of their birthstones.
In an interview later that month with Vogue during Dolce & Gabbana's Milan show, Kelly revealed that the ring is designed so it hurts to take it off.
Kelly explained, "It's a thoroughbred Colombian emerald, with no treatment. It was just carved into the teardrop, straight out of the mine. And the diamond was directly from Stephen [Webster]. The concept is that the ring can come apart to make two rings. When it's together, it's held in place by a magnet. So you see how it snaps together? And then it forms an obscure heart. And you see this right here? The bands are actually thorns. So if she tries to take it off, it hurts…"
"Love is pain!" he added.
February 2022
In February, Machine Gun Kelly made an appearance on The Late Late Show with James Corden to perform "Emo Girl" with Willow Smith. During an interview with the host, he said that he and Fox had been discussing their wedding theme.
MGK said he was "trying to find a spot" that worked for his "artistic" vision of the ceremony and reception. The couple wants to have a "red river" and "gothic" features, so naturally the "location is hard."
"I change my opinions about things a lot," MGK explained.
April 2022
Fox posted a loving tribute to MGK for his birthday along with an adorable pic of him giving her a piggyback ride against a glorious pink sunset.
May 2022
The couple celebrated Fox's birthday together, during which the actress had one special request for her man. In an interview by Entertainment Tonight's Denny Directo on the red carpet, Fox said, "My main request is always just no cell phones. So, whatever we do, wherever we go, I just want there to be no phones."
July 2022
The couple is discussing potentially having more children. Fox has three children with her ex, Brian Austin Green, and MGK has one daughetr from a previous relationship. A source told Entertainment Tonight that they are discussing "expanding their family one day."
"Megan and MGK are pretty much done wedding planning. They are both totally on the same page, which has made things easy for them, but Megan is definitely pulling everything together and has the final say on what goes and what doesn't," the source explained. "They are so excited to spend the rest of their lives together, traveling the world, living in complete bliss and harmony, and potentially expanding their family one day."
Savannah Walsh is an Editorial Fellow at ELLE.com.
Hilary Weaver is a freelance writer based in New York who writes about politics, queer issues, Meryl Streep, Glenn Close, and every woman the Queen has ever made a dame. I saw Mamma Mia! Here We Go Again three times in theaters, and that's pretty much all you need to know.
Starr Savoy is a fellow at ELLE.com, where she writes about celebrity, culture, beauty, and fashion. When she is not working, you will find her pumping iron at the gym, watching Netflix's latest phenomenon, and indulging in retail therapy.