Meet the Cast of Cosmic Love, the Reality Dating Show That Uses Astrology to Help Singles Find the One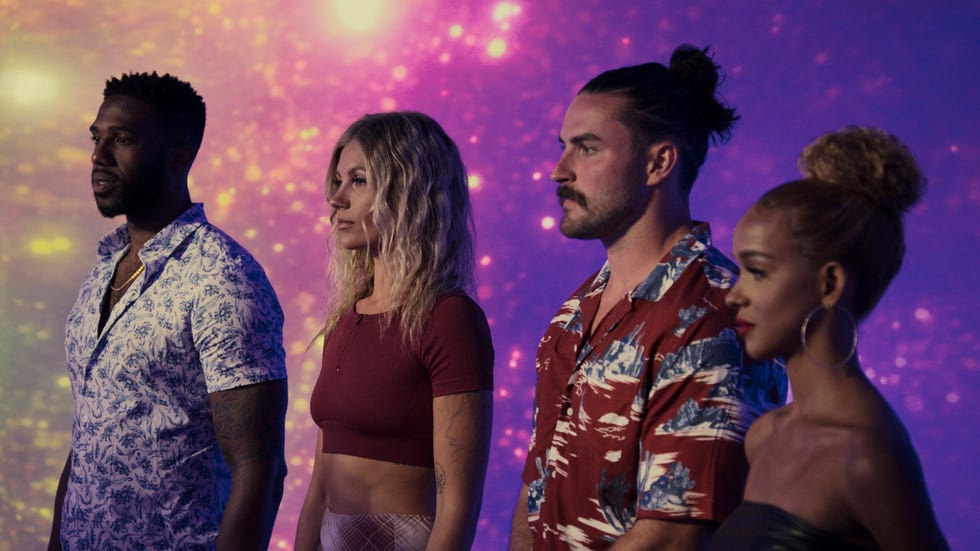 Modern dating can sometimes feel like an endless slog of swipes, DM slides, and cringe-worthy blind dates. But what if there was a way to find The One by using a mix of measured compatibility, proven chemistry, and a touch of fate?
Cosmic Love, a new reality show debuting Aug. 12 on Prime Video, sets out to answer that exact dating question and more. The one-of-a-kind social experiment follows four singles, known as the Elements, each representing an element of the zodiac (Fire, Earth, Air, and Water), as they search for their perfect match using only astrology as a guide. And let's just say that the outcome may inspire you to take a closer look at your own birth chart.
ELLE's resident astrologers, Ophira and Tali Edut, aka The AstroTwins, are the master matchmakers behind the show, guiding the four leads by way of a mystical crystal ball called the Astro Chamber (voiced by Cree Summer), as they date and eliminate 16 singles chosen specifically for them based on their near exact zodiac compatibility.
"We think of astrology as a form of dating insurance—it doesn't guarantee your desired outcome, but it can definitely focus the path for you," says Ophira. "It's almost like an instruction manual that your relationship actually comes with."
Though most astrology devotees know what sun signs mesh well together, The AstroTwins dug much deeper during the casting process. After reviewing the full birth charts of hundreds of singles, they paired couples based on their composite charts, which examines the planet midpoints of two people to get an idea of how they'd blend IRL.
"Each planet is connected to a different part of your personality," explains Tali. "Your sun sign, which is what everyone knows their astrological sign to be, is the essence of who you are, but there are other facets to look at too. Your moon sign represents your emotions, Venus is how you like to be seduced, Mercury is your communication style, Neptune is your subconscious, and Pluto is where you're going to project onto your partner. Couples can't be in a bliss bubble forever, so as soon as you know how the other person's mechanics combine with your own, you'll have a better understanding about how to work through things together."
Throughout the journey, The AstroTwins gave personalized chart readings that would help the leads pinpoint their best match and explore new facets to their relationships. Still, old dating habits die hard, so the biggest challenge of all was convincing some of the zodiac skeptics to trust the process and, yes, fully surrender control of their love lives up to the stars.
"My advice is always to go 'heart to chart,' meaning you should follow your heart first and then learn about the other person's chart," says Tali. But is that fateful one-two punch a strong enough foundation for a lifelong commitment? "You'll have to watch the whole series to see," she says. "But there was definitely some true love in the air."
Ahead of the show's premiere, The AstroTwins break down the full cast of the show, including the troublemakers, the fan favorites, and the hopeless romantics (who just might put a ring on it before the credits roll).
---
The Elements
Connor Shennan, Gemini
"Connor is a wildland firefighter and has this rugged job, but true to his Gemini duality, he was really into astrology, human behavior, and therapy as well," says Tali of the 27-year-old Michigan native that represents the air element. "As a jokey Gemini air sign, he genuinely tried to connect with everyone in the house, but he also has a lot of earth in him with his Libra rising and Taurus moon, so being rushed to make any kind of decisions about his matches was really challenging for him."
Maria Rodriguez, Capricorn
"Earth signs are very much about stability, and with a lot of planets in Capricorn, Maria is a big planner," says Ophira of the 28-year-old New Yorker that represents the earth element. "She owns several businesses and is very independent, so we looked for a match that would honor that part of her, but also bring out her playful, fun-loving side." With an Aries rising and a Leo moon, Maria has a fiery streak in her personality as well, so The AstroTwins purposefully put her in pairings where she could envision herself as part of a power couple. "It was fun to watch Maria swoon," adds Tali. "She's so lovable and warm, she may just be the fan favorite too."
Noel Allen, Pisces
"If you're a romantic, you're going to love Noel," says Tali of the 31-year-old personal trainer and nutrition coach that represents the water element. "He's a Pisces with a heart of gold, so he loves to be there to help his partner. But he's also a Sagittarius rising, so he speaks his mind, and he has a Taurus moon, so he can be stubborn. We had to really work to get him out of his comfort zone. He probably knew the least about astrology of anyone in the cast, so he was always like, 'Oh my God, you're reading my mind.' I think we freaked him out a little bit."
Phoebe Davis, Leo
"Leo is a very take-charge sign—for example, Jennifer Lopez is a Leo—so they're often in love with love, but they're also a whole lot to handle in a relationship," says Ophira. "Phoebe is a 28-year-old body builder and is definitely leading with that fierce energy, so we needed to find her matches that would help her drop her armor. She's our fire element, but she also has her moon, Venus, and Mercury in a water sign, so we guided her towards men that could help her explore these more vulnerable, sensitive sides of herself."
---
The Contestants
Adrianna Raphaela, Sagittarius
The 25-year-old molecular biologist turned model is full of surprises. "Adrianna is true to that independent Sagittarius style," says Tali. "She was looking for a match, but Sagittarians like to keep an open playing field. They also don't like to play by the rules, and you'll definitely see that she didn't."
Ana Miranda, Pisces
"Pisces has this rap for being a passive and dreamy water sign, but with fish, there are guppies and there are also sharks, and Ana is fearless," says Tali of the 29-year-old bartender from San Diego, Calif. "With her Libra rising and moon, she's also a highly social person who is loving and big-hearted."
Caleb McDonnell, Pisces
"Jupiter was in Pisces for much of the time we filmed, so all of our Pisces, including Caleb, were really standing out," says Ophira of the 28-year-old real estate agent from Ireland. "Caleb fits that romantic Pisces vibe perfectly. He has a Scorpio rising too, which added some sexiness, but also made him misunderstood sometimes."
Christopher J. Essex, Pisces
A 26-year-old country music artist from Nashville, Tenn. "Chris E. is certainly a big presence in the house," says Ophira. "From the beginning, he was a romance-a-holic with that Mr. Casanova charm. Basically every stereotype of a Pisces."
Chris Ragusa, Leo
"You could tell just by his flamboyant dressing that Chris R. is a Leo, but his Cancer rising made him a little shy," says Tali of the 27-year-old Connecticut native. "He really bonded with all the bros there and created his own little family, which means he kind of hung back from the women at first."
Christopher Jones (CJ), Sagittarius
"As a classic Sagittarius, CJ brings a lot of fun and was one of the guys that everyone liked in the house," says Ophira of the 29-year-old law student. "But one of the downfalls of that is you get along with everyone, but no one really gets to knows you deeply."
Danae DeSpain, Leo
"Danae is a Leo with a Taurus moon, so she was very sweet," says Ophira of the 32-year-old Oregon native. "She used astrology to date prior to the show and was the in-house zodiac expert. She also knew a lot about charts, so she really came into this experiment with intention."
Darren Hopes, Scorpio
Keep your eyes on Darren, the 26-year-old realtor from Houston, Texas. "There's something really interesting about him," says Ophira. "He has this quiet intensity of a Scorpio where you almost overlook him, and then he starts to pop and you think, 'How did I not notice you before?'"
David Christopher, Aquarius
"David was definitely a quirky one in that true Aquarius way," says Tali of the L.A native who is the CEO of his own streaming network. "He differentiated himself from people in the house and was kind of in his own world, so he didn't vibe quite as well. When everyone goes this way, Aquarians sometimes go that way, and David exemplified that."
Jasmine Rodulfo, Cancer
The 24-year-old social media marketer from the Bronx is a classic Cancer. "You'll really see from the get-go that Jasmine R. is emotional, crying, getting attached, all of the things that Cancers typically do in relationships," says Ophira. "She felt a connection right away, which is textbook for this sign."
Javier McIntosh, Capricorn
"Javier is actually perfect for both of the women," says Tali of the 33-year-old from Atlanta. "He is a very grounded, successful entrepreneur with his own film company, so he has that Capricorn provider energy. He really wants to be that heroic, respectful kind of partner. A good egg!"
Jazmin Potts, Gemini
"Jazmin P. is a Gemini, but she's got the quirkiness of her Aquarius rising and the serious nature of her Virgo moon," says Tali of the 27-year-old from Queens, N.Y. "She came in here with a goal and a mission in mind—truly a Gemini looking for that twin flame."
Morgan Raphael, Virgo
"Morgan is a Virgo with a Scorpio moon and rising, so she did a lot of journaling and was very introspective and analytical about the experience," says Tali of the 29-year-old New Jersey native. "She connected with people, but in a quieter way." Adds Ophira: "Morgan also asked people a lot about themselves without revealing as much about herself. Virgos tend to go into interviewer mode on dates, which can friendzone people."
Phillip Newhard, Capricorn
A born and bred New Yorker, Phil has full-on Capricorn energy. "Capricorns are a very dominant alpha male sign, so they usually want to establish their presence," says Ophira. "They're the sign that rules hierarchies, so Phil was trying to set up the pecking order. You'll see how that worked or didn't work with his match." Adds Tali: "He also has a lot of water in his chart in Mars and Venus, so he's very sensitive behind all of that. You'll see episode by episode how defenses get stripped away and other facets start to come through, especially for people like Phil that lead with their sun signs."
Theresa Vongkhamchanh, Scorpio
"There's always that one mysterious person in the group and that's Theresa," says Ophira of the 30-year-old social media manager from Nashville, Tenn. "Some people put it all out there, but with Scorpios, you have to slowly get to know them. The group had such a limited amount of time together, so after the leads cycled through the more extroverted singles, that's when someone like Theresa really rises to the occasion."
Yana Orlova, Aquarius
The 29-year-old Ukraine native currently lives in New York City and works in nightlife. "Yana is a typical Aquarian air sign because she's great at getting people together socially in her own low-key way," says Tali. "She also has the solidity of a Capricorn moon where she would go off on her own and talk to the fish in the pond every day. She's really quirky and cute!"
For more on Cosmic Love, including exclusive content from The AstroTwins, visit astrostyle.com.
This content is created and maintained by a third party, and imported onto this page to help users provide their email addresses. You may be able to find more information about this and similar content at piano.io