Ethical Lessons in Public Speaking for Students and Specialists in Psychology Interacting with the Media in Nigeria – Modern Ghana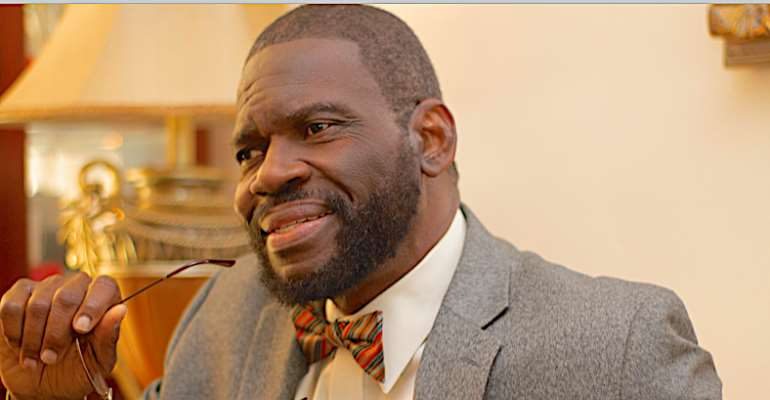 With a headline like "Ekweremadu's organ 'donor' serial liar-Forensic psychologist," the Nigerian public and the world would assume that a psychological examination was conducted on the subject, by Dr. Law Mefor, with the identification of "serial liar" as the result.
Instead, the title "Ekweremadu's organ 'donor' serial liar-Forensic psychologist" is from the Nation Newspaper, written by Sanni Onogu, who interviewed "Dr. Law Mefor," who was described as a "forensic psychologist," on June 26, 2022.
The article states that "A forensic psychologist, Dr. Law Mefor, has described David Nwamini Ukpo, the man at the centre of the organ saga leading to the arrest and remand of former Deputy Senate President Ike Ekweremadu, and his wife, Dr. Beatrice as a serial liar, who should not be taken seriously."
To speak convincingly to the public through the media in this manner means Dr. Mefor came to his conclusion after being with the subject for some time, carrying out a mental status/state examination, and performing a detailed on-going personality assessment on the subject in Nigeria or possibly in London, using standard psychological or psychometric instruments in order to reach an objective representation. But it never occurred.
The reporter stated that "Mefor was reacting to a Facebook post, supposedly by Ukpo, where he claimed that he was lured to Europe by Ekweremadu with a promise of better life only for the lawmaker and his wife to try to harvest his kidney for their sick daughter."
Professionally, as part of responsible, legal, and ethical use of psychological expressions, " reacting to a Facebook post'' does not lead a professional to diagnose another human being.
The reporter notes that "Mefor, in a post on Sunday, described Ukpo as "a serial liar and manipulator seeking sympathy when he should face the full weight of both the British and Nigerian laws."
Such a pinpointed clinical representation of the subject could have resulted from a clinical interaction between Mefor and the subject or from an analysis of the results of psychological testing of the subject. It never occurred, as evidenced by his media expressions.
The reporter quotes Mefor as saying, ""What I know is that Ukpo has been doing a lot of deleting and altering of details of his social media accounts since the Ekweremadu saga broke and he (Ukpo) was unmasked. This presents him for what he is – a shady, dishonest character."
In professional psychology, especially in the public space, psychological objectivity and factuality require that such conclusions not be misleading to the public.
In the article, Mefor stated that ""But even if Ukpo made the fallacious post claiming he was tricked to London, it is clear to the whole world now that he lied to the British Police when he presented himself as a homeless minor picked from Lagos streets, which I believe is a major factor that put Ekweremadu and wife in their present travail."
The only evaluative way that Mefor can clinically conclude that the subject "lied to the British Police" is that, as part of taking psychological history on this matter, Mefor on the authority and permission of the court, interacted with attending police investigators.
The article pointed out what Mefor said, ""All the information coming out, including his International Passport issued on 4th November 2021, his Bank Verification Number (BVN) done on 31st October 2019, his National Identity Number (NIN) done on 15th June 2021, the statement by the Nigerian Immigration Service, point to the fact that he was born on 12th October 2000 and is therefore 21 years old."
Hearsay and informal conclusions are dangerous and not allowed in professional psychology as they could lead to harm to all involved in the matter and could expose a professional in psychology to possible financial and criminal liability.
Mefor concluded in the article that ""In addition, his Facebook posts do not suggest the lifestyle of minor or an enslaved person, but a full-blown adult cruising life." In professional psychology, sentiment and image analysis are disallowed.
In the article, Mefor, stated "Therefore, I see no reason any right-thinking Nigerian should believe any further stories told by someone who obviously lied about his age in order to gain asylum and stay back in London," he said.
This is hearsay. The importance of being non-judgmental in professional psychology interactions with people through the media is to allow for informed practices.
The principle of non-judgmental attitude by anyone involved in professional psychology is a necessary approach. Non-judgmentalism in the media is especially necessary as it does not violate the very ethical guidelines and professional standards the public demands.
Mefor said, "It is equally instructive that David, who travelled to London since February 2022 only remembered that he was a tricked and trafficked minor on getting to the airport to board an already booked flight back to Nigeria after spending several months in London,"
Again, non-judgmental expressions are part of professional obligation as they ensure the avoidance of negative ethical and legal implications for students and specialists in psychology.
Anyone involved in any area of professional psychology should always remind themselves to be non-judgmental, as we are not there to criticize, judge, or share our personal opinions about the behaviors of others.
For the purpose of educating the Nigerian public and media, psychology-based public speakers, whether talking to a reporter, delivering a speech in a classroom, hall, office, or marketplace, must uphold certain ethical standards.
In order to protect the public safety, students, graduates, and specialists in psychology when engaged as representatives of psychology must present themselves in a manner that includes objective sources and active clinical interaction with a subject.
He or she should primarily provide professional psychological conclusions to members of the public in a manner that is deserving of respect to all involved, including suspects, accusers, and complainers.
Every influencing factor raised in public through psychology must always be non-sensational and based on reliability, as subjective public expressions and conclusions can raise legal questions about fairness and objectivity.
In a growing democracy like Nigeria, students, and graduates of psychology like Mefor are encouraged to bring psychological guides into the public space to help the public, but it must be done with care.
The good news for the Nigerian public is that the Nigerian Psychological Association (NPA) and other similar associations are trying to bring psychology to the public in a standardized manner. In January 2019, the Senate passed the bill for the establishment of the Nigerian Council for Psychologists, which currently awaits President Buhari to sign the bill into law.
Hopefully, the corrective explanations I offered here will be continuously improved and practiced for the purpose of developing high-quality psychologists. Such legal regulations will help define qualified psychologists as forensic psychologists, clinical psychologists, industrial psychologists, and others, through professional standards exams beyond doctorate certifications.
Under this type of professional government-backed system, as in a professional psychology board, there will be psychologists with various specialties who the people can verify as qualified as licensed and who stand out as "psychologist".
This will allow for the public safety and protection of the public welfare—not just one's interest. I hope all that I have presented here will be helpful towards making psychology a part of our public care in a responsible, legal, and ethical manner. I look forward to the likes of Mefor becoming part of the effort to bring professional psychology to help meet the challenges of society.
John Egbeazien Oshodi, who was born in Uromi, Edo State in Nigeria to a father who served in the Nigeria police for 37 years, is an American based Police/Prison Scientist and Forensic/Clinical/Legal Psychologist. A government consultant on matters of forensic-clinical adult and child psychological services in the USA; Chief Educator and Clinician at the Transatlantic Enrichment and Refresher Institute, an Online Lifelong Center for Personal, Professional, and Career Development. He is a former Interim Associate Dean/Assistant Professor at Broward College, Florida. The Founder of the Dr. John Egbeazien Oshodi Foundation, Center for Psychological Health and Behavioral Change in African Settings In 2011, he introduced State-of-the-Art Forensic Psychology into Nigeria through N.U.C and Nasarawa State University, where he served in the Department of Psychology as an Associate Professor. He is currently a Virtual Behavioral Leadership Professor at ISCOM University, Republic of Benin. Founder of the proposed Transatlantic Egbeazien Open University (TEU) of Values and Ethics, a digital project of Truth, Ethics, and Openness. Over forty academic publications and creations, at least 200 public opinion pieces on African issues, and various books have been written by him. He specializes in psycho-prescriptive writings regarding African institutional and governance issues.
Prof. Oshodi wrote in via [email protected]