Eva Longoria's Secret to Staying in Red Carpet Shape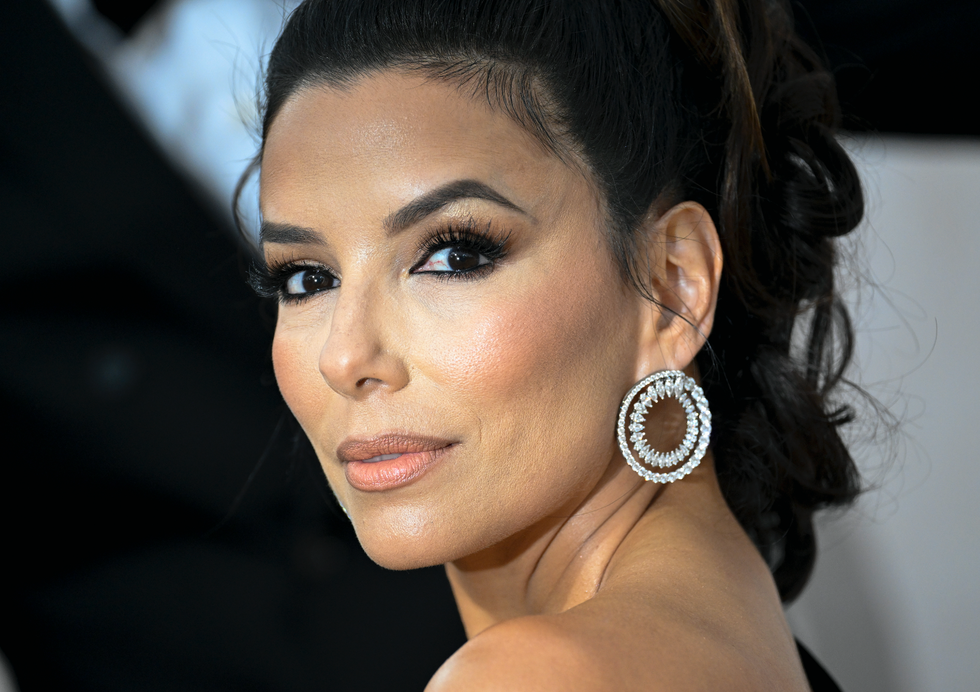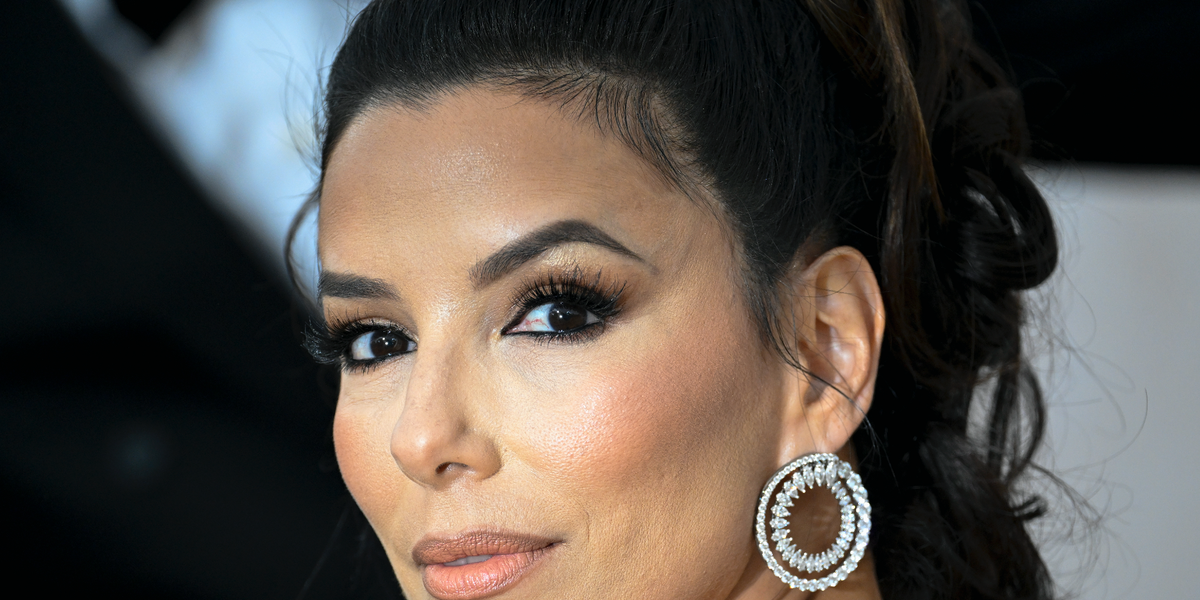 It's day one of Cannes and Eva Longoria doesn't look like she's recently gotten off a 13.5-hour flight. The multifaceted actor recently wrapped a show with CNN called "Searching for Mexico," a six-part docu-series exploring the idiosyncrasies of Mexican cuisine, then headed straight to Cannes Film Festival. She's not new to this—it's the stars' 16th year attending Cannes with L'Oreal and this year is extra special as its L'Oreal's 25th Anniversary. Over our early morning Zoom call, her smile illuminates with the help of coral lipstick and her skin looks refreshed. Before a day filled with high-profile events and lavish moments, Longoria divulges about her international flight routine that keeps her red carpet ready (hint: it has more to do than just flying business class), her luxurious beauty habit she'll never quit, and her diet secrets (another hint: it doesn't involve starving yourself for three weeks).
Longoria laughs and states, "There's a village of people creating this illusion of not being tired," as I marvel at how she looks so awake and flawless with her taxing schedule. She reveals the importance of moisturizing on the plane. Airplanes tend to have low humidity and dry air, leading the space to suck the moisture from your skin. You can drink water to help, but take your in-air hydration routine up a notch, celeb style, like Eva Longoria. "I like to put moisturizer, eye cream, lip balm, and a facial mist," Longoria reveals. Layering your products and ensuring you are moisturizing thin and sensitive parts of your skin like your under eyes, neck, and décolletage are imperative to your skin staying hydrated and dewy mid-flight. While I'm impressed with her dedication, her husband, José Bastón, is less so. She shares, "I'm with the hot towel and I'm spraying and doing all my lotions and potions and he's always like, 'Oh Lord, here she goes again!'"
Her graceful aging comes with self-care as she's willing to spare no expense. Longoria reveals, "I love massages and facials, so I'm a big proponent of that. Anywhere I go. The minute I landed in Cannes, I was like, 'Where's the spa?!'" For Longoria, it's her "me time," and a weekly luxury she does not miss.
While the pandemic caused many to pack on the pounds, Longoria looks even more svelte. Yes, she has her personal trainer, Grant Roberts; however, she also does trampoline workouts at home. For Longoria, the key to working out is doing it. "We tend to overthink our workout routine—'I don't have a gym membership, I don't have equipment at home,'—you don't need anything to be active. Moving your body is a start," encourages Longoria. She reminisces how she hated running, "I would run five minutes a day and I couldn't even last five minutes. Every day just built up more and more." Many can relate to setting an early morning alarm, the alarm going off that morning, and shutting it off only to roll over, exchanging a heart-pumping workout for 45 more minutes of sleep. "Wake up an hour earlier and go to the gym. I promise you're gonna have way more time during the day because it just energizes you and your brain in a very different way than if you don't."
Stars often go to great lengths to stay in shape for their memorable looks, whether crash dieting a la Kim Kardashian or eating 1,200 calories like Lori Harvey, the star shared a healthier approach. "There's no diet and exercise program that really can save anybody. It's a lifestyle choice. You have to live your life in a healthy way. And for me, working out is my mental health," she admits. Longoria has a bachelor's degree in Kinesiology, the study of the movement of the human body and how it impacts overall health and has used her knowledge to create lifestyle choices that work for her. "I don't follow any fads or diets, but I know what my body reacts to," she explains. We discuss celebrity culture of always having something to get ready for, whether it's a red carpet or a photoshoot—"I just live a healthy lifestyle and don't do anything in excess," Longoria admits in a very, stay-ready-so-you-don't-have-to-get-ready, fashion.
She listens to her body and bases her diet and choices on its needs. Growing up in a Mexican household, Longoria's food choices are based on her culture. "I don't really like bread. I'm not like, 'I don't eat bread'—I just don't enjoy it. I didn't grow up with it. I'm Mexican. We grew up with tortillas." Longoria describes how she discovered her aversion to dairy, "Every time I ate ice cream, I didn't feel good. I figured out that was lactose intolerance," she explained. You can't put your body on autopilot. When I ask for specifics, she hesitates, "People look at celebrities for, you know, 'what is she doing that I could be doing?' but you got to do what you need to do. I don't think you can do the same thing a celebrity does and have the same results."
In addition to a healthy lifestyle, it's also about a healthy mindset. She reflects on a moment when she was on Desperate Housewives, had gained weight, and pregnancy rumors started— "They were like, 'Eva is pregnant!' I was not pregnant. I just ate a burger," she indignantly states. "When you're in the public eye, it can definitely wear on you," Longoria reveals. She switches gears back to how she stays healthy, "There's no secret. Everybody wants the secret. There's really no secret."
This content is created and maintained by a third party, and imported onto this page to help users provide their email addresses. You may be able to find more information about this and similar content at piano.io