Can Labor Activists Be Style Icons?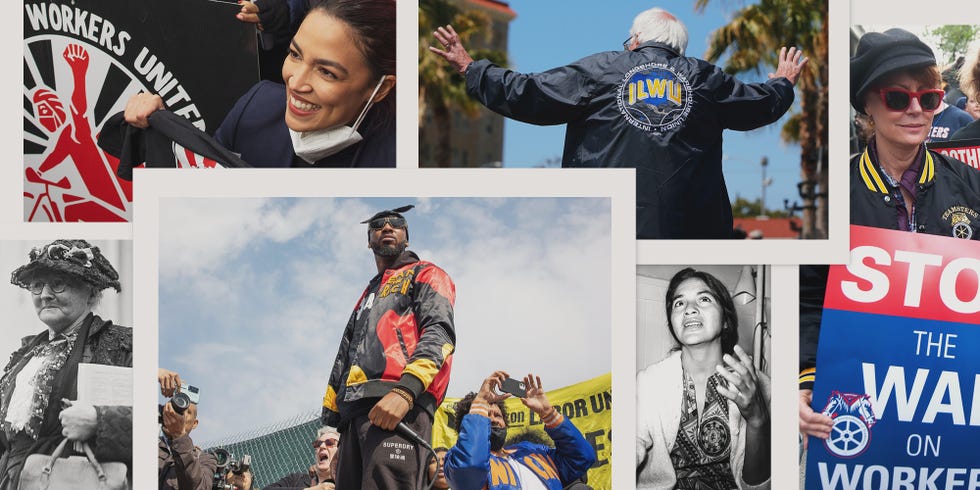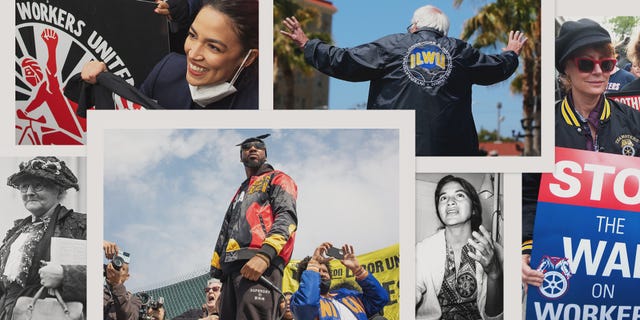 Getty Images; Sanders: Damian Dovarganes/AP
Style Points is a weekly column about how fashion intersects with the wider world.
John Elward drives a UPS truck and has been a Teamster for 18 years. He's also a burgeoning fashion influencer of sorts. On his Twitter account @UnionDrip, Elward has been chronicling the style highlights of labor figures past and present, from Chris Smalls in a Roku Studio "Eat the Rich" jacket to Cesar Chavez in a short-sleeved, wide-lapeled '70s shirt.
While on his 30-minute break earlier this week, Elward pulled over to the side of the road to tell me about the genesis of Dripped Out Trade Unionists: a collection of Teamsters memorabilia (jackets, shirts, and pins) he's amassed over the years, which he posts on his personal account. "People, other Teamsters, mainly, would share the pictures, or they would share their own picture, and sometimes people would be like, 'Oh man, check out that drip,'" he says. "I had wanted to try to make something that was centered around union clothes or fashion, and I was thinking of how to do that. And then when Amazon [Labor Union] won their election, and you'd see pictures of Chris Smalls everywhere with his 'Eat the Rich' jacket, I felt like it was an appropriate time."
Elward's favorite figures to post include "some of the early IWW organizers, and people like Lucy Parsons, Bill Haywood, Eugene Debs." He says, "Honestly, they were incredibly fashionable for their time. As a Teamster, I've always been a big fan of Jimmy Hoffa, Sr. His fashion was just a suit and tie, but he's always been somebody I've looked up to. I'm from California, so people like Cesar Chavez and Dolores Huerta have always been heroes to me too." The account also sometimes features celebrities, like Susan Sarandon sporting a Teamsters jacket or Gabrielle Union in one of the union's T-shirts.
During the pandemic, Elward and his colleagues "were so backed up that all of us were working, and we were all outside, every day," he says. "Workers are usually not as visible. They were centered during that time." The media's newfound focus on essential workers spilled over into fashion and led to moments like the NHS and USPS garnering sartorial accolades, healthcare workers being featured in ad campaigns, and fashion brands spotlighting labor activists (for example, Smalls and Huerta recently spoke at a Gucci Chime for Change event.) Of course, fashion has its own percolating labor movement as well, with models and other fashion workers lobbying for more protections in their work.
Elward is clear-eyed about the criticisms that his approach minimizes the work of these organizers, the idea that "when you fetishize or idolize one of these people, it kind of takes away from the work that they're doing." He adds: "When the first tweet that I posted of Chris Smalls popping the champagne bottle went viral, obviously a lot of people were like, 'This is so cool.' And then you had some people who were like, 'Who cares? Wow, he's got a track jacket on,' or whatever. They thought that, by me sharing that, or emphasizing that part of it, that I was taking away from the essential work that they were doing. And obviously, that's the last thing I would want to do."
Not to mention, there's a kind of resistance from many, even on the left, to the idea that drip and credibility can co-exist. "People look at the working class as people that can't afford those kind of luxuries, or don't have any style," he says, a preconception he hopes to dismantle with his feed.
"I'm hoping that people will see [the account], especially young people, and go, 'This is cool.' A lot of people idolize stars and celebrities, and I'd rather my kid idolize somebody like Cesar Chavez or Chris Smalls, somebody who actually fights for workers' rights. As long as we remind ourselves that that's what it's really all about, then I don't really see it as a problem."
What's more, Smalls-style swag can help bring eyeballs to a movement. As Elward puts it, "Drip can be very much an organizing tactic."
This content is created and maintained by a third party, and imported onto this page to help users provide their email addresses. You may be able to find more information about this and similar content at piano.io