Scooter recall hits India's 'Tesla of two-wheelers'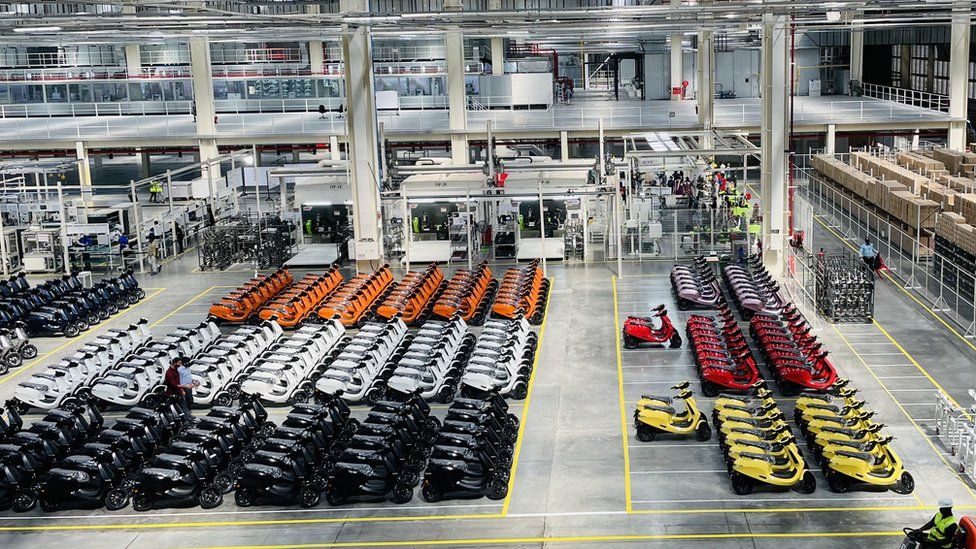 Robots glide quietly across the vast factory floor of electric scooter firm, Ola Electric Mobility, in the southern India state of Tamil Nadu.
With a parent backed by Japanese investor, Softbank, this start-up is ambitious. Once running at full capacity, the company hopes this factory will churn out more electric scooters than any other plant in the world.
Much of the assembly line work is done by robots, which speedily transport scooter parts around and weld them together.
Perhaps the most striking thing about this factory though is not its sheer size – spread over 500 acres – but the workforce.
Women make up most of the staff which currently number between 1,700 and 1,800. Working as shift managers, test riders, technicians and trainers, it is a first job for many.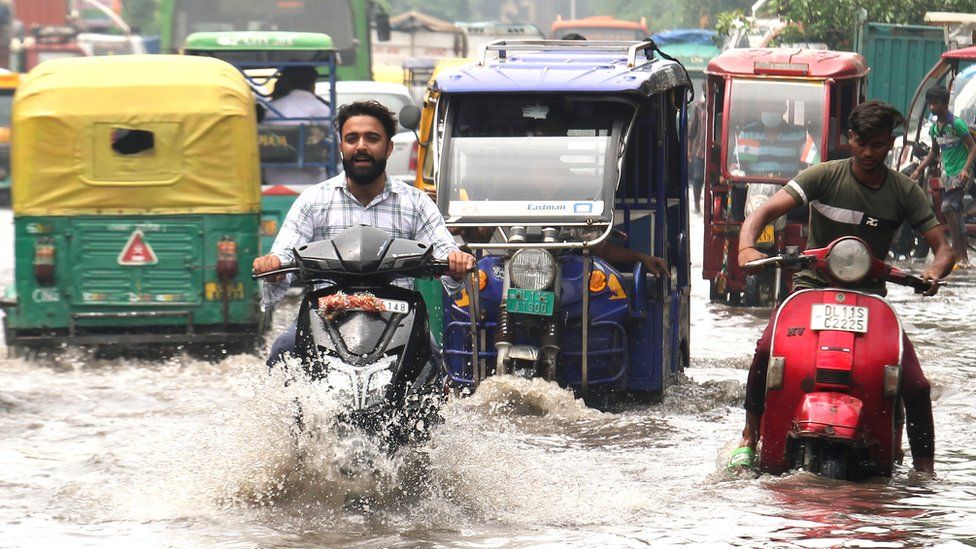 However, product roll out has not been going smoothly.
Ola Electric launched its first models, the S1 and S1 Pro, which are powered with rechargeable batteries, in August 2021 – receiving 100,000 orders in just 24 hours.
But since the first deliveries were made in December some customers have complained on social media of technical problems and earlier this week the firm was forced to recall 1,441 of its scooters from a particular batch.
The recall followed a well-publicised incident on March 26 in Pune, when one customer's new vehicle spontaneously caught fire just after it was parked.
A company statement on Sunday said its preliminary assessment showed the "thermal incident was likely an isolated one." But it will carry out diagnostics and health check all the scooters recalled in that specific batch.
"These scooters will be inspected by our service engineers and will go through a thorough diagnostics across all battery systems, thermal systems, as well as the safety systems," chief executive and co-founder of Ola Electric Mobility, Bhavish Aggarwa said in the statement.
BBC News approached the company for more information on this but it declined to comment further.
Not limited to Ola there have also reportedly been three other fires involving different brands of electric scooters, including Indian start-ups Okinawa and PURE EV.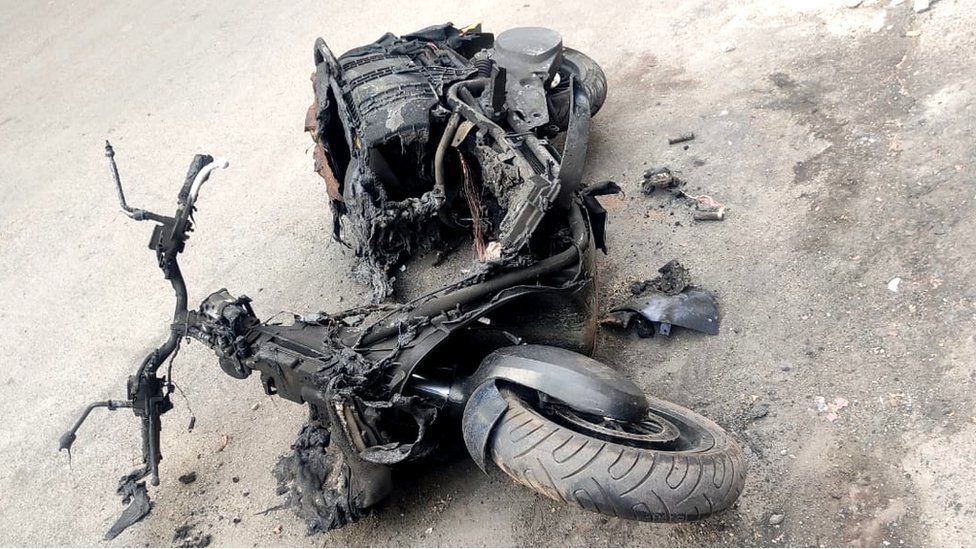 India's shift to electric vehicles
The arrival of affordable electric scooters in India last year was an exciting moment – both for road users and the government.
Like many countries, India is trying to work out how to wean its 1.4 billion population off petrol and diesel towards electric vehicles.
Ola Electric Mobility had successfully positioned itself as "the Tesla of electric two-wheelers" according to motoring journalist, Parth Charan who has road tested its vehicles.


However, market participants are concerned that some of the problems India's EV manufacturers are now encountering relate directly to a general lack of research in to the domestic market and light regulation.
"We have long relied on technologies made in, and for, other countries and never questioned its applicability to the Indian ecosystem. India has its own dynamics, both from an environmental, as well as operational perspective," says Akshay Singhal founder of Log9 Materials, which makes a rapid charging battery for two-wheelers.
Extreme weather conditions including heatwaves and flooding plus poorly maintained roads in some parts of India make it a really challenging market for auto makers, he underlines.
Mr Singhal feels a lack of rigorous regulation has further allowed manufacturers to rush products on to the market without sufficient quality control and testing.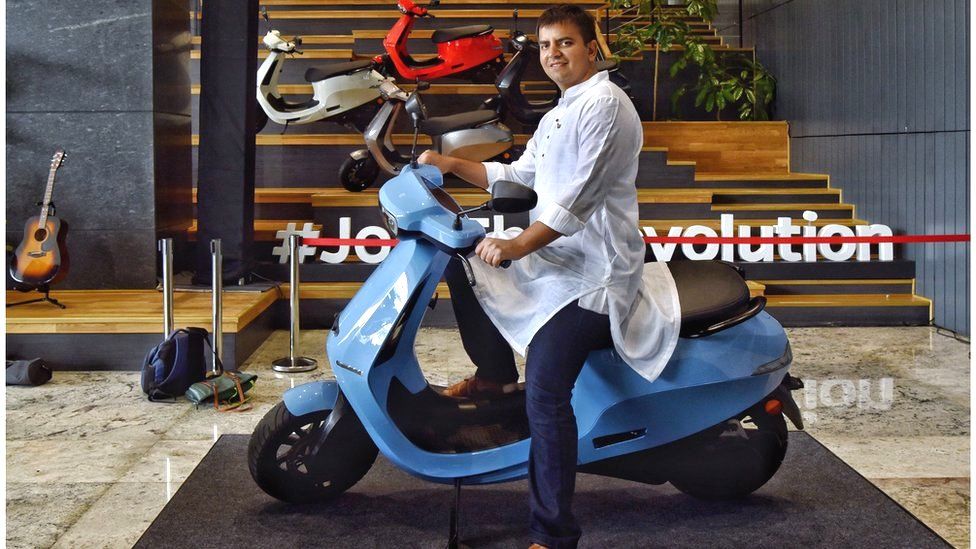 India's Federation of Automobile Dealers Associations (FADA), is also calling for tougher regulation of the burgeoning EV two-wheeler market.
But "to conclude that we are not stringent would be completely wrong," says Sudhendu Sinha, an advisor at government agency, NITI Aayog. He points out that almost 37,000 electric scooters have already been sold in India and only a handful of those have experienced technical problems.
"We cannot blame the entire industry, or the batteries of the electric vehicles. There may be multiple reasons. So, until the investigations are over… it would not be right to comment. Our prime concern is safety," he adds.
Ola Electric Mobility reiterated that its scooters have been robustly tested at 15 accredited labs with each aspect of the vehicle tested "over a million kilometres across different terrains."
Nevertheless, it will be an uphill battle to win back the confidence of consumers like Krishna Jaiswal, who was shaken by his scooter fire. "Within 15 minutes the scooter turned in to ashes," he tells the BBC in a phone interview.
"We have lost faith in Ola. My friends wanted to buy, but now have decided not to," he says.