This dressed-up lamb burger from Rick Martinez is topped with caramelized fennel and onion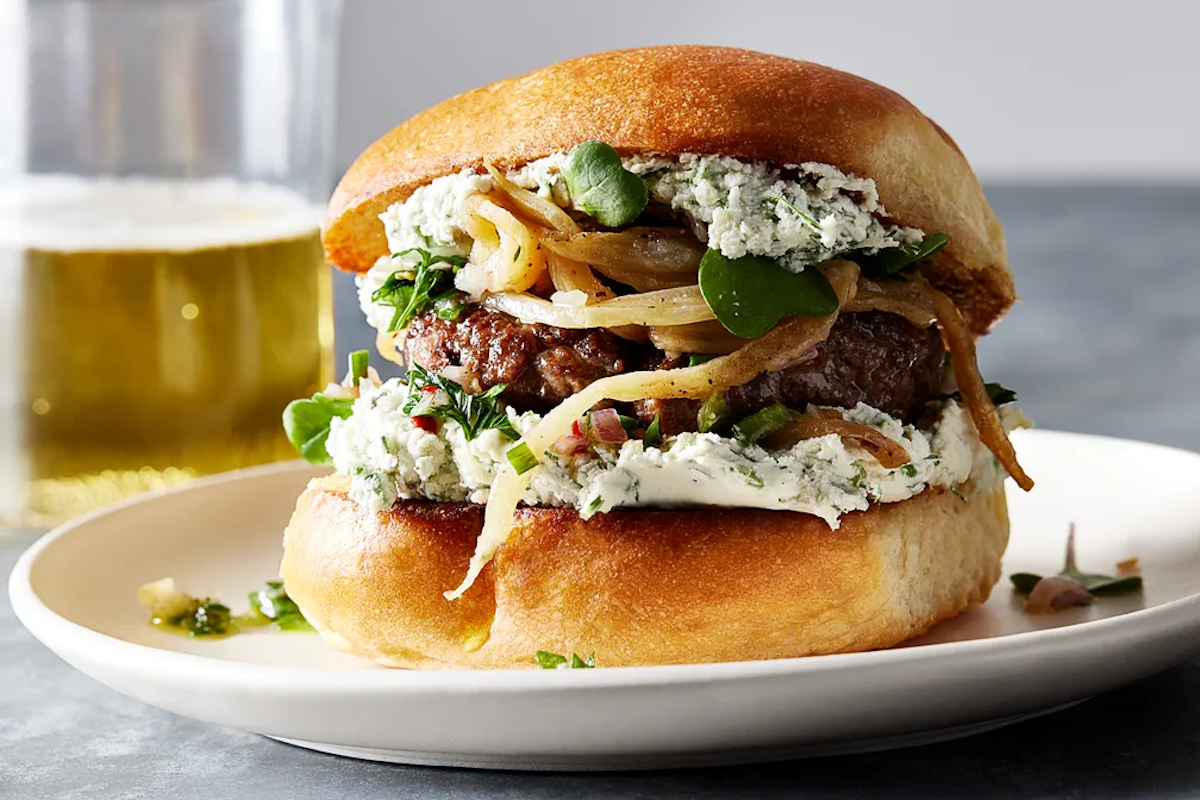 There's a lot going on in this burger, but be sure to make a batch of Carla Lalli Music's Salsa Very Verde to drizzle over the top. You won't regret it.
***
Recipe: Lamb Burger with Caramelized Fennel and Onion
Ingredients
1 1/2 pounds ground lamb, preferably grass-fed
Kosher Salt
6 tablespoons olive oil, divided
1/2 fennel bulb, thinly sliced; plus 2 tablespoons chopped fennel fronds (optional)
1/2 yellow onion, thinly sliced
Freshly ground black pepper
3 ounces chevre
2 tablespoons heavy cream or milk
2 tablespoons garlic chives, or common chives
3 ounces watercress
4 brioche rolls, toasted
Salsa Very Verde, for topping
Directions
Shape lamb into 4 patties about 1″ thick, season with salt, and let sit at room temperature for 30 minutes.
Heat 2 tablespoons oil in a large skillet, ideally cast iron, over medium. Cook lamb patties, working in batches if needed, until browned (they won't take on as much color as a beef burger), 5–7 minutes. Turn and cook until browned on the second side, about 5 minutes for medium-rare. Transfer patties to a plate and let rest for 10 minutes.
Add remaining 4 tablespoons oil into same skillet over medium heat and add sliced fennel, onion, 1 teaspoon salt, 1/2 teaspoon pepper and 1/4 cup water (or white wine) and cook, scraping up any browned bits from the bottom of the pan and stirring occasionally, until all the liquid has evaporated and the vegetables are tender and caramelized, 8 to 10 minutes. Transfer to a medium bowl and let sit until ready to serve.
Mix chevre, chives, fennel fronds, heavy cream and 1/4 teaspoon pepper in a medium bowl until completely combined. Season with salt if necessary.
Generously spread herbed chevre on cut sides of buns and build each burger with a lamb patty, a mound of greens and a generous pour of salsa verde.