Tesla shares slide could put Musk's Twitter takeover at risk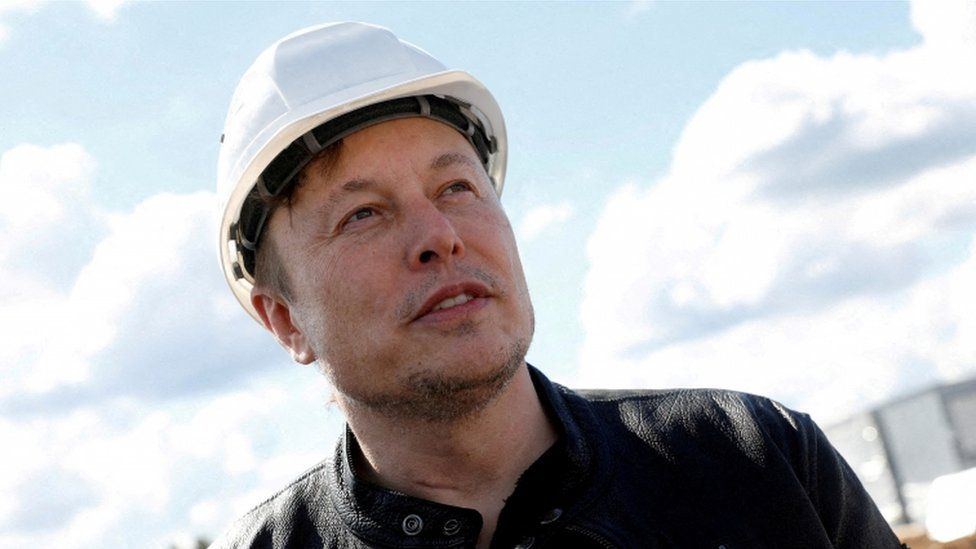 Tesla shares have fallen after investor concerns that boss Elon Musk may have to sell shares in the electric car maker to help pay for the takeover of Twitter.
Tesla had more than $125bn (£99.3bn) wiped off its market value on Tuesday.
One analyst said the slump in Tesla's value may pose problems for a $12.5bn loan Mr Musk has secured against his stake in the company.
The issues highlight the challenges he faces as he tries to run five firms.
Tesla's share price has taken a hammering, with some investors wondering whether Mr Musk's Twitter purchase is bad for Tesla.
Shares dropped 12.2% from just over $1tn to $906bn.
Some are now asking whether Elon Musk, by trying to buy Twitter, may have bitten off more than he can chew.
Mr Musk is a famous workaholic. In 2019 he was asked on Twitter whether it was true that he worked 90 hour weeks.
"In recent years, hours were much higher", he said. "I don't recommend it though – bad for health and happiness."
Mr Musk runs Tesla, the most valuable car company in the world. He also heads up Space X, a company that designs, manufactures and launches advanced rockets and spacecraft.
He also founded the Boring Company, that looks to revolutionise transport through tunnelling and Neuralink, with a mission to connect humans brains with computers.
That is already a lot to think about.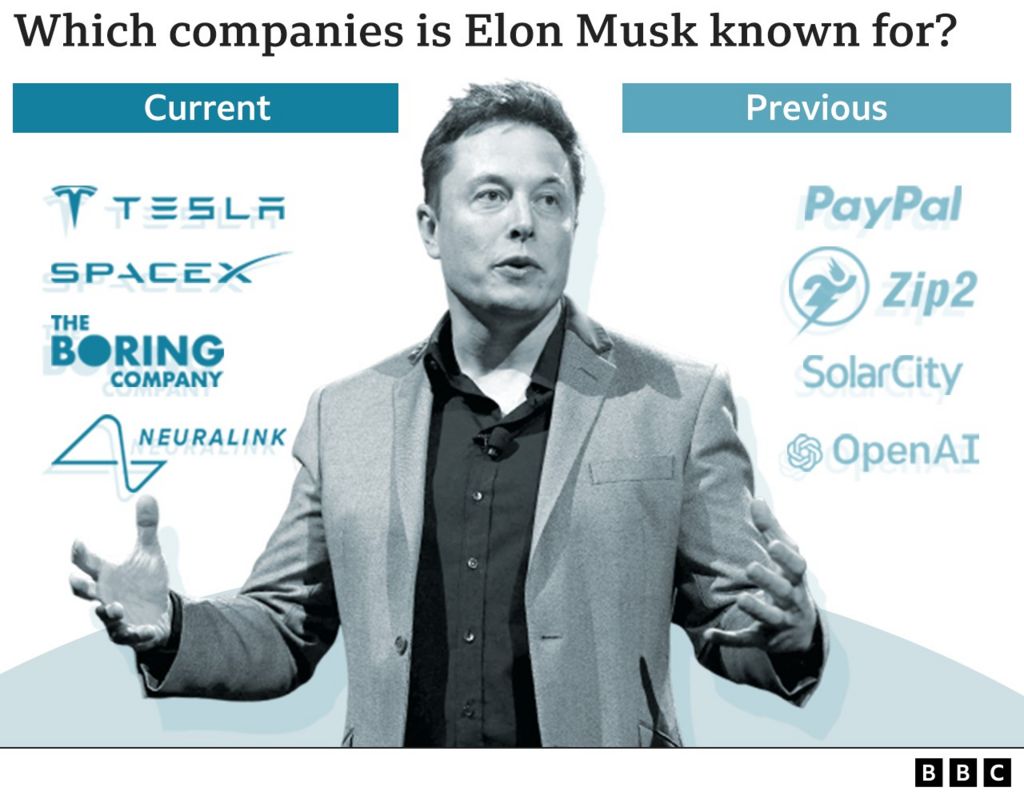 Now Mr Musk is looking to take on one of the hardest jobs in Silicon Valley – the new owner of Twitter.
Twitter isn't a normal technology company. It is a news generating machine which is influential around the world.
Influencers are on TikTok, world leaders are on Twitter. And if you think Twitter's impact is consigned to the West, think again.
Twitter's most followed global leader by a country mile is India's prime minister, Narendra Modi.
But Twitter's huge influence comes with huge challenges. As the global "town square" for debate, Twitter has to decide how to moderate the platform.
Mr Musk says he is a "free speech absolutist". But make no mistake, the platform will still need to be moderated.
On Tuesday, he clarified what he meant: "By 'free speech', I simply mean that which matches the law" he said.
By "free speech", I simply mean that which matches the law.

I am against censorship that goes far beyond the law.

If people want less free speech, they will ask government to pass laws to that effect.

Therefore, going beyond the law is contrary to the will of the people.

— Elon Musk (@elonmusk) April 26, 2022
But there are real problems with that definition. For one, the law is different in different countries.
It is also often difficult to know whether a tweet breaks the law in real time.
Did tweets encouraging the storming of Capitol Hill in Washington cross the line into insurrection? Where does criticism become libel? When does hate speech directed towards someone become abuse or harassment?
In February, I interviewed the chief executive of Gab, Jason Miller. He's Donald Trump's former spokesperson, and now heads up a "free speech" alternative to Twitter.
And yet Gab has a load of rules on what you can and can not say.
"I spend a lot of time on moderation policy, it's probably what I get enquiries from people about the most", he said.
So Mr Musk is going to have to spend an awful lot of time thinking about, and resource the policing of Twitter, whatever happens.
Twitter has some other fairly significant structural problems. Unlike its Silicon Valley peers like Facebook or YouTube, Twitter has never been very good at making money from the platform.
Mr Musk believes he can turn that around. But that will take time and effort.
And some are now wondering whether he has the time to be able to do that without hurting the other companies he runs.
"Unless Elon Musk has invented a way to add hours to the day, there's just only so much time that he can devote to all of this." says Tim Higgins, author of Power Play: Tesla, Elon Musk, and the Bet of the Century.
"I would imagine that in the next few months, years, he's going to be deeply in the weeds of Twitter. And if you're an investor in Tesla, you're probably a little nervous about that," Mr Higgins said.
Tesla shareholders are also concerned the deal could mean his selling off a stake in the car firm.
As part of the deal he has to stump up $21bn in equity himself. It is not yet clear where this money is coming from.
The rest of the money is being raised by loans using Mr Musk's assets as collateral.
It means that if Tesla shares begin to tumble, it could scupper a deal that is structured around the intrinsic value of those shares.
"If Tesla's share price continues to remain in freefall that will jeopardise his financing," Oanda senior market analyst Ed Moya said.
Mr Musk is not the first entrepreneur to found multiple companies. Steve Jobs co-founded Apple and Pixar. Jack Dorsey was chief executive of Twitter and Block.
But to run five companies means entrusting others to effectively run the businesses on your behalf.
And that rubs up against Mr Musk's nature – who is a self-proclaimed "nano-manager".
That may be true. But he most certainly wants to be involved in the day to day running of these companies.
His biographer, Walter Isaacson, said on Tuesday that Mr Musk was working at Space X when the Twitter bid was accepted. That evening he attended a 10pm meeting about engine design.
"He spent more than an hour working on valve leak solutions. No one mentioned Twitter. He can multi-task," he said.
That Mr Musk can multi-task is without question. But will he able to spin so many plates at once, without them all coming crashing down?