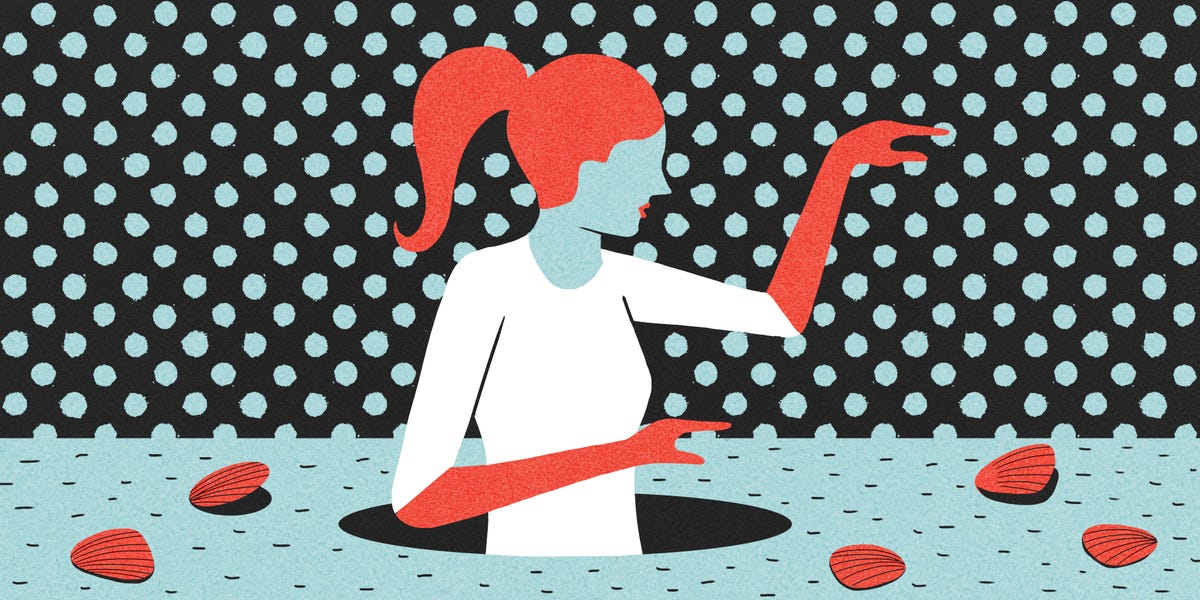 MONTH OF April
Set your sights on a lofty mission, Cancer. The Sun is soaring through the top of your chart all month, making its annual visit to Aries and your success sphere until April 19. Ready for some fresh opportunities? April is bookended by a rare doubleheader of new moons, both in visionary parts of your charts. Eclipse season also begins at month's end, promising that change is indeed in the air.
Got an inspired project or an area of your life that's ready for massive growth? Midmonth, the skies reveal the way forward. A historic moment will arrive on April 12, when Jupiter makes its once-every-13-years conjunction (meetup) with enchanting, compassionate Neptune. This time around, the boundless, freedom-driven connection will take place in idealistic Pisces, the zodiac sign co-ruled by both Jupiter and Neptune—a meeting that hasn't happened HERE since the 1850s! Your wildest fantasies could turn into reality on this day, when everything seems possible. Believing that might just be enough to start your manifesting mojo.
This month ends with a special twist. April 30 delivers a second new moon, aka a black moon, which is also a solar eclipse. This is the first of 2022's four eclipses, moments of profound (and sometimes abrupt) change. An opportunity to collaborate with a new crew or get involved in a digital venture could arise out of the blue.
Success is in the stars for Aries season and the Aries new moon
Keep your eye on those goals, Crab! The Sun is soaring through the top of your chart until April 19, blazing its annual trail through Aries and your tenth house of career and ambition. If you've been a little halfhearted about where you truly want to focus this year, Aries season can help you create a solid structure. Prioritize the projects that will establish your leadership and get you to the next level. Where would you like to be by the October 9 Aries full moon? What would you be proud to say you've accomplished? Pour your energy into THAT this month.
At the April 1 Aries new moon, a professional opportunity might set you on an exciting path that unfolds between now and the fall. Your dedicated effort and grit could seriously pay off, and not just for you. With communicator Mercury and healer-feeler Chiron both in Aries near the new moon, you could have a message that can truly help others who are struggling. This is an excellent date to start building your platform or doing some mission-driven work.
Gut check: Are you feeling unworthy of success in any way? With Chiron in the mix, you have an opportunity this month to transform old "stories" and release these limiting beliefs holding you back. Pay attention to the way you speak about your life—do you frame yourself as the victor or theclass="body-el-link standard-body-el-link" victim? Check out Donald Miller's book Hero on a Mission for inspiration, and get back into the driver's seat of your life.
The April 4 Mars-Saturn conjunction adjusts the partnership pace
Is a connection quickly advancing toward permanent status? You may be tempted to skip the research and go "all in," but don't do it, Crab! On April 4, Mars and Saturn make an exact meetup, sounding the alarm for patience and planning. Since you're likely to be amped up for action, this transit could feel like having one foot on the gas and the other on the brake.
Don't let fears stop you from exploring an opportunity, whether romantic or financial, but conduct your due diligence so you don't swan-dive into a situation that you can't extract yourself from later.
With auditor Saturn involved, unions built on shaky ground may fall apart or be seriously tested. You'll have some eye-opening lessons about intimacy—or you might hunker down and do some deep inner work to remove blocks from your past. For Crabs who need to dig through a few painful layers of trauma, this could be an important time to work with a therapist or skilled professional on your healing journey. You'll emerge so much stronger.
Mars and Saturn are known as the "malefic" (unfavorable or challenging) planets. Their last conjunction was on March 31, 2020, right as the United States ordered a stay-at-home quarantine for 240 million Americans and the pandemic's reality struck hard. With both planets in Aquarius, the sign of community and society, we can expect to feel the strain of their combined transit once again.
The April 12 Jupiter-Neptune conjunction is a historic day
How far can you take this idea, Cancer? A no-limits moment arrives on April 12, when expansive Jupiter and boundary-blurring Neptune unite in Pisces and your expansive ninth house. While you could have a spiritual awakening or a massive epiphany about your purpose, the combination of these planets could also be "too much of a good thing." Ground yourself today since the energy will be intense!
This is the first time Jupiter and Neptune have communed in Pisces since March 17, 1856, so today is pretty darn historic! The last Piscean conjunction was during a transformational time for anti-slavery and women's rights efforts, and a peak era in the Spiritualist movement. Visualize the change you'd like to see (and be) in the world. You might create a platform or even an indie business venture to bring it to a wider audience.
Spotlight on home and family at the April 16 Libra full moon
Ready for some much-needed nesting during this busy month, Crab? The April 16 Libra full moon gives you permission to retreat, so open up your schedule! Escape to Chateau Cancer and take some weekend downtime: sleep in, catch up on books, empty your Hulu queue. A powerful woman could enter your sphere, revealing opportunities yoclass="body-el-link standard-body-el-link" u may not have noticed on your own.
This full moon will form a tense
On April 18, Pluto will make an exact square to the Sun in Aries and your career zone. You could feel tension between the demands of your career and your love life. At the Sun-Pluto square, you may need to do some repair work in a professional relationship. Do you fear retaliation if you speak up? Or are you resentful from carrying an unfair share of the load? If you plan to address any such issues, consider using a mediator or having a witness to help you avoid escalating the conflict.
Lighten up! Taurus season begins on April 19
Ready to let loose and have a little fun? On April 19, the Sun leaves Aries and your hard-driving tenth house, moving into Taurus, your eleventh house of groups and networking. The energy lightens up for the next month, helping you find camaraderie and collaboration wherever you go. Step away from your workstation and go mingle, both for work and extracurricular fun.
During this collaborative cosmic season, it's all about who you know. Cast a wider net. Make an effort to meet people, ask what they're up to and share about yourself. Bonus: A friend could end up introducing you to a valuable new client or contact. You never know! With the karmic north node and unconventional Uranus both in Taurus, befriending someone who's different than your usual "type" could bring amazing new energy into your life!
Pluto turns retrograde on April 29
Are you truly in sync with your closest people? Get ready to look under the hood of your love life as deep-diving Pluto turns retrograde from April 29 to October 8. What are your motives and intentions—and what are theirs? As the ruler of the unconscious reverses through Capricorn and your seventh house of committed relationships, you'll do some major soul-searching around your interpersonal dynamics.
If a bond is on shaky ground, Pluto retrograde could prompt you to take a big step back or return to the drawing board before making things official. For some partnerships, a trial separation or long-overdue split could loom. If you've gotten a bit obsessive about a certain relationship, this cosmic cooldown period could help you break unhealthy attachment patterns.
Caution: Pluto rules the "shadow side" of human nature and there will be a strong tendency to project blame onto others. People may behave in triggering ways that drive up buried issues. Don't take down the messenger, even as you enforce boundaries. If you keep asking, "Why does this always happen to me?" or "Why do I always attract this type of person?" Pluto is prompting you to look at your own patterns and blocks.
Cancer, if you can slow down, you'll discover that there IS a way to dive in and explore possibilities without promising something you don't want to deliver. After all, you're going through your own process and may be unsure what YOU even want. In love and business especially, try before you buy.
New connections! April 30 Taurus new moon and partial solar eclipse
Apriclass="body-el-link standard-body-el-link" l ain't over till it's over—and it leaves a parting gift on the way out. The month ends with a second new moon, also called a black moon, which falls in Taurus and your eleventh house of teamwork and technology.
This new moon is even MORE rare because it also happens to be a partial solar eclipse. Get ready for a changing of the guard in your inner circle, or perhaps to add some fresh faces to your friends list. Eclipses are famous for serving up surprises, and this one could bring a sudden opportunity to join forces. A spontaneous RSVP could lead to a valuable new connection or a chance to team up on a project. Have you hit a plateau? Look for a mastermind or a networking group that can bring your mission-driven goals to a wider audience.
This is the second eclipse in a series falling on the Taurus/Scorpio axis from November 2021 until October 2023. These eclipses are igniting your houses of friendship and love, which could bring changes to the way you approach romance, collaboration and self-expression. Start being more authentic and open in social settings, Crab. You'll find it much easier to get the kind of relationships you want when you speak your truth.
Got a case of grass-is-greener syndrome this spring? With love planet Venus in Pisces and your visionary ninth house from April 5 to May 2, you've got an appetite for amorous adventure—the further from familiar the better! Your mind is wide open: You're thinking ahead and taking in the big picture, not just focusing on what's in front of you.
This wanderlust will get even stronger once Mars joins Venus in Pisces on April 14, staying until May 24. Book those sexy getaway tickets for the second half of the month! Prior to that, Mars is wrapping up a visit to Aquarius and your intense eighth house, which could drive up some of your jealous or possessive urges. Keep that obsessive side in check in the first half of April, Crab.
Once Mars heads into Pisces, feeling limited will be a turn-off, and you could get a wicked case of FOMO from all the options. Remember: It's also hard to stay in the "now" when you're chasing through so many possibilities. Single Crabs eager to start fresh will find worthy playmates, but keep the bar high. Couples can spike the excitement with a spontaneous day trip or by planning a vacation. Novelty is a turn-on, so head far out of your comfort zone!
The best day for new romantic horizons is April 30. That day, Venus and explorer Jupiter will unite in Pisces, opening your mind to just about anything. On top of that, there's a solar eclipse in Taurus and your social eleventh house. You could meet someone, possibly long-distance, through apps, online outlets or mutual friends. What starts as a casual convo could turn into surprising sparks and maybe something more! For coupled Crabs, this is a great day to co-host a meetup at your favorite newly reopened hangout. Feel free to play Cupid and match up a few friends you think would be into each other!
Aim high, Crab! The Sun is in Aries and your ambitious tenth house until April 20, your annual month to focus on your professional ascent. The April 1 Aries new moon could bring an exciting opportunity—or more clarity around your next moves. What goals or career milestones would you like to reach by the Aries FULL moon on October 9? Pinpoint your destination and reverse-engineer your steps to get there.
Finances could be a source of both tension and motivation in the first half of the month as revved-up Mars blazes through Aquarius and your eighth house of investments and joint ventures. If you're splitting up a business (or even a relationship), there could be tension around how you divide any shared assets or property. Keep your eyes peeled for powerful collaborators while Mars is here until April 14. In the second half of the month, Mars is in Pisces and your entrepreneurial ninth house, which could add some sizzle to a side hustle or inspire you to turn a hobby into an indie business venture.
Get soul-centered business mentorship from us! Join Astropreneurs.
Calling all mystics on a mission! Got a brand, business or passion project you're developing? We want to be your mentors. Our new Aclass="body-el-link standard-body-el-link" stropreneurs monthly mastermind group teaches soul-centered entrepreneurs the tools of modern business and astrology—with a supportive community and a private platform. https://galaxy.astrostyle.com/astropreneurs
Love Days: 16, 21
Money Days: 28, 10
Luck Days: 8, 26
Off Days: 5, 19, 23
This content is created and maintained by a third party, and imported onto this page to help users provide their email addresses. You may be able to find more information about this and similar content at piano.io