Murder in Provence Is a Major Change-Up for Kaela Settle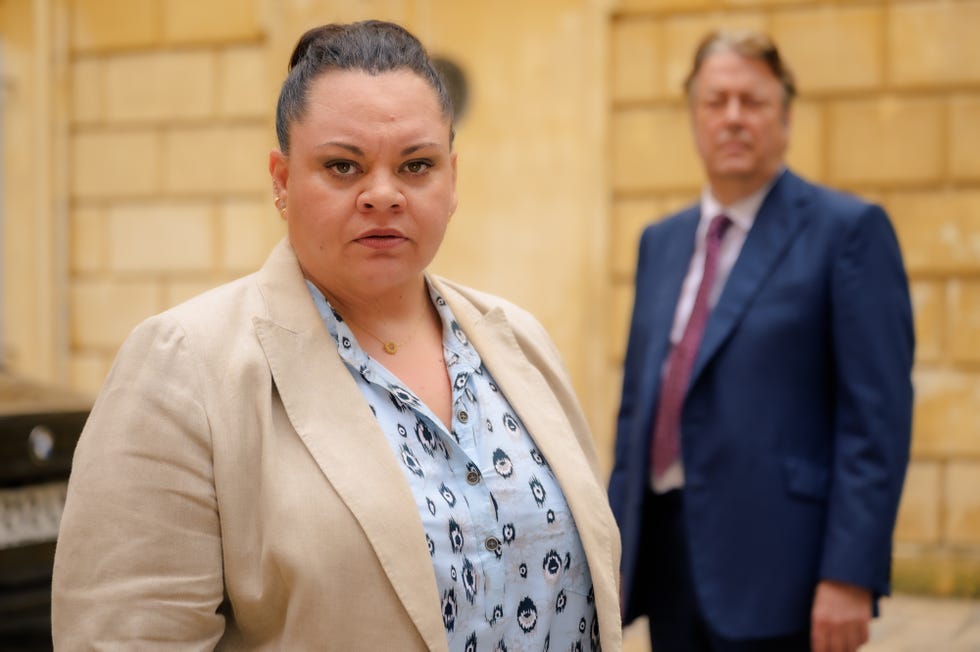 Admittedly, Keala Settle didn't do too much detective work when offered a part in BritBox's murder mystery series Murder in Provence. She was so thrilled to be mentioned in the same breath as theater legends Roger Allam and Nancy Carroll—and somewhat overwhelmed with a previously planned move from California to England—that she said yes to her management team before they could share a single detail.
"I actually said to them, 'Can you just call me tomorrow and tell me what I'm actually doing? Because I'm trying to process what you just told me,'" the Broadway veteran told ELLE.com. "I basically just screamed around my house because I was blown away at the prospect that was just given to me. I couldn't believe it."
Once reality set in, though, she hit the books—namely the beloved novels that inspired the three-part miniseries—to begin her transformation into deputy commissioner Hélène Paulik. "Being able to create this character from the ground up was a godsend," Settle raves. ELLE.com spoke with the multi-hyphenate about this scary-yet-unbelievably exciting role and more.
Was it nerve-racking to step into this already established character?
I was walking into a television show with Roger Allam and Nancy Carroll. Of course! They've got numerous awards [honoring their London stage work], and they've worked together before. Fortunately, we had about a week of rehearsals with our first director Chloe Thomas, so we actually had an opportunity to work together before stepping onto the set and really get the relationship going, which was just so helpful.
What did you uncover reading the books?
For a minute there, it got a bit confusing, because [in the books], my character, Hélène Paulik, is actually the wife of the deputy commissioner called Bruno. Also, the author has such a beautiful grasp of [the town of] Aix-en-Provence and that entire area. You can't help but get lost in it. Which I loved, because who gets to say, "Yeah, I'm just going to go film in the South of France"?
That's pretty exciting. Did filming in France present any challenges of its own?
For about 12 years of my education—throughout elementary school, high school, and a bit of university—I studied the French language and the culture. Then I sort of just fell off because I left uni. So yes, all of a sudden I found myself in the country, desperately revisiting all of the things I had learned as a child. Like, "Right, can I use this verb? Can I say this? Can I say that?" Of course, Roger and Nancy have been there many times, so they helped guide me through it all. It's a dream job, really. It really, really is.
How did this role differ from previous roles?
I couldn't rely on my voice or a song. I loved that because I wanted the challenge. And I would welcome it again because I love storytelling in any form. The intent is always the same because you're trying to relay a story as truthfully as you can without putting anything extra on it. The story already exists and our jobs as performers and actors is merely just to say those words and be there in those moments.
Now that you've tackled theater, film, and television, what's left on your goal list?
I want to be a director—desperately, desperately. I've already spoken with directors of photography to sort of figure out how I can shadow them. I talk to my own directors to ask, "Give me some advice. How did you do this?" Because you can't really [watch closely] when you're acting, because you're trying to be in the scene. But that's next on my list.
Murder in Provence is available to stream now on BritBox, via Amazon Prime.
This content is created and maintained by a third party, and imported onto this page to help users provide their email addresses. You may be able to find more information about this and similar content at piano.io