Edo refinery targets 60,000bpd to commence operation mid-October – Tribune Online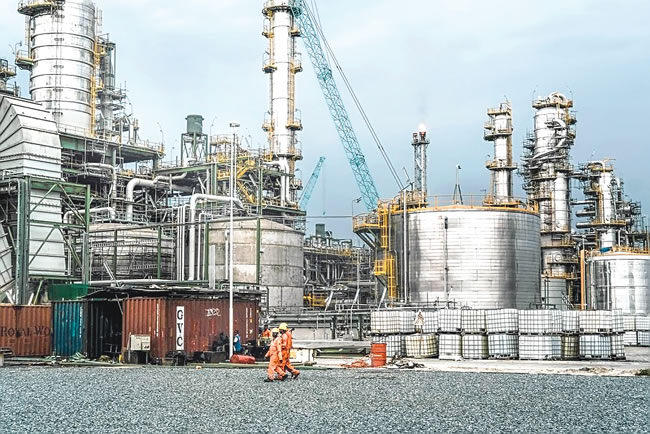 When completed, Edo Modular Refinery and Petrochemical Limited, Ologbo, near Benin will refine 60,000 barrel crude oil per day, the Head of Safety, Health, Security/Community relations, Mr Segun Okeni has disclosed.
Speaking yesterday during a visit to the project site by members of the Edo House of Assembly led by the Speaker, Mr Frank Okiye, Okeni said that the proxy will be kickstart operation between end of September and mid-October.
He said: "We would be producing 1000 barrel per day in first phases, second phase 6,000 and in the run, we would extend it to 60,000 per day.
According to him, the first phase of the project is 99 per cent completed assuring that it will be completed by the end of September.
He said: "This is a modular refinery and we are targeting four products, diesel representing about 54 or 55 per cent, fuel oil representing about 38 per cent, naphtha less than 10 per cent while the rest would be gas to power the process the equipment."
Okeni noted that the project will boost the economy of the local community, Edo state as well as boosting the nation foreign exchange as some of the products would be exported.
ALSO READ: PDP, APC dead in Ondo, says Deputy gov Agboola Ajayi
He added that upon completion of the different phases of the project in the next five years, it will provide more than 80 per cent of diesel requirement in Nigeria
He disclosed that the company has directly employed more than 300 people and that majority of the workers are from the host communities.
Also speaking, the speaker, Edo House of Assembly, Frank Okiye, said as part of efforts to encourage the investor, the state government committed N700m to the company.
He said the commitment was to guarantee that the state government was serious when it entered into Memorandum of Understanding with the investors.
Elated, Okiye remarked that with what is on the ground the investors has also lived up to their commitment noting that there is already direct employment of youths.
"As a house, there is justification and accountability, and we will get back to put up our report. We will look at areas where this investment will further be encouraged for expansion because the bigger the project the better for Edo," said.
He said the refinery, a joint effort of Peayang Chemical Equipment Cooperation (PCC) and African Investment Partner (AIP) will save foreign exchange while the pressure on the moribund refinery and importation will be contained.