UPDATED: Edo Assembly impeaches Deputy Speaker – Vanguard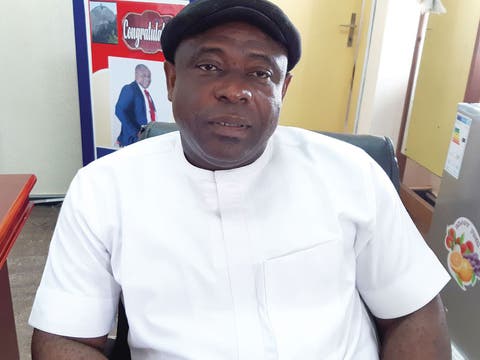 Impeached speaker denies financial inducement allegation
Uzodinma only interested in bringing back Edo to APC
By Gabriel Enogholease and Ozioruva Aliu – Benin City
The Edo state house of assembly on Wednesday, impeached the Deputy Speaker, Rt.Hon.Yekini Idaiye on grounds of alleged gross misconduct.
The impeachment was a sequel to a motion moved by the member representing Ikpoba-Okha constituency Hon. Henry Okhuarobo seconded by Hon. Marcus Onobun of Esan West constituency.
It would be recalled that Idiaye in the company of some lawmakers including Emmanuel Agbaje representing Akoko-Edo Constituency II and Nosayaba Okunbor representing Orhionmwon North constituency recently endorsed the candidacy of the governorship of the All Progressives Congress, APC Pastor Osagie Ize-Iyamu. He was later accused of collecting N40m to remain in the APC.
Impeachment
Okhuarobo said an impeachment notice was signed two-third members of the house. "The impeachment of the deputy speaker is on the ground of gross misconduct and divulging of official secrets." He said.
After deliberations, the Speaker, Rt Hon. Francis Okiye pronounced the deputy speaker impeached.
Immediately after Hon. Roland Asoro representing Orhionmwon South constituency was made the Deputy Speaker after he was nominated by Hon Emmanuel Okoduwa and seconded by Hon Ephraim Aluebhosele.
The Speaker administered oath of office and oath of allegiance and after that the former Chief Whip, Hon. Henry Okhuarobo was elevated to the position of the leader of the house, while Marcus Onobun who was deputy leader, was made the chief whip and Sunny Ojiezele as Deputy Leader.
Hon. Ephraim Aluebhosele was elevated to the position of the deputy whip while Hon. Emmanuel Okoduwa was made a co-opted member of the principal officers' council.
Uzodinma plotting violence
Addressing a press conference, shortly after, Okiye alleged that there were plots by the Vice-Chairman APC Campaign Council, Governor Hope Uzodinma of Imo State to cause a crisis in the state by installing a parallel house of assembly and make the impeached Deputy Speaker, Idiaye with the sixteen lawmakers which included the members who have not been inaugurated and those who have been inaugurated but have refused to decamp with Governor Godwin Obaseki and publicly endorsed Ize-Iyamu.
He called on President Muhammadu Buhari to call the governor and other APC stakeholders to order on the alleged plot which he said was capable of creating a crisis in the state.
He said; "The state's polity is already heated by the high political tension from the electioneering campaigns. Their planned action is akin to lightening a match in an already tensed political environment, which conflagration is capable of causing a crisis in the state, and of a scale beyond our imagination.
"We urge lovers of democracy across the world, institutions that uphold democratic tenets and values, pro-democracy groups, to denounce this planned illegality that seeks to distract a duly constituted authority.
"We recognize the constitutional right of the three members of the House of Assembly to support the candidate of their choice, but that should not distract them from coming to work to carry out the job they were elected for."
Uzodinma reacts
But the Commissioner for Special Projects of Imo State, Comrade Simon Ebegbulem denied the allegation against his boss saying the house was in the first place illegally inaugurated just as he said all his principal is interested in is to reclaim Edo state back to APC.
He said: "The illegal Speaker and his governor are not making sense to me with this baseless allegation. I don't even know what they are talking about because there is no House of Assembly in Edo state. I think that is why the so-called Speaker is running away from his shadow like a criminal that will always run once he sees a law enforcement agent.
"However, I don't know why he should draw the leg of His Excellency, Governor Hope Uzodinma into his political problems. My Governor is interested in working with other APC governors and stakeholders to reclaim Edo State which has been an APC state before Governor Obaseki donated it to the PDP.
"The illegal Speaker and his principal are already jittery because of the imminent defeat in the coming election. You can see that his aides are resigning everyday including his Deputy Speaker. Now he is left with five lawmakers and does that show that he is in charge?"
Idiaye reacts
Idaiay did not pick repeated calls to respond to his impeachment but he issued a statement denying the allegation that he collected N40m.
He said: My attention has been drawn to the malicious allegation made against me by Rt. Hon. (Comrade) Philip Shaibu, the Deputy Governor of Edo State during the PDP Governorship campaign in Akoko-Edo that I collected the sum of N40 million from the former National Chairman of APC, Comrade Adams Oshiomohole to pitch tent with my own party, the APC and its Governorship candidate Pastor Osagie Ize- Iyamu.
"I wish to state that I decided to remain in my political party, the APC in the interest of my constituency and constituents after due consultations with my people.
"I also want to put on record that none of the allegations leveled against me is true. I have been receiving calls and messages from my constituents and friends who know me very well and understand that I can't indulge in self-centered politics.
"My active participation in politics is to meet the needs of my people and I will not lose that focus no matter the distractions.
"I want the members of the public to be guided that I did not ask for financial inducement from anybody and did not get financial inducement from anybody to remain in APC.
"The interest of my people is paramount in all my undertakings and I will not derail from that purpose. It is also good to state that when the governor defected to PDP, I consulted with my constituents on the next step to take and they advised me to remain in APC.
"I don't have anything against the governor or the deputy governor. They are my leaders and my insistence to remain in APC is informed by the collective decision of my people."