Oshiomhole commissions market in Esan North-East – Vanguard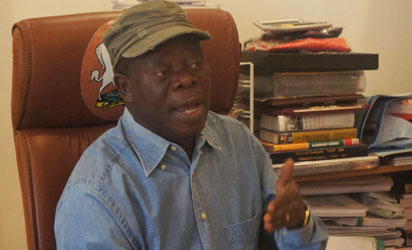 By Simon Ebegbulem
BENIN—GOVERNOR Adams Oshiomhole of Edo State has commissioned an ultra-modern 160-shop market in Uromi, built by the Esan North East Local Government Area Chairman, Mr Sam Oboh.
The governor said, weekend, that it was a thing of joy that at a time some local government chairmen were giving excuses on why they could not pay salaries, the Esan North-East Local Government Chairman was able to pay salaries and also execute projects which had direct impact on the lives of the people.
Speaking at the project commissioning, Oshiomhole said: "I feel we should all salute the chairman for a very competent, honest and resourceful leadership. As they say, sometimes, good things don't make the headlines, bad things do. Across the country, North and South, East and West, many local governments and state governments are not able even to pay the salaries of their workers and here today, we are commissioning an ultra-modern market built from the resources of a local government by the visionary leadership of the local government chairman. I want your applauds for the chairman to be loud enough so that the people in Oredo in Benin can hear the sound of what is happening here in Uromi, that while some of Sam's colleagues are busy explaining why they cannot perform, Sam is here celebrating the outcome of his resourcefulness.
"There is no government anywhere in the world that has all the money it needs to do all the things it desires. There is poverty everywhere, but the real dangerous poverty is the poverty of the brain. When you are afflicted with the poverty of the brain, you cannot think, you are not resourceful, you are not imaginative, you are not creative. You will be there lamenting why you are not moving. For men and women with ideas, that are not afflicted with the poverty of the brain, the poverty of the pocket can be compensated with the creativity of the brain and the outcome is this kind of edifice that we are commissioning this afternoon.
"So, Sam Oboh I am very proud of you, you are an example of what is possible and you confirmed my philosophy that leadership is not and must not be about lamenting. If the people are lamenting, the leadership should inspire them to have hope because life is driven and sustained by hope. When the led and the leaders are united in lamentation, then there is no hope. So, I am extremely happy to be here and I want to congratulate His Royal Highness, the Onogie of Uromi because as they say, 'when the righteous reign, the people rejoice'. I believe sir that you should be proud that it is under your reign that all of these good things are happening."