Teen girls are mad as hell and not going to take it anymore on screen
"Everyone seems angry these days" is all we hear from the conversation surrounding critiques of our cultural and social discourse. Of course, there are plenty of things to be angry about — climate change heating up our planet and destroying habitats, the dual Hollywood strikes sparking insight into our inequitable labor system in America and after seeing some headway with COVID, it's back again.
When it comes to rage and violence "Bottoms" doesn't hold back.
Yes, we're all angry. Young women are no exception. In fact, not only are they angry, but we're seeing them take their rage out violently onscreen. Take Emma Seligman's latest comedy "Bottoms" – in which bestie PJ (Rachel Sennott) and Josie (Ayo Edebiri) start a high school fight club, in which other teenage girls learn to express themselves physically and with maximum force.
Throughout the film, the girls meet up in their school gym and take turns slapping, punching and shoving each other. They don't ease up on one another either. To prove a point, Josie is talked into punching the ever-loving life out of PJ's nose. PJ sports a double black eye for half of the film, and she's not the only one with visible bruising either. Josie, and the other fight club girls all have bruising and scars on their split lips and on their cheekbones after rounds of tackling, wrestling and body-checking.
When it comes to rage and violence "Bottoms" doesn't hold back. It goes there. It allows the fight club members to really sit and stew in their anger. Some are angry for real reasons like a messy parental divorce or less than supportive football player boyfriend. Some are also angry for no reason and only want to learn self-defense. That's completely cool and acceptable too.
"Bottoms" isn't the only time we've seen teen girls recently act out their anger either. Last year "Riverdale" starlet Camila Mendes and nepo baby and "Stranger Things" actress Maya Hawke starred in Netflix's "Do Revenge" a high school take on "Strangers on a Train." The film follows popular mean girl Drea (Mendes) and loser exchange student Eleanor (Hawke) get revenge on Drea's weasely male-feminist ex-boyfriend, Max (Austin Abrams) for posting her sex tape. Drea and Eleanor never pretend to be anything but petty, foul-mouthed and vengeful. They openly seek retribution for how they were wronged. In Drea's case, she was violated by her boyfriend to the highest degree literally punishable by crime. She therefore publicly humiliates him by punching him in the nose and plots his social and academic downfall.
The world kind of sucks for teenage girls.
Then there's British comedy "Polite Society," in which Pakistani-British teenager Ria (Priya Kansara) aspires to become a stunt woman and is incredibly close with her supportive, older sister Lena (Ritu Arya) who records Ria's fighting videos for YouTube and cheers her on when she needs it. Ria even has a catchphrase that encapsulates her drive. "I. Am. The. Fury!" she intones before executing a somewhat flawless flying reverse turning kick. But things get weird and dark when Lena falls in love with a wealthy suitor Salim (Akshay Khanna), and Ria steps up to protect her sister. She busts out her martial arts to free her sister from the repressive patriarchal demands Salim's family.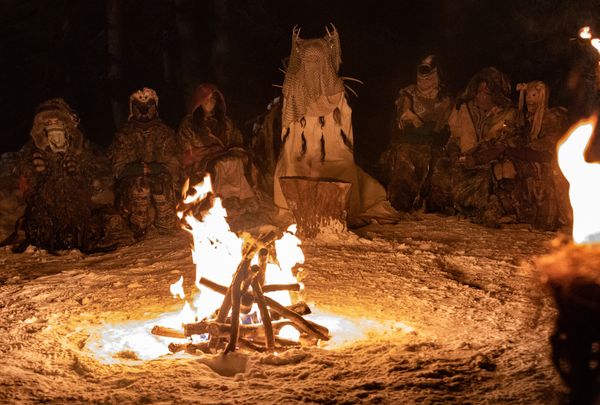 A flashback scene from "Yellowjackets" (Showtime)Of course, one cannot forget the ultimate in bloody teen action with Showtime's '90s-set drama "Yellowjackets," in which a girls' soccer team ends up stranded in Canada after their plane crashes into the wilderness and they're left survive in the woods for 19 months. Nobody cares that the girl's soccer team is headed to the national championships because well they are girls. They don't care until their plane crashes. All the girls' clashing personalities come to a head when they are left to decide how they are going to survive the brutality of loneliness. Their rage and anger exist because of their difficult circumstances before the crash. Everything is a catalyst, bubbling under the surface just waiting to explode like a teapot filled to the brim. And it does, in the most gruesome ways — death by poison and cannibalism. It takes more than just a need for survival to decide to hunt down, kill and eat one of your teammates.
There's an underlying tension in each of these teenage female rage-centered pieces of media. Whatever frustrations we feel in our daily lives from our society have bled so heavily into this new age of female-driven television and film. The world kind of sucks for teenage girls — our youth (I'm a 24-year-old teenage girl) seems to be fading too quickly. We feel anxious every day at the social and environmental degradation happening every second. We don't feel protected from the abusers and monsters that run rampant in our lives. We bend ourselves into pretzels to be liked. We've lost our innocence at the brutality of death engulfing us during this ongoing pandemic.
We've all lost whatever optimism we had five years ago. To rectify that, I think people have created art to express the existential dread rooted at the center of girlhood and growing up. People are trying to reclaim it, and it's manifested itself in palatable, flaming teen girl rage. It has landed with audiences because while it's also cathartic and empowering, nobody is trying to label the girl rage as good, bad, sinister, heroic or saintly. Girls just wanna be rageful, wily girls.
The resurgence of teen angst-filled pop-punk from perpetually angry teenage 20-year-old Olivia Rodrigo, and the summer of girlhood has shown audiences what reclaiming our youth and adolescence looks like, especially through films like queer, teen girl-centered "Bottoms." This girl rage feeling and theme have hypnotized people with its alluring revenge fantasy appeal. There's something intensely gratifying about girls and how their deep well of anger can turn into action and ultimately empower them.
Read more
about this female rage