My savory-sweet Cream of Wheat hook-up that will change your breakfast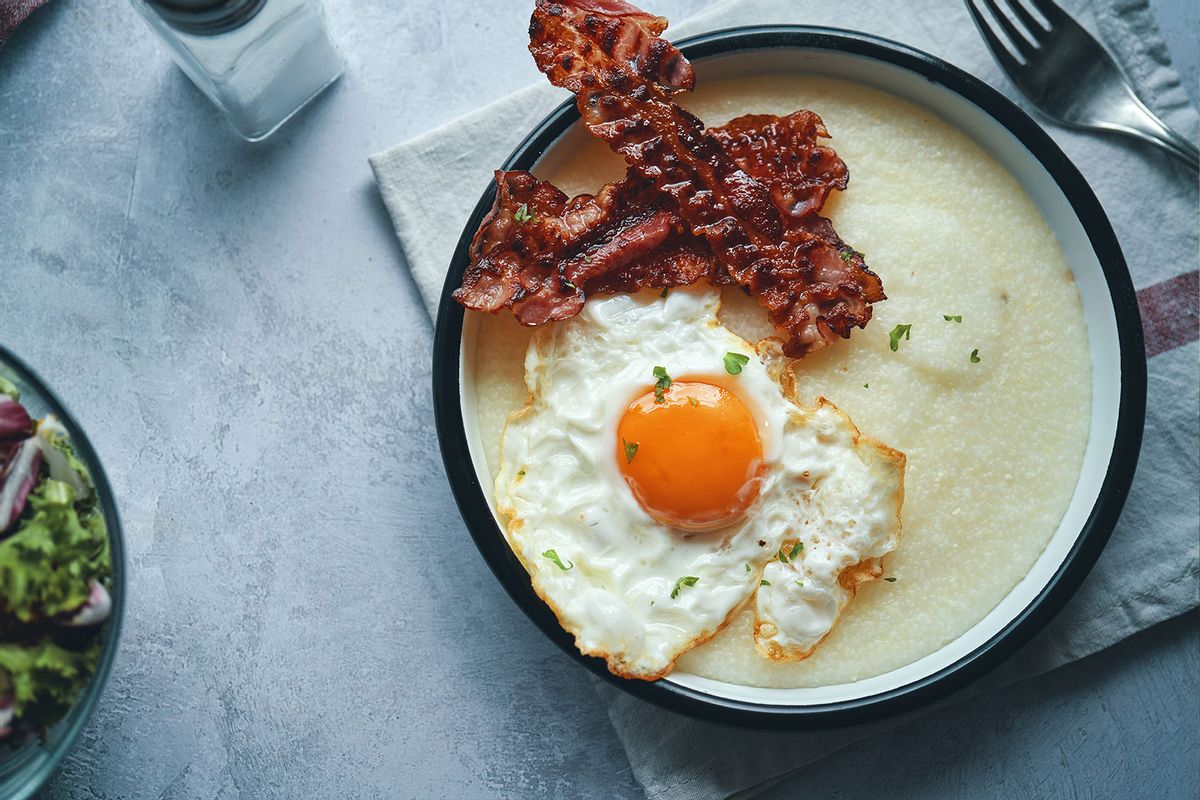 I feel like my gourmet Cream of Wheat hook-up should force the producers from FX's "The Bear" to cast me in season 3 as L-Boy's cousin, a rough-around-the-edges, self-taught culinary genius with the skillset to take Sydney and Carmy to the next level. Well, maybe not, but this quick breakfast or brunch dish is top-tier.
Have you ever heard of a hook-up? And no, I'm talking about dating or anything romantic, really. A hook-up is like the Black people's version of a casserole.
Admittedly, I never heard of, thought about, or even considered casserole until I made white friends. They grew up on it, talked about it with great nostalgia and looked at me like I had three heads when I would tell them that I never had it. I always shot them the same looks back because, to this day, none of my white friends can accurately define casserole without saying something like, "Well, D, you just throw a whole bunch of stuff in a pan, cover it with cheese and bake it."
The idea of a casserole never made any sense to me until I compared it with a hook-up, and I know all about hook-ups.
To my knowledge, the term hook-up comes from prison and literally means taking whatever available ingredients you have and hooking something up — like chocolate chip peanut butter oatmeal, baked chicken with a Cinnamon Toast crunch garnish, or pan-fried slices of white bread drenched in butter and glazed with King Syrup, to give you a few examples. Jail is just like living in poverty. You use the tools you have and try to make the best out of it.
That's where the foundation of my Cream of Wheat hook-up came from, though I wasn't in poverty or jail at the time of its creation.
It was during the COVID lockdown, at a time when it seemed one of the most dangerous things one could do was take a trip to the market. Grocery store runs required a mask, gloves and a healthy supply of Lysol wipes. My wife and I began relying on Instacart, but workers were few and far between, and sometimes it was impossible to get a delivery. On one of those more difficult days, I went to the kitchen thinking of making eggs, Beyond Meat sausage and cheddar grits, a meal I had been eating religiously for breakfast and lunch. So, I wasn't surprised when I reached the kitchen and discovered that the grits were gone, the Beyond Meat box was empty and there was no cheddar.
Instacart was backed up that day, worse than usual, and I knew I would have to wait 1,000 years before I could get a delivery. So, I started digging around in the kitchen and saw that we had plenty of Cream of Wheat, agave nectar, some turkey bacon that was frozen into sodium-heavy popsicles and shaved parmesan cheese, one of my favorites — definitely enough to hook something up.
I popped the turkey bacon in the sink and ran some water over it before going into the living room and seeing, once again, if I could get lucky with Whole Foods or Instacart delivery, but I didn't. But, by the time I realized there would be no delivery until tomorrow, I was already back in the kitchen, peeling the newly-thawed turkey bacon out of the pack and popping them into my small bacon pan. While my strips fried, I boiled enough water for two servings of Cream of Wheat and whipped it up with a teaspoon of old-school butter. Meanwhile, I cracked three eggs, removed two of the yolks because I'm fake healthy, and poured the rest into my trusty nonstick omelet pan.
As the eggs began to form, I dusted them with curry powder, pepper and salt, and then sprinkled a healthy amount of shaved parmesan in the center before folding it into a "D" shape. Now time to plate. Place your Cream of Wheat into a bowl and sweeten it with agave nectar (or whatever kind of sweetener you have on hand). Sit your pretty, folded and spiced egg on the Cream of Wheat, and then stick your bacon in the dish next to the egg. It looks good when the strips hang out of the bowl a little.
There's your Cream of Wheat hook-up — it's sweet, it's savory, it's delicious.
Read more
about this topic