MrBeast Burger firm accuses YouTuber of 'bullying'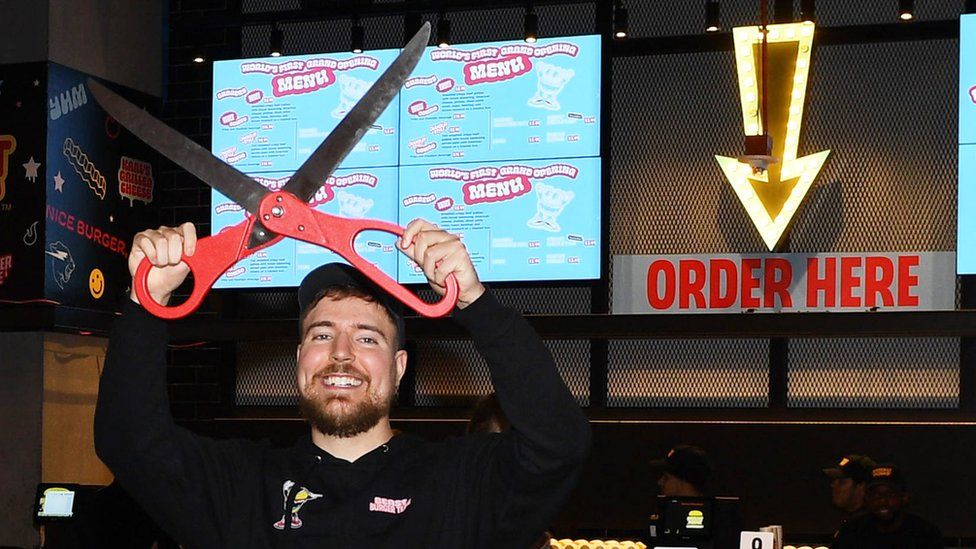 YouTuber Jimmy "MrBeast" Donaldson has been accused of "bullying tactics" after he took legal action against the firm behind his namesake burger chain.
Donaldson claims the deal has damaged his reputation, but Virtual Dining Concepts (VDC) said his "notoriety" had grown "in part" due to the partnership.
VDC claim his case is "meritless" and "riddled with false statements".
Virtual Dining Concepts, the company behind the fast food chain, said it would be vindicated in court.
"We had hoped Mr. Donaldson would act honourably," the statement said.
"Instead, having elevated greed over his word and the truth, he will face the consequences in court when VDC files its claims against him."
"When VDC refused to accede to his bullying tactics to give up more of the company to him, he filed this ill-advised and meritless lawsuit seeking to undermine the MrBeast Burger brand and terminate his existing contractual obligations without cause," the company alleges.
Donaldson, the biggest YouTuber in the world – with 172 million subscribers – is known for his philanthropy, including videos featuring huge prizes and cash giveaways.
He is also known for his stunts, such as recreating elements of Netflix hit Squid Game, playing hide-and-seek in an 80,000-seater stadium, and being buried underground.
He has a licensed charity that functions as a food bank to feed communities across the US.
On Monday, Donaldson filed legal action in New York accusing VDC of not ensuring the quality of the burgers at MrBeast Burger, claiming they were, at times, "inedible" according to consumers.
"As a result, MrBeast Burger has been regarded as a misleading, poor reflection of the MrBeast brand," the legal action claims. It goes on to say Donaldson "has not received a dime" from the joint enterprise.
But VDC has hit back at Donaldson's complaint, describing it as "riddled with false statements and inaccuracies".
"VDC consistently strives to improve quality and customer satisfaction, and any negative customer reviews reflect the experience and opinion of a very small minority of MrBeast Burger customers," it said.
The company accused Donaldson of having "recently attempted to negotiate a new deal to serve his own monetary interests".
It said it had hired legal firm Greenberg Traurig to represent VDC and "looks forward to being vindicated in court".
"We extend our sincere appreciation to our customers, market partners, vendors and employees for all of their past, present and future support," it said.
"VDC will continue to help the restaurant industry as we work to promptly resolve this unfortunate dispute."
The BBC has approached Donaldson for comment.