US officials must limit contact with social media firms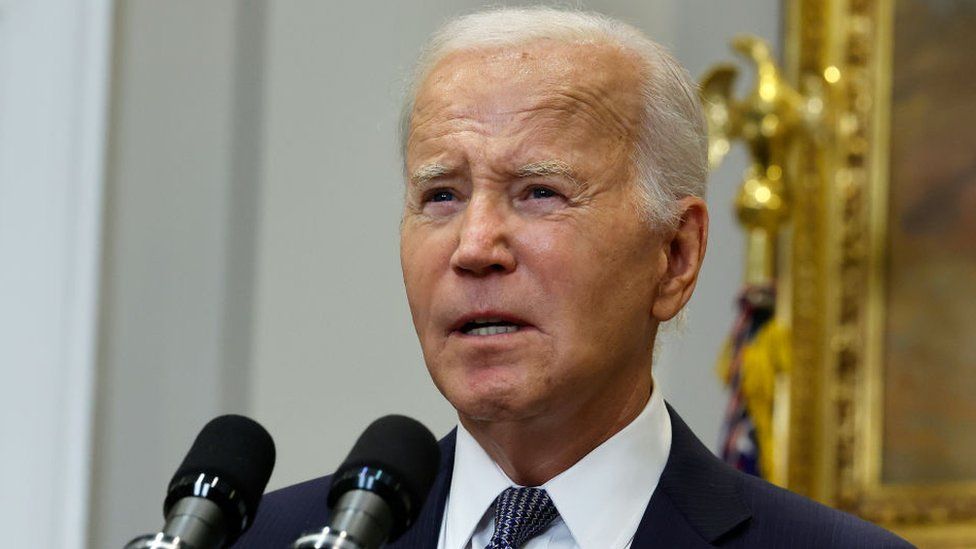 A US federal judge has limited the Biden administration's communications with social media companies which are aimed at moderating their content.
In a 155-page ruling on Tuesday, judge Terry Doughty barred White House officials and some government agencies from contacting firms over "content containing protected free speech".
It is a victory for Republicans who have accused officials of censorship.
Democrats said the platforms have failed to address misinformation.
The case was one of the most closely-watched First Amendment battles in the US courts, sparking a debate over the government's role in moderating content which it deemed to be false or harmful.
The White House said the US Department of Justice was reviewing the ruling and deciding on its next steps.
"Our consistent view remains that social media platforms have a critical responsibility to take account of the effects their platforms are having on the American people," the White House said in a statement.
It added that platforms should "make independent choices about the information they present".
The ruling comes after a lawsuit by the Republican attorneys general of Missouri and Louisiana alleged that US officials had pressured social media platforms to address posts on topics including Covid-19 policies and election security.
Judge Doughty, who was an appointee of former US President Donald Trump, said the plaintiffs had "presented substantial evidence in support of their claims".
"Evidence produced thus far depicts an almost dystopian scenario," Mr Doughty said in his ruling.
He added: "During the Covid-19 pandemic, a period perhaps best characterized by widespread doubt and uncertainty, the United States Government seems to have assumed a role similar to an Orwellian 'Ministry of Truth.'"
The ruling limited communications by government agencies including the Department of Health and Human Services and the FBI.
It also restricted US officials including Department of Homeland Security Secretary Alejandro Mayorkas and Jen Easterly, who heads the Cybersecurity and Infrastructure Security Agency.
However, it made exceptions for contacting firms to warn them about risks to national security and criminal activity.
Judge Doughty also referred to several e-mail exchanges between White House executives and social media companies.
This included an April 2021 email by Rob Flaherty, who was formerly the White House's director of digital strategy, to employees at technology giant Google.
In the email, Mr Flaherty said Google's video-sharing platform YouTube was "funneling" people into vaccine hesitancy.
"This is a concern that is shared at the highest (and I mean highest) levels of the WH," he wrote.
Google did not immediately respond to a BBC request for comment.
Social media platform Twitter, which is owned by multi-billionaire Elon Musk, did not directly to a respond to a request for comment.
Meanwhile, Facebook and Instagram owner Meta declined to comment on the ruling.