Same Same But Different: What Our Editors Are Wearing This Wedding Season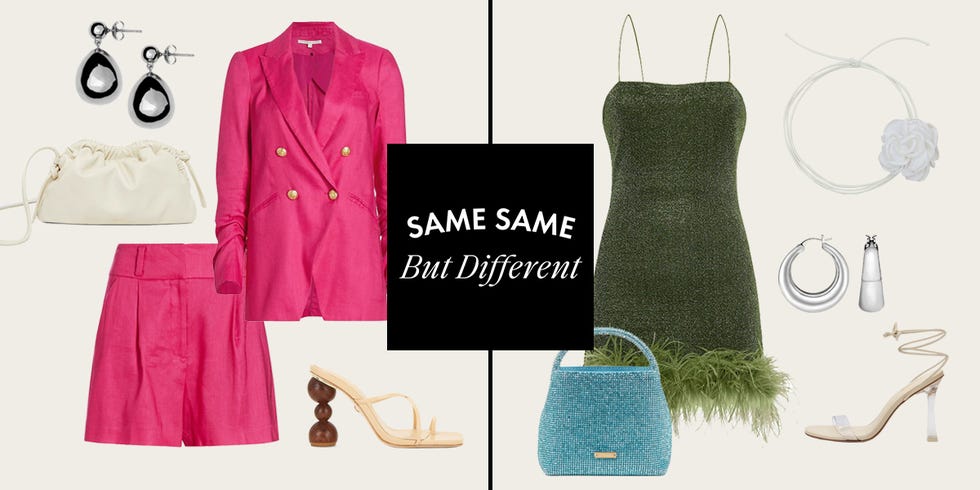 Welcome to Same Same But Different. As Gen Z and millennial fashion editors, respectively, we know a thing or two about shopping—for all ages, and especially our demographics. As we find the best products for you, we can't help but do a little shopping for ourselves and build our personal (age-appropriate) wish lists. And now, we're sharing them with you. Ahead, check out what's in our hearts and in our carts lately.
---
Dale Chong: As someone who isn't a die-hard Swiftie, it was nice to see what our colleagues wore to the Taylor Swift Eras Tour. But now that we're back to our regularly scheduled programming, it's time to address another major era of 2023: wedding season. As if our calendars weren't already filled to the brim, there are always handful of nuptials to attend during the summer. You know what that entails: wedding guest dresses, comfortable wedding shoes, cute evening bags, etc. This is the season to get capital-D dressed. With that in mind, what are you planning to wear for the ceremonies on your agenda?
Meg Donohue: Hard agree. It also got me thinking about what I will be donning for Beyonce's Renaissance tour later this summer, but that's a rabbit hole I simply don't have time to fall down right now. Why? Because my one and only sister's wedding is rapidly approaching. As for me, I'm in disbelief—I can't express all the exclamation points and alarm bells going off in my head. But, chaotic planning and maid of honor duties aside, wedding guest dressing is one of my favorite parts of celebrating. (Tied for first is a good dance floor, followed by passed hors d'ouvres. And open bars.)
I'm jazzed about my MoH dress for her wedding—a silky black halter gown with an open back, which cost me less than $200 and can definitely be reworn—but I'm admittedly looking forward to showing up and showing out at later summer weddings where I am definitively not in the bridal party. Namely, I can't get this shimmery green Oseree frock out of my head. I mean, it's just calling to me. Blues and greens are my favorite colors to play with, so I'm taking the clear opportunity to pair it with this stunning bag, which reminds me, you can also check out my review of the viral Cult Gaia rhinestone bag. It, too, is perfect for weddings.
DC: Now that is a fun dress. I mean, it's practically made for dancing; just look that shimmer—and those feathers! I have a tendency to overdress for weddings. Sure, one can always look to the dress code, but even then the lines get a little blurred. When in doubt, I opt for a long slip dress. It's great for when the invite calls for "formal" attire, but can also be suitable for black-tie affairs, too. This vintage-inspired one with lace trim is absolutely stunning, and doesn't feel like anything else I already own. Since it's already a statement-maker on its own, I'm planning to keep everything else on the simpler side, meaning strappy sandals, a cute (and versatile) crossbody bag, and timeless diamond earrings. As far as makeup goes, I plan to add a sheer glossy lip for color and drama.
MD: It's better to be overdressed than underdressed, for sure. As a rule of thumb, I probably play it a bit safe when it comes to dressing for weddings. There are so many ways to go wrong. You don't want to upstage the bride, obviously. I also recently learned you should never wear red to a wedding. Have you heard this? I'm bummed because I have a show-stopping red gown I've been dying to rewear, but the rumor goes that wearing red means you're canoodling with the groom. The drama! I don't know how widespread that is, but I'm glad someone told me before I accidentally caused a runaway bride.
I try to keep my closet stocked with a few versatile options that I know could pass for any dress code, but I'm thinking of spicing it up this summer by playing with color. I adore this clementine dress. (Hopefully the color orange doesn't have any raunchy connotations.) Also, it's always important to consider the weather, and especially this time of year. Wearing a fitted pastel dress to an outdoor wedding in Charleston, for example, is literally just a recipe for boob sweat, and that's embarrassing.
DC: Well, while we're on the topic of color, I'm right there with you. But I'll raise you one clementine orange dress with a magenta short suit. Truth be told, I've never actually worn a short suit to a wedding. I have worn a coordinated pants and top set, though, which has convinced me to step outside of my comfort zone—whether that be a two-piece suit or a jumpsuit for weddings. As for tips that go with experimenting with wedding-appropriate ensembles, I'd say consider the location and then the fabric. Summer weddings tend to be located in more humid locales—I'd recommend wearing linen or cotton rather than wool. Additionally, wear something that works well with layers. You never want to be too hot or too cold for an extended period of time. And if you want my most practical advice, be sure to have the right undergarments—that should be something that's widely known, but nevertheless, consider this my friendly reminder.
MD: I commend you for rocking a suit to a wedding! I don't think women do that very often, but I bet you got a ton of compliments. And yes, of course, shapewear is make or break for any kind of occasion. I've never had much luck with boob tape, but I'm planning on using NOOD for my sister's wedding, because bridal salon experts unanimously swear by it. I'll have to report back on how that goes, but wish me luck. Until then!

Dale Arden Chong is the Senior Fashion Commerce Editor at ELLE.com. Previously, she was an editor at MensHealth.com and has written for Who What Wear, GLAMOUR, The Coveteur, and more. She loves fashion, food, and art, among other things—but her greatest love is K-pop idol V of BTS.
Associate Fashion Commerce Editor
Meg is the Associate Fashion Commerce Editor at ELLE.com where she researches trends, tests products, and looks for answers to all your burning questions. She also co-writes a monthly column, Same Same But Different. Meg has previously written for Cosmopolitan and Town & Country. Her passions include travel, buffalo sauce, and sustainability. She will never stop hoping for a One Direction reunion tour.