"It's crazy in there": Knives out on Trump's legal team over worries one of them could be a "snitch"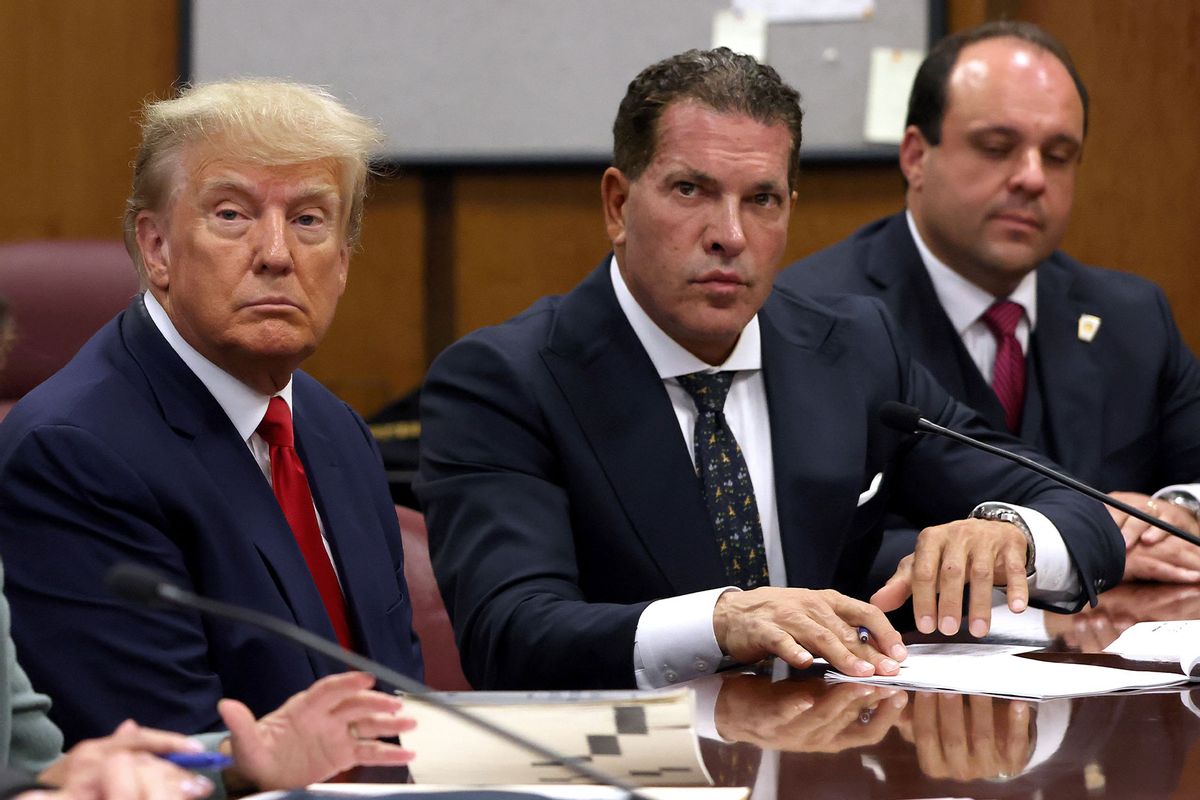 Former President Donald Trump's lawyers are "starting to turn on each other" over growing concerns that one of them could be a "snitch," according to The Daily Beast.
Five sources with direct knowledge of the situation told the outlet that clashing personalities and the threat that they could face legal jeopardy themselves has "sown deep divisions that have only worsened in recent months." Attorney Tim Parlatore left the team earlier this month after throwing another member of Trump's team, Boris Ephsteyn, under the bus — but sources told the outlet his departure may only be the beginning.
"There's a lot of lawyers and a lot of jealousy," a member of Trump's legal team told The Daily Beast, adding that the number of lawyers representing a single client accused of so many crimes is unprecedented.
As special counsel Jack Smith's team targets multiple Trump attorneys in his investigations, Trump's lawyers "seem to be questioning whether their colleagues may actually turn into snitches," the report added.
Smith's team successfully pierced attorney-client privilege claims invoked by Trump attorney Evan Corcoran after arguing that the former president may have used his services to further a crime. Prosecutors interviewed Corcoran before a grand jury about topics he previously refused to discuss and obtained his notes about discussions with the former president.
Trump's legal team has also groused about Ephsteyn, who has described himself as Trump's in-house counsel, which sources ridiculed and compared it to how mob boss John Gotti's lawyer described his services, according to the report.
Ephsteyn has been accused of interfering in the president's legal matters that are being handled by more experienced attorneys.
Parlatore's departure earlier this month came after he and several attorneys staged an "intervention" and demanded either Ephsteyn leaves or they do.
Parlatore told CNN last week that Ephsteyn did "everything he could to try to block us, to prevent us from doing what we could to defend the president."
"Boris pissed off all the Florida lawyers. People are dropping like flies. Everybody hates him. He's a toxic loser. He's a complete psycho," a source told The Daily Beast. "He's got daddy issues, and Trump is his daddy."
Trump attorney Alina Habba disputed Parlatore's claims last week.
"You have type A personalities. We're all lawyers, and not everybody's always going to get along," she told CNN.
"Mr. Parlatore is no longer a member of the legal team. His statements regarding current members of the legal team are unfounded and categorically false," Trump spokesman Steven Cheung told The Daily Beast.
Some members of the legal team have also questioned why relatively inexperienced 33-year-old lawyer Lindsey Halligan abruptly appeared in Trump's circle last year after defending him on Steve Bannon's podcast.
Members of the team have "seriously questioned" why she was hired since she has little courtroom experience.
"It waters down the honor to represent a president. It really does, when you think about it," one of Halligan's colleagues told The Daily Beast.
Two other members of the team speculate that Trump only keeps her around because he "likes to be surrounded by attractive people," according to the report.
Another colleague defended her anonymously.
"With a new person coming in, people are looking to undercut her. She's a young, attractive woman, and people can be pretty sexist," the person told The Daily Beast, adding that such speculation about her hiring was "an easy way to undercut a woman attorney."
Some members of Trump's legal team also criticized attorney Joe Tacopina's "brutish performance in court" after a Manhattan jury found Trump liable for sexually assaulting and defaming E. Jean Carroll, though others also faulted Habba for failing to get better rulings from a federal judge before the trial.
"She quickly demonstrated herself to have a total lack of understanding, and he totally screwed that case up. That was a winnable case if he presented a defense," a source told The Daily Beast.
Habba was also criticized for declaring in an unrelated case that she thoroughly searched Mar-a-Lago for documents before the FBI found dozens of classified documents at the president's resort residence months later.
"It's either perjury or incompetence," a source told the outlet.
---
Want a daily wrap-up of all the news and commentary Salon has to offer? Subscribe to our morning newsletter, Crash Course.
---
Members of the team worry they could be pressured to become witnesses against Trump and that their work on his defense could be radioactive to their careers.
"I have nothing to do with that. I have a law license to protect," one of Trump's lawyers told The Daily Beast.
Another added that they might escape before it gets worse.
"It's crazy in there. It really is," the person said. "I've heard there's a mess coming."
Read more
about Trump's lawyers